Welcome to the Frontier Extension District #11,
K-State Research and Extension Website
The Frontier Extension District is a branch of K-State Research and Extension. Extension programs present educational information related to agriculture and natural resources, family and consumer sciences, 4-H youth development, and community development.
We serve the people of Anderson, Franklin, and Osage Counties, and we have offices located in Garnett, Ottawa, and Lyndon.
Our philosophy is to help people help themselves by taking university knowledge to where people live, work, and play. We work at being responsive to the needs of the people by focusing our resources on providing quality information, education, and problem-solving programs for real concern. The information we provide is researched based and unbiased.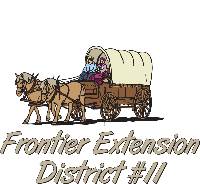 "Knowledge for Life"
Retirement Announcement
Nancy Schuster, District Specialist, Nutrition, Health, and Food Safety, retired from the Frontier Extension District, October 1, 2016. Before joining the Frontier Extension District in 2014, Nancy served as a County Extension Agent, Family and Consumer Sciences for the Anderson County Extension Council, and shared responsibilities for the 4-H Youth Development Program.
As a District Specialist, Nancy managed the Family Nutrition Program (FNP) grant and was responsible for supervising two FNP Program Assistants. The grant program is sponsored by the USDA through a contract with the Department for Children and Families (DCF), and implemented K-State Research and Extension (KSRE). The goal is to provide nutrition education to individuals and families who are eligible for food assistance by collaborating with community agencies in the Frontier District.
Nancy also gave leadership to the district's Walk Kansas Program, a team-based fitness program that helps individuals lead a healthier life. In addition, her Master Food Volunteer Program provided approximately 40 hours of training in food science, food preparation, food preservation and food safety to participants. After completing the training, class members contributed a minimum of 40 hours of approved volunteer service back to the community.
An expert in food preservation, Nancy presented numerous classes for individuals interested in home canning, freezing, and drying. She routinely answered food preservation, food safety, and food preparation questions for those that called or visited the Extension offices in the district.
A gifted instructor, Nancy is noted for her ability to present to groups. As a District Specialist, she traveled Anderson, Franklin, and Osage Counties, presenting hands-on cooking camps for youth. Dozens of youth learned life-long culinary skills and enjoyed preparing food items such as homemade bread, jelly, noodles, and salads in a jar.
K-State Research and Extension is dedicated to a safe, sustainable, competitive food and fiber system and to strong, healthy communities, families and youth through integrated research, analysis and education." In the forty-four years that Nancy was an Extension Educator, she exemplified that mission statement by making a positive difference in Anderson County and the Frontier Extension District.


UPCOMING EVENTS
Medicare Part D Enrollment for 2017