Welcome to the Frontier Extension District #11
K-State Research and Extension Website
The Frontier Extension District is a branch of K-State Research and Extension. Extension programs present educational information related to agriculture and natural resources, family and consumer sciences, 4-H youth development, and community development.
We serve the people of Anderson, Franklin, and Osage Counties, and we have offices located in Garnett, Ottawa, and Lyndon.
Our philosophy is to help people help themselves by taking university knowledge to where people live, work, and play. We work at being responsive to the needs of the people by focusing our resources on providing quality information, education, and problem-solving programs for real concern. The information we provide is researched based and unbiased.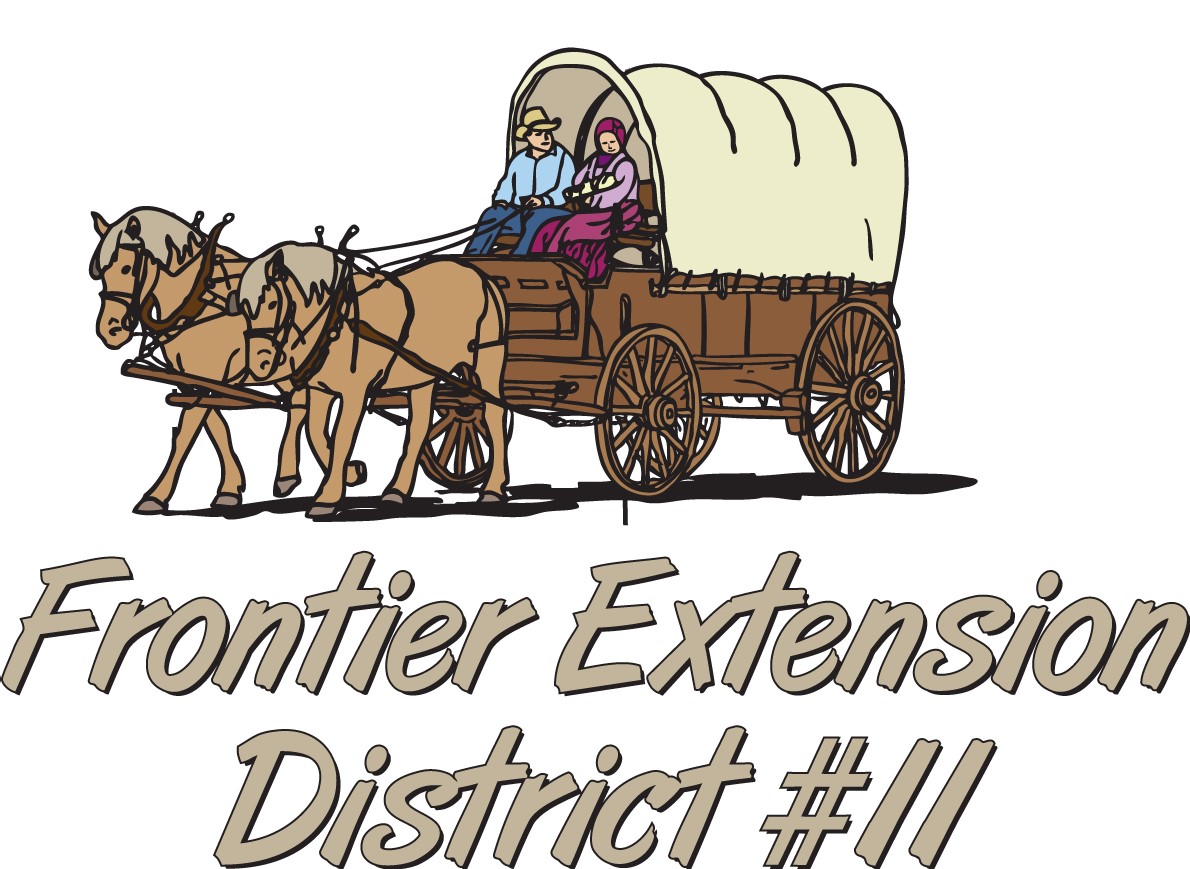 What's New in the District
RAISE YOUR HAND CAMPAIGN
April 1 through May 15, 2018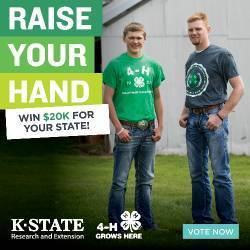 4-H, the largest youth development program in the nation, is calling on alumni and supporters to raise their hands to help bring 4-H to 10 million youth by 2025. Currently 4-H empowers nearly six million young people in every county across America, reaching over 82,000 youth in Kansas in 2017.
As part of the Raise Your Hand campaign which runs April 1 - May 15, 2018, 4-H is asking supporters in Kansas to 'Raise Your Hand' to help kids in our community by providing the hands-on learning that only 4-H provides.
"Voting" is easy – alumni can go online to www.4-H.org/RaiseYourHand. Raising your hand is a vote towards a $20,000, $10,000 or $5,000 award for the states with the most hands raised. Help Kansas be one of the winning states; vote now!
---
2017 KANSAS MASTER FARMER AND MASTER FARM HOMEMAKER
Congratulations to Doug and Jean Higbie, Frontier Extension District, who have recently been named to the 2017 Class of Kansas Master Farmers and Master Farm Homemakers! The Kansas Master Farmers and Master Farm Homemakers program recognizes Kansans for success in their agricultural operations and service to their communities. The 2017 Class of Kansas Master Farmers and Master Farm Homemakers was announced at a banquet in Manhattan on March 9, 2018.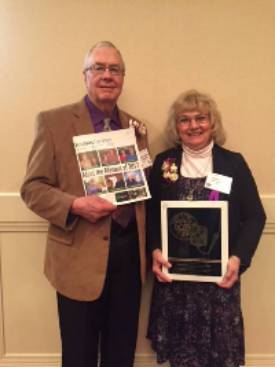 The Higbies were congratulated by Ron and Elaine Dunbar (left), Richmond, Class of 2010 and Sandy and Russ Sylvester (right), Ottawa, Class of 2013. Congratulations to these farm couples from the Frontier Extension District!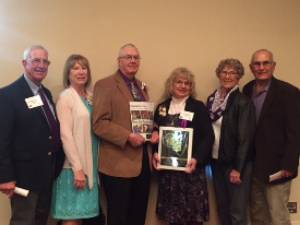 Higbies receive 2017 Master Farmers-Master Farm Homemakers Recognition
Douglas and Jean Higbie, Williamsburg, have been selected as members of the 2017 Class of Kansas Master Farmers and Master Farm Homemakers. The Higbies were recognized March 9, at a banquet held in Manhattan.
The prestigious selection is believed to be the highest honor which can be accorded a Kansas farm couple. Master Farmers-Master Farm Homemakers recognition in Kansas dates back to 1927. Kansas State University and Kansas Farmer magazine co-sponsor the program of honoring deserving Kansas farm families.
Doug Higbie earned his bachelor's degree in pharmacy from the University of Kansas. He served as a Captain in the United States Army Medical Service Corp at Fort Riley. During his time in college and in the army, Doug continued to help on his family farm. In his community, he has been involved on the Homewood-Williamsburg Volunteer Fire Department Board of Directors and served on the Homewood Township Board of Directors.
Jean Higbie earned her degree in nursing from the University of Kansas. She taught nursing at multiple institutions and is currently a First Aid, CPR, and AED instructor. Jean volunteers for the American Red Cross. Also, she was chosen to represent the Kansas School Nurses Organization at the Nurses Legislative Conference in Washington, D.C.
Both Doug and Jean have volunteered for the 4-H and FFA program. Doug was a 4-H leader and a member of the FFA advisory council in his local community. Jean educated 4-H junior leaders and FFA members on how to properly administer first aid.
Every member of the Higbie family manages a portion of the operation. Along with farming cropland, the farm raises cattle and pigs. The Higbies and the local FFA chapter hosted "Day at the Farm" to promote farming and farm products. For 15 years, hundreds of Kansas City area third graders, teachers, and staff would spend a day on the farm learning about the different sectors of agriculture.
Son, Heath works for the Farm Bureau Financial Services in Montgomery County. He and his wife, Theresa, have five children, Damon, Cheyenne, Graham, Hal, and Hans.
Son Aaron owns Santa Fe Trail Custom Meat Processing Plant and manages his own farming operation in Overbrook. He and his wife, Angelle, have one daughter, Adelle.
Daughter Audra works at Merck Animal Health. She and her husband, Ryan McCurdy, have two children, Alexa and Hunter.
Son Austin (Ryan) works for the Kansas Livestock Association and runs a farming and livestock production. He and his wife, Jenny, have four children, Lane, Calla, Anah, and Elim.
---
Check out the Calendar of Events to find out more information.
UPCOMING EVENTS
Franklin County Ripples of Change
Walk Kansas - March 18 - May 12
East Central Kansas Active Aging Expo 5/2/18
Frontier District Cloverbud Meeting - 5/16/18
2018 Kansas Discovery Days 5/29 - 6/1/18
Tractor Safety Training 5/28/18
Wild Clover Camp 6/6 & 6/7/18
Fantastic 4-H Camp 6/16-19/18
Campference at Rock Springs 4-H Center - 6/26-29/18