Welcome to the Frontier Extension District #11,
K-State Research and Extension Website
The Frontier Extension District is a branch of K-State Research and Extension. Extension programs present educational information related to agriculture and natural resources, family and consumer sciences, 4-H youth development, and community development.
We serve the people of Anderson, Franklin, and Osage Counties, and we have offices located in Garnett, Ottawa, and Lyndon.
Our philosophy is to help people help themselves by taking university knowledge to where people live, work, and play. We work at being responsive to the needs of the people by focusing our resources on providing quality information, education, and problem-solving programs for real concern. The information we provide is researched based and unbiased.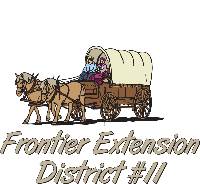 "Knowledge for Life"
JOB OPENING FOR A 4-H PROGRAM ASSISTANT
The Frontier Extension District is accepting applications for a full-time 4-H Program Assistant in the Garnett office. Significant experience in a youth development organization is required. Applicants must also have the ability to communicate effectively both verbally and in writing, have access to a personal vehicle and maintain a valid, Kansas Driver's License. Some overnight travel and evening and weekend work may be required. For more information call 785-828-4438. Applications must be received by February 29, 2016. Position start date is May 1, 2016.
UPCOMING EVENTS
4-H Leader Updates Meetings
Anderson County
Franklin County
Osage County
Community Board Leadership Series