Welcome to the Frontier Extension District #11
K-State Research and Extension Website

As our society faces the challenges of maintaining health-oriented practices, social isolation, school closures, financial pressures and more, resources on the COVID-19 Extension page can help as you navigate through this challenging situation.
K-State Research and Extension specialists are subject matter experts in numerous aspects of life that have been affected by the COVID-19 pandemic. They provide unbiased, fact-based help in these subjects free of charge for the benefit of everyone in Kansas and the rest of the world.
---
IMPORTANT NOTICE!
*Click the image below to see larger.*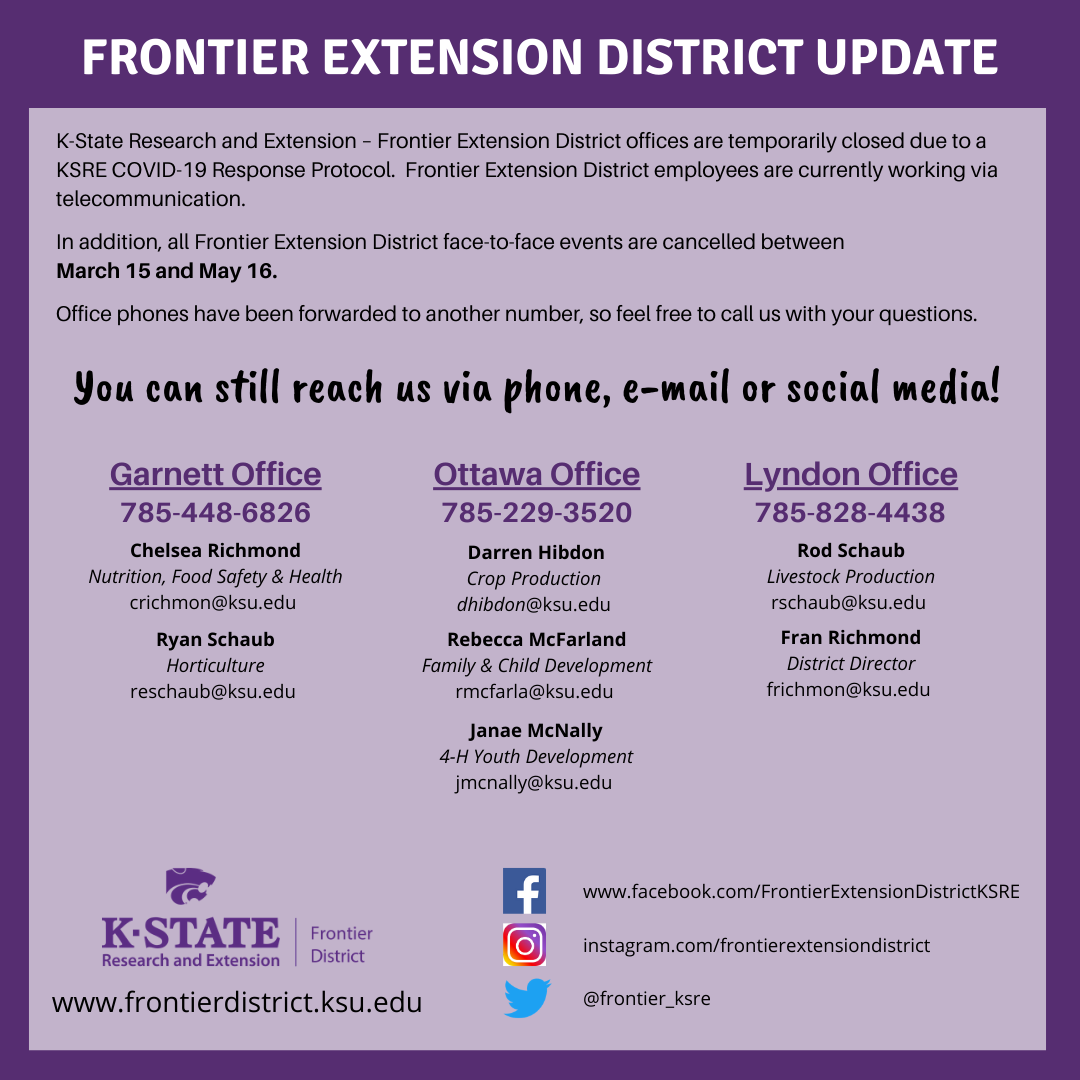 ---
Catch us on the radio!

Don't forget to tune in to KOFO 103.7 FM or 1220 AM to three days a week to get Frontier Extension District updates.
Our agents share research-based, unbiased and educational information related to agriculture and natural resources, family and consumer sciences, 4-H youth development, community development, and upcoming programs.
---
What's New in the District
2019 Kansas Master Farmer & Farm Homemaker
Grant and Gayla Corley – Anderson County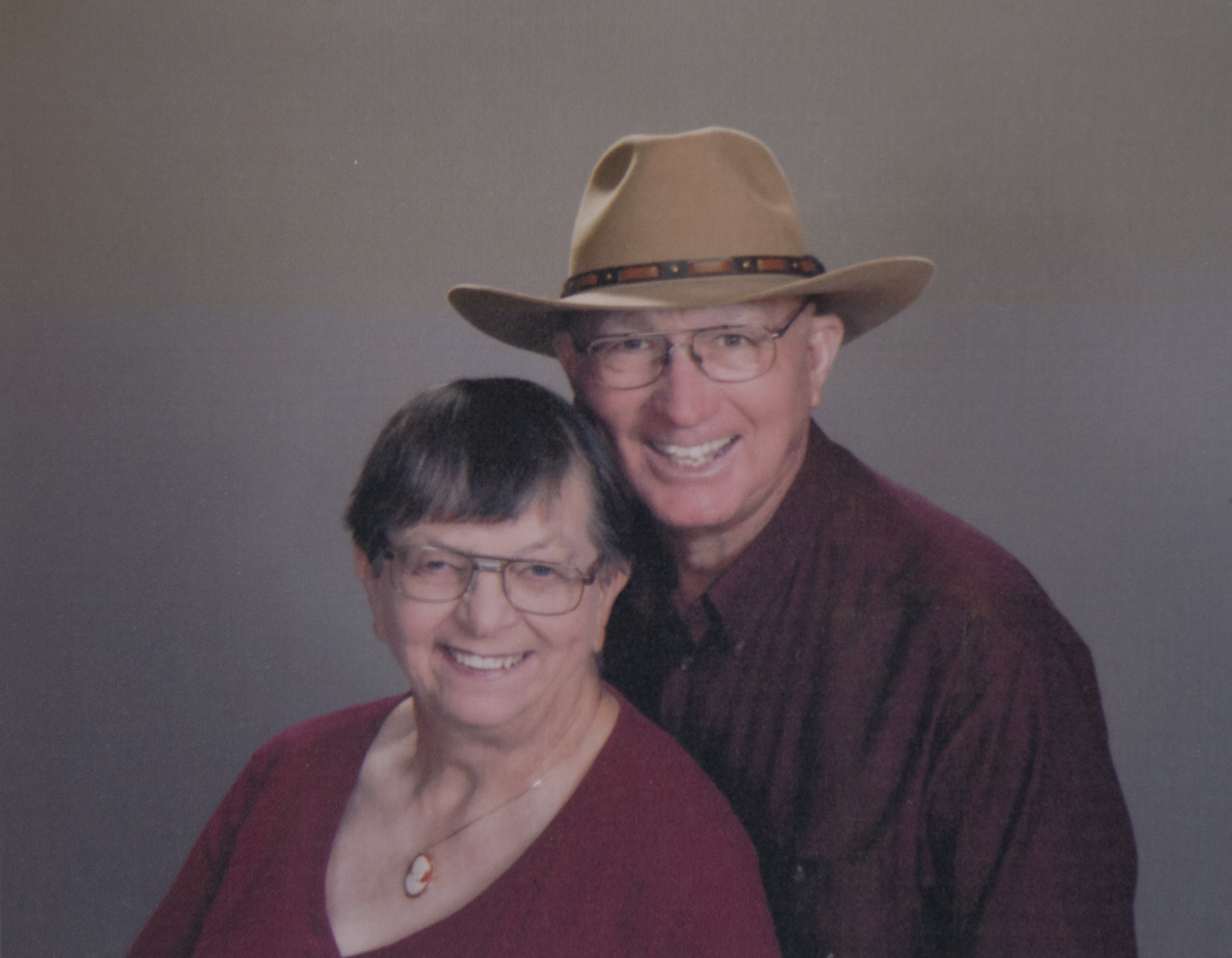 Six couples were honored as the 2019 class of Kansas Master Farmers and Master Farm Homemakers at a banquet held March 13 at the Four Points by Sheraton Hotel in Manhattan. The program, which is in its 93rd year, recognizes Kansas farm families for their leadership in agriculture, environmental stewardship and service to their communities. The award is co-sponsored by K-State Research and Extension and Kansas Farmer magazine.
Grant & Gayla Corley, from Anderson County, were recognized at the banquet.
Grant Corley's passion for providing a food source for others began at age 12 when he purchased his first tractor. His love for agriculture eventually led to a prosperous farming operation and seed plant near Garnett.
Grant has also been active on the county fair and Farm Bureau boards, and served as a member of the National Guard for many years.
After earning a nursing degree, Gayla married Grant and began helping with the farm operation. She served in the U.S. Army Corps for nearly four years, then as a nurse at the Anderson County hospital until retirement. Her dedication to healthcare led her on medical missions to developing countries.
Both have volunteered as 4-H project leaders and county fair superintendents. They have taught Sunday school classes and Bible school at their local church.
The couple has three children: Gaylene (and husband Lawrence Comfort) of Westphalia; Gaylette (and husband Shawn Conard) of Minneola; and Gaylon (and wife Heather Wootton) of Garnett. The Corleys also have 15 grandchildren.
---
2020 East Central Kansas Active Aging Expo
The 2020 Active Aging Expo scheduled for Thursday, May 7, 2020, has been cancelled. Please check this page for more information coming soon!
For more information, please contact Rebecca McFarland, rmcfara@ksu.edu, 785-229-3520 or Kathy Goul, kgoul@ksu.edu, 913-294-4306 or go to the Aging Expo webpage
Frontier District Adult Development & Aging

---
Check out our most recent newsletter! It's been a busy summer with 4-H fairs, wildflower tours, back-to-school resource fairs and more!
Our focus is on providing educational programs that focus on solving grand challenges around water, health, global food systems, community vitality, and developing tomorrow's leaders.
---

Check out the Calendar of Events to find out more information.
UPCOMING EVENTS
Franklin County Ripples of Change
Walk Kansas - 3/15 - 5/9
**NEW DATES** OS CO 4-H Beef Tagging Only - 3/26 & 4/15
*CANCELLED* 4-H Regional Club Day - 3/28
**NEW DATES** AN CO 4-H Beef Tagging Only - 3/29 & 4/16
KSU Ag Economics Online Webinar- 4/2
KSU Ag Economics Online Webinar- 4/9
KSU Ag Economics Online Webinar- 4/16
AN CO 4-H Small Animal Weigh-in & Tagging - 5/6
**CANCELLED** East Central Kansas Active Aging Expo - 5/7
FR CO 4-H Small Animal Weigh-in & Tagging - 5/7
OS CO 4-H Small Animal Weigh-in & Tagging - 5/9