Welcome to the Frontier Extension District #11
K-State Research and Extension Website
The Frontier Extension District Governing Body is seeking bids for custodial services for the Lyndon Office at 128 West 15th. Bids should be submitted to Rebecca McFarland, District Director, at rmcfarla@ksu.edu. More information can be found in the official job description.
For best consideration, email bids by Friday, March 24, 2023.
Stay Strong, Stay Healthy Classes Offered in Ottawa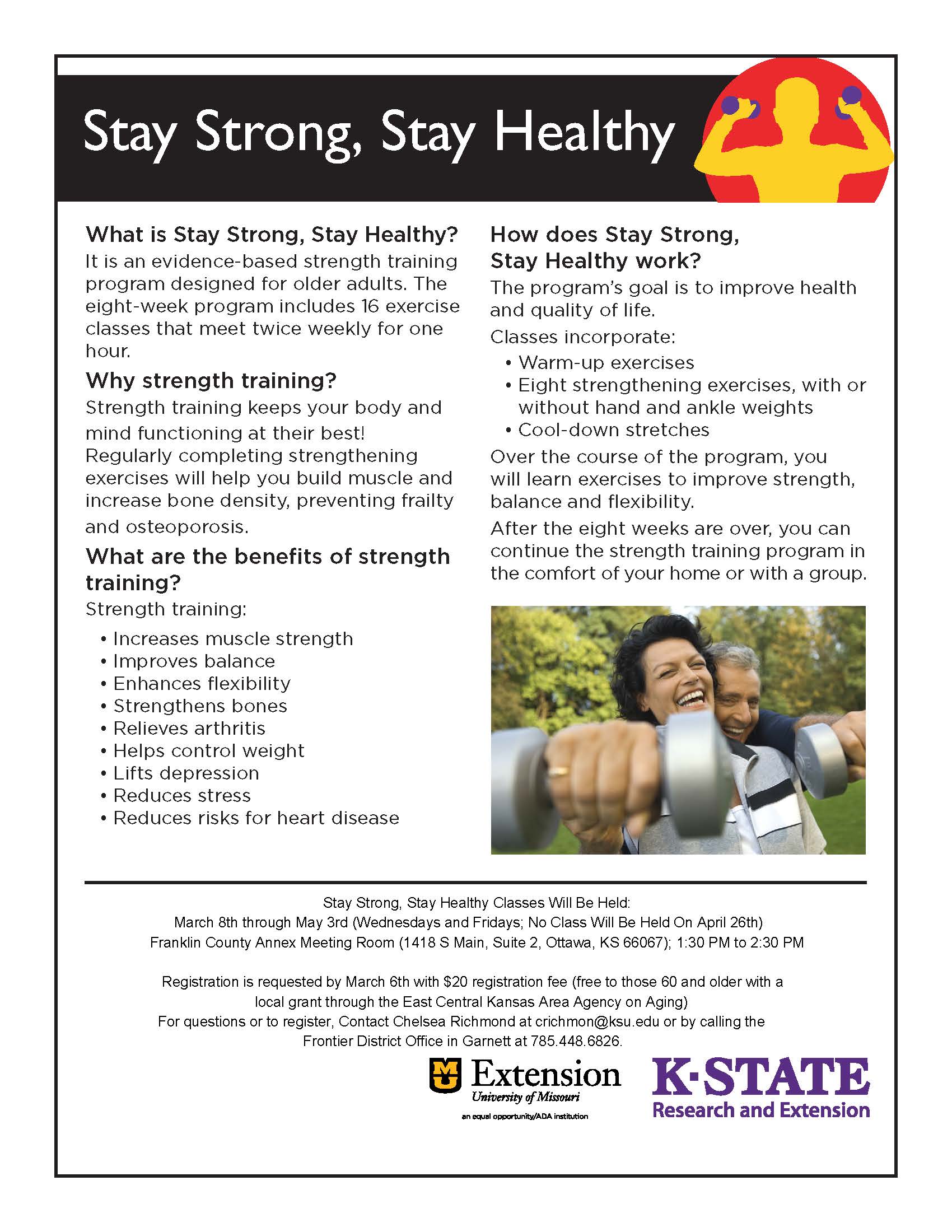 Could you or someone you know benefit from improved strength, balance, and flexiblity? Consider participating in the Stay Strong, Stay Healthy program that will begin on March 8th in Ottawa.
The eight week strength training program will meet on Wednesdays and Fridays from 1:30 p.m. to 2:30 p.m. in the Franklin County Annex Meeting Room (1418 S Main, Ottawa). The program is free to those 60 and older with a local grant through the East Central Kansas Area Agency on Aging.
For more information or to register, contact District Agent, Chelsea Richmond, by email at crichmon@ksu.edu or by calling the Frontier District Office in Garnett at 785.448.6826. You can also click on the Stay Strong, Stay Healthy tab on the district's website.
___________________________________________________________________________
Backyard Poultry 101
Frontier Extension District will host an educational opportunity titled, " Backyard Poultry 101." This public meeting will be held March 30th, 2023, beginning at 7:00 p.m. at the Garnett Community Building on the Anderson County Fairgrounds in Garnett, KS.
Dr. Scott Beyer, Kansas State Extension Poultry Nutrition and Management Specialist, will highlight many aspects of owning and raising poultry. He will discuss having a bio-security plan to protect your birds from the Highly Pathogenic Avian Flu. Other topics will include Poultry Housing and Management, Selecting the Best Breeds for Production, Getting the most Eggs from your Flock, Molting a Flock, and Vaccinations and Health Care. There will be something for everyone.
With the demand for poultry products on the rise, and a dozen eggs currently costing over $5.00 a dozen, it is a real treat to be able to grow your own broilers or eat fresh eggs. Fresh eggs are tastier than those you've purchased from the grocery store and they are also great when used for baking.
If you have questions or need more information about the Backyard Poultry 101 meeting, please contact Rod Schaub by calling 785.828.4438 or by email at: rschaub@ksu.edu. For directions, click here. See you at the meeting!
___________________________________________________________________________
Horse Sense Mini-Series
If you own a horse or are considering purchasing a horse in the next few months, this series of meetings is for you. Frontier Extension District, Marais des Cygnes Extension District, Douglas County Extension, the Kansas Horse Council and Purina Animal Nutrition are working together to bring a series of educational programs that will interest the horse enthusiast.
Meetings each evening will begin at 7:00 p.m. The first program will be in Paola, at the fairgrounds, Building #2, 401 Wallace Park Drive, on March 28th. The second meeting will be in Lawrence, at the fairground's indoor arena, 2120 Harper Street, April 13th and the third meeting will be April 25th, at Neosho County Community College, 900 E. Logan Street, in Ottawa. Topics each evening will be different.
At the Paola meeting, March 28th, topics covered will include "Costs associated with Horse Ownership," discussion will be led by Abbie Powell and Ryan Schaub, local Extension Agents. "Keeping Horses on a Small Acreage" will be covered by Holley Groshek, with Equestrian Land Conservation Resources; Katelynn Barthol and Rod Schaub, local Extension Agents, will lead discussion on Small Pasture Management; and "General Horse Nutrition" will be discussed by Sarah Leonhard, Purina Animal Nutrition.
Topics and speakers for the April 13th meeting in Lawrence will be "Pre-purchase Exams" and "Foot and Hoof Care," covered by farrier, Josh Rushing of Shoe-n-R Ranch. Rhonda Martin, with Equine Mechanix, will discuss the use of "Massage and Chiropractic Therapy, and Saddle Fit."
The Series will wrap up April 25th in Ottawa. Here Dr. Fred Gardner, DVM, will cover "Thinking about Bio-Security When You and Your Horse are on the Road Traveling;" he will also discuss "Vaccinations, What's Needed, and are there Side Effects?" Another topic Dr. Gardner will present is "What and Why of Health Papers and Coggins Testing." Sarah Leonhard, Purina Animal Nutrition, will be back, this week, to discuss "Using Supplements for Horses."
Hope you will be able to join us for this educational series. If you need more information or have questions, please call Rod Schaub, Frontier Extension District Agent, at 785.828.4438 or by email at: rschaub@ksu.edu. Or contact Katelyn Barthol, Marias des Cygnes District Agent, at 913.294.4306 or by email at: kbarth25@ksu.edu.
See you there!
___________________________________________________________________________
Age Well Series
April 5th and May 11th
A series of educational webinars to promote positive attitudes about aging and encourage individuals to be active physically, mentally, and financially.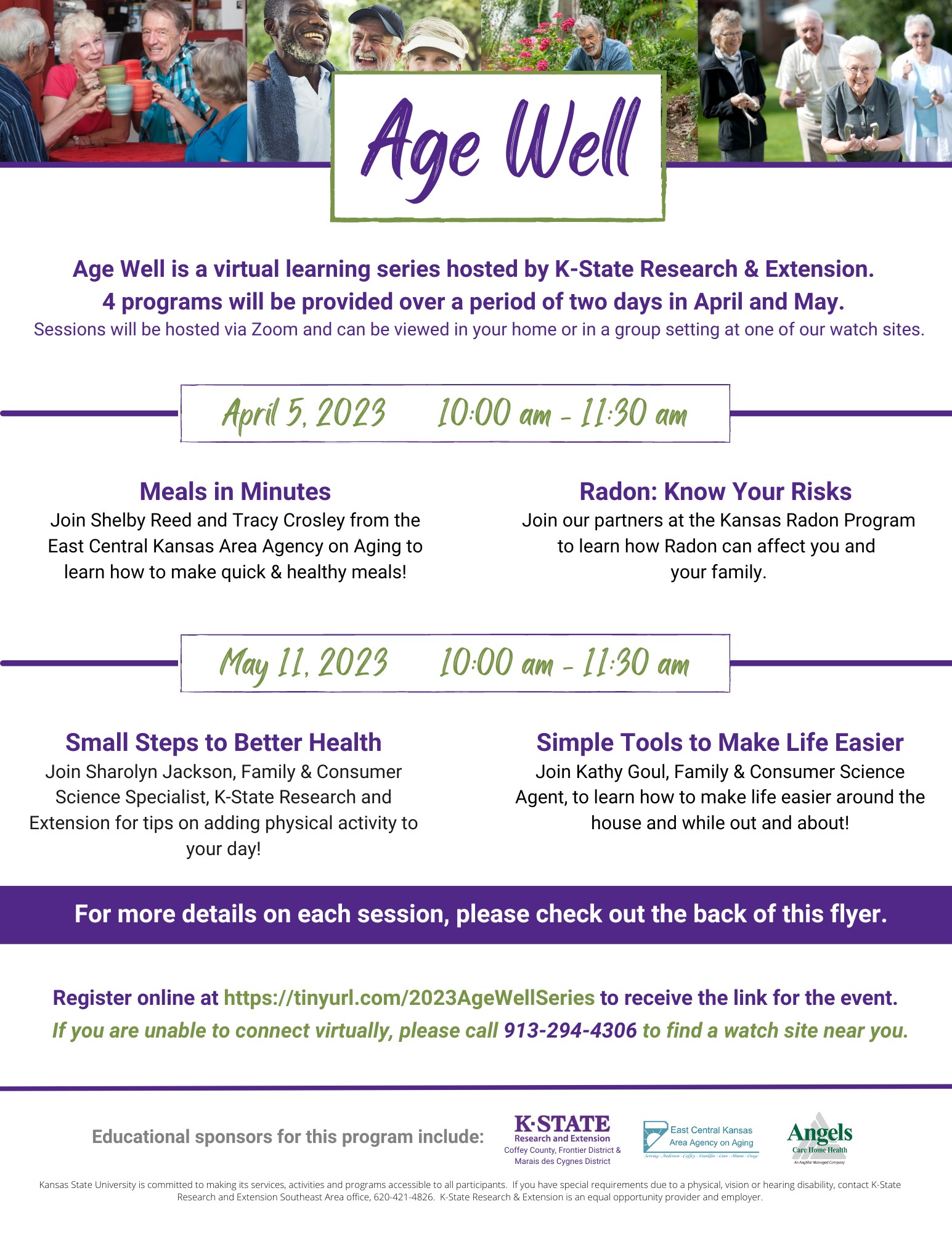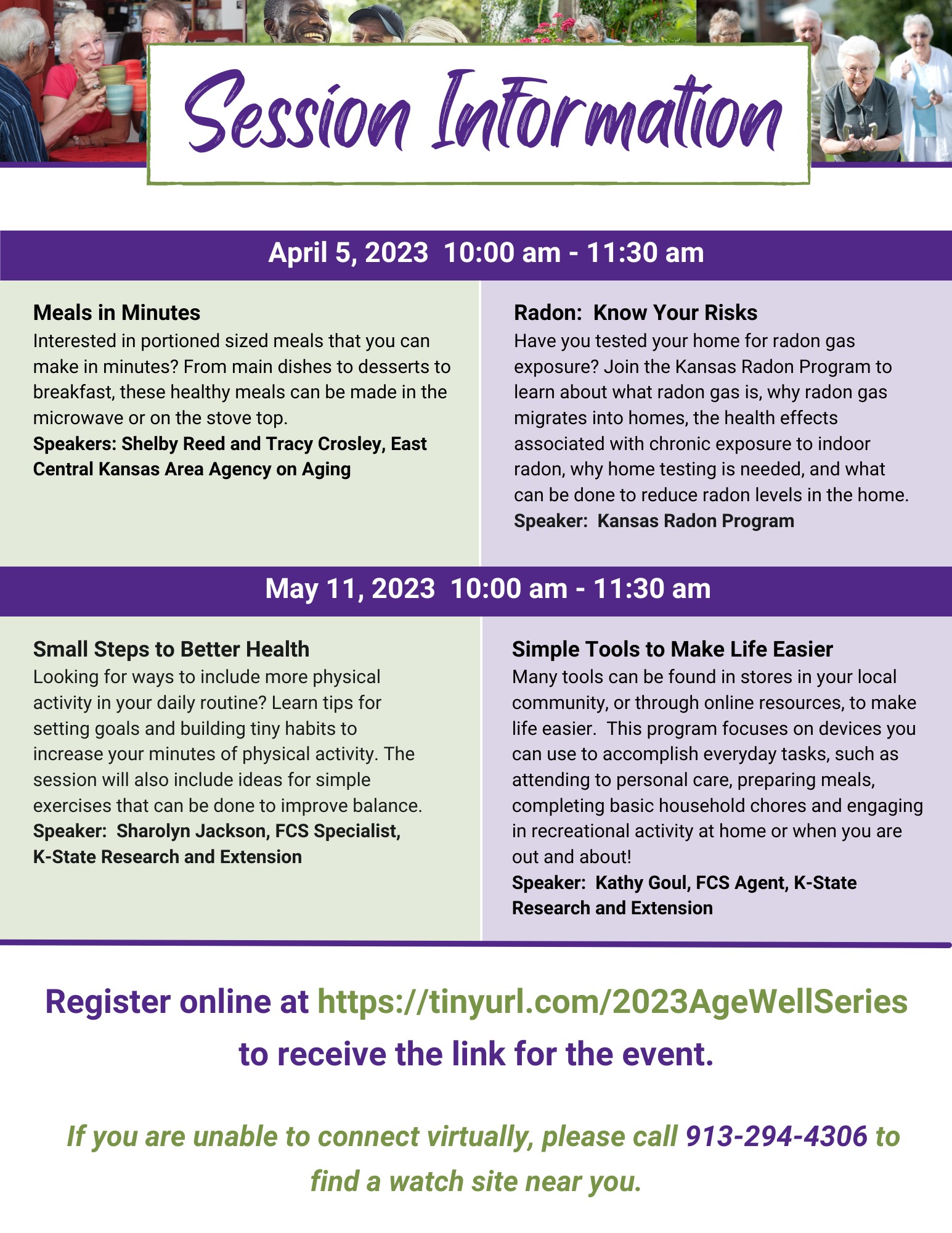 ___________________________________________________________________________
Catch us on the radio!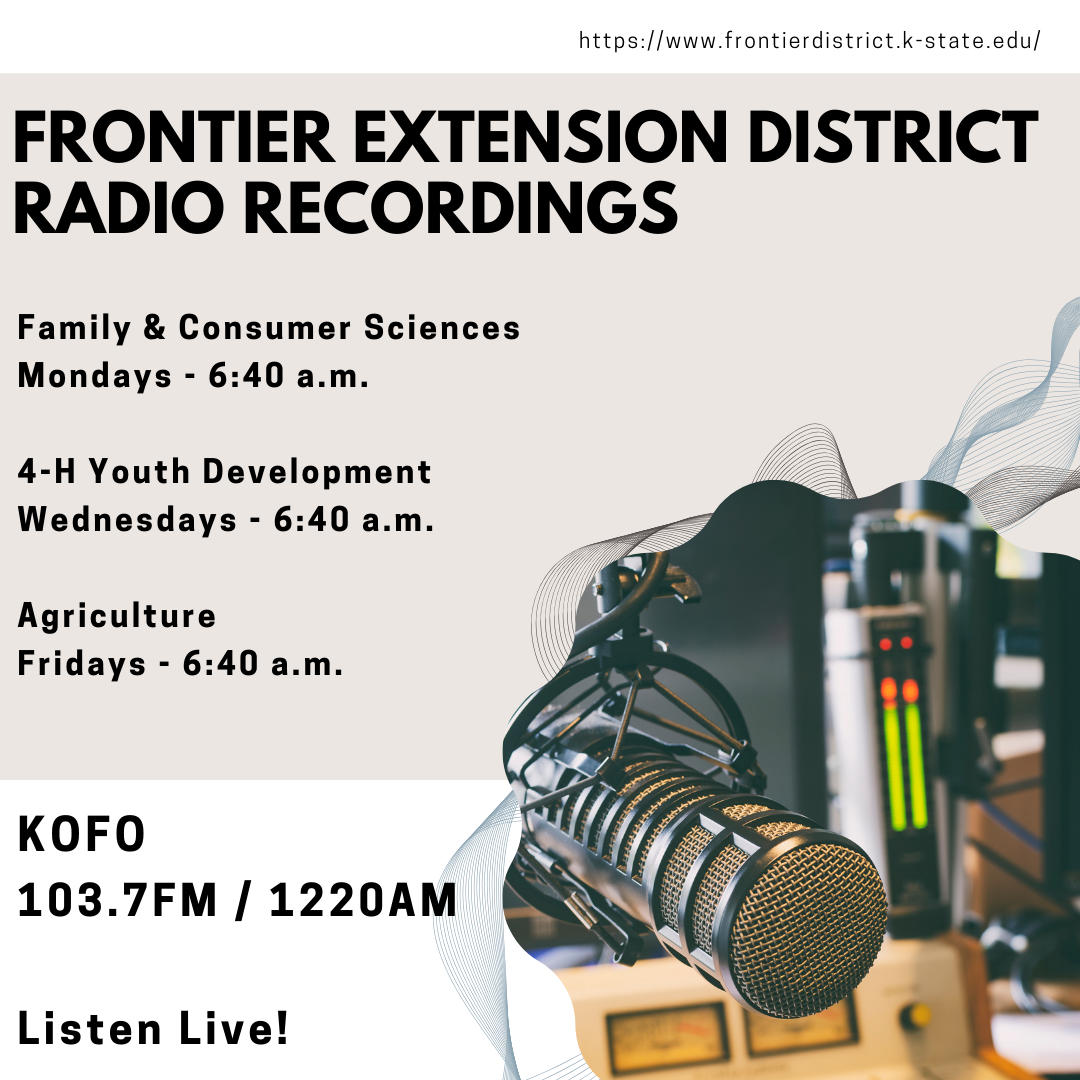 Don't forget to tune in to KOFO 103.7 FM or 1220 AM to three days a week to get Frontier Extension District updates.
Missed a program? Now you can go to the KOFO Recordings page to hear previous radio programs.