Welcome to the Frontier Extension District #11
K-State Research and Extension Website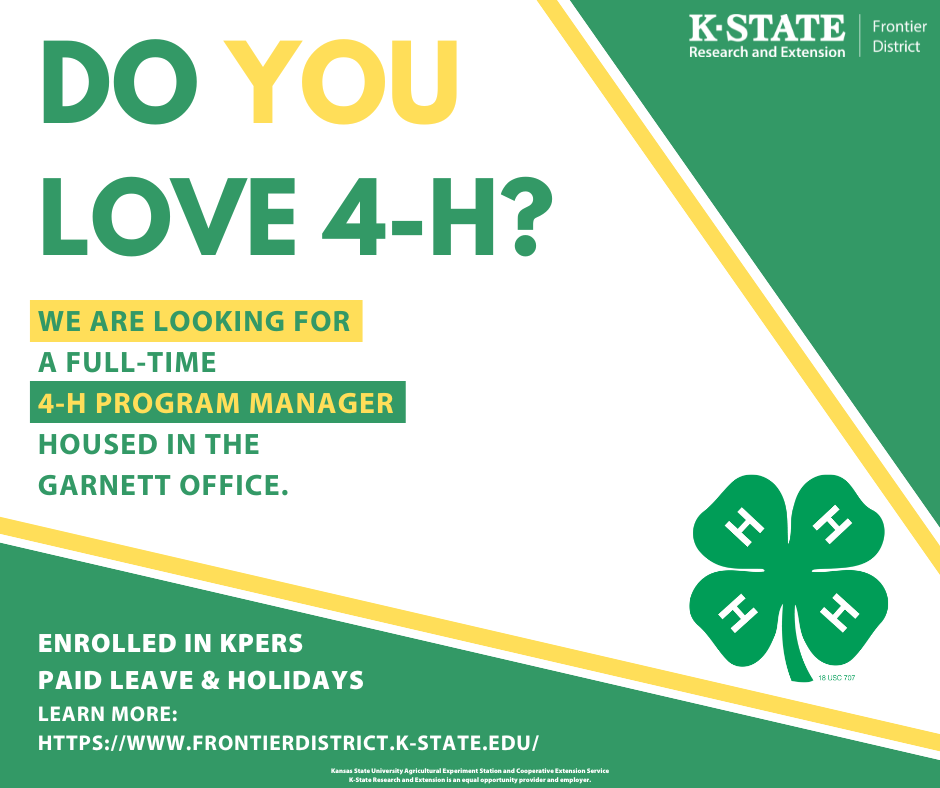 The Frontier Extension District is accepting applications for a full-time 4-H Program Manager in the Garnett office. A position description and application can be found below. If you have any questions, please contact Rebecca McFarland, District Director, at 785-229-3520 or rmcfarla@ksu.edu.


Farm Transition and Succession Planning Conference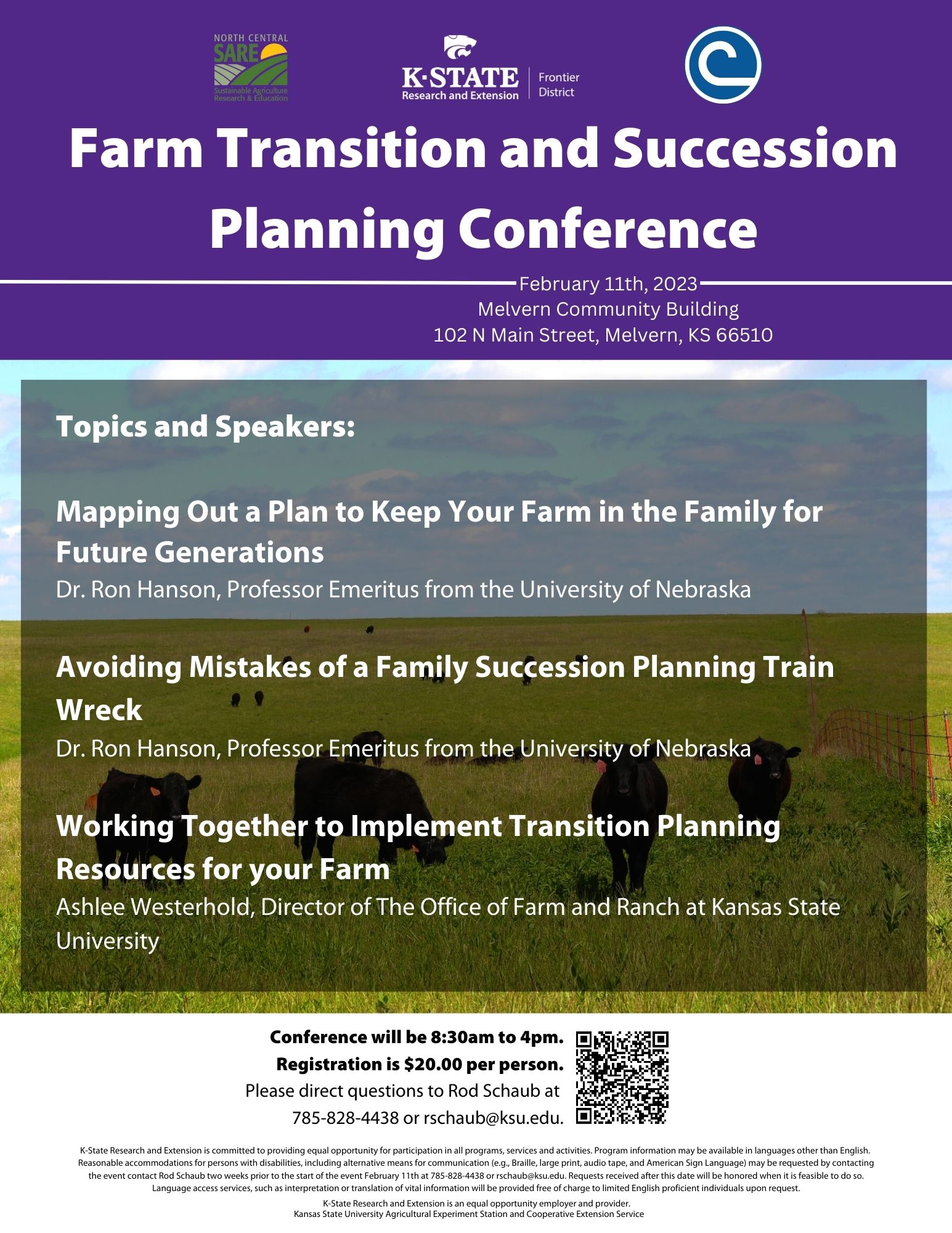 Frontier Extension District with the help of the Conservation Districts in Anderson, Franklin and Osage Counties will host a Farm Transition and Succession Planning Conference beginning at 8:30 a.m. and running through 4:00 p.m., Saturday, February 11th, 2023. The meeting will be held at the Melvern Community Building, Melvern KS.
Pre-registration is required. You can register and pay online by going to the link; using the QR Code; or by calling any of the Districts Extension Offices: Ottawa, 785.229.3520; Garnett, 785.448.6826 or Lyndon, 785.828.4438; or by emailing rschaub@ksu.edu. There is a twenty-dollar fee per person to attend.
The key note speaker for the event will be Dr. Ron Hanson. During the morning session, Dr. Hanson will discuss "Mapping Out a Plan to Keep Your Farm in the Family for Future Generations." In the afternoon session, he will highlight "Avoiding Mistakes of a Family Succession Planning Train Wreck." Dr. Ron Hanson, Professor Emeritus from the University of Nebraska, has counseled and worked with farm families for more than 40 years to help them resolve family conflicts in a more positive manner and improve family relationships. His most recent efforts have been directed at farm business ownership succession planning and the transition of management control between farming generations.
Ashlee Westerhold will explore transition resources available through her office at Kansas State University. She is the director of "The Office of Farm and Ranch Transition" at Kansas State University. The recently launched program offers resources and assistance with succession planning, retirement, and transferring management and assets. Her office also offers a land-link program to introduce exiting landowners with beginning farmers/ranchers through an application and curated matching process. One-on-one consultations are available to anyone needing assistance with transition planning.
You often see the terms "farm estate planning" and "farm transition planning" used interchangeably, but there are some important differences. Estate planning is what happens to the assets when one generation passes, (who gets what.) Transition planning is what allows the next generation the opportunity to keep that farming or ranching operation in business and moving forward.
Hope you will be able to join us February 11th. If you have questions on need more information please call Rod Schaub, Frontier District Agent at 785.828.4438.
___________________________________________________________________________
Catch us on the radio!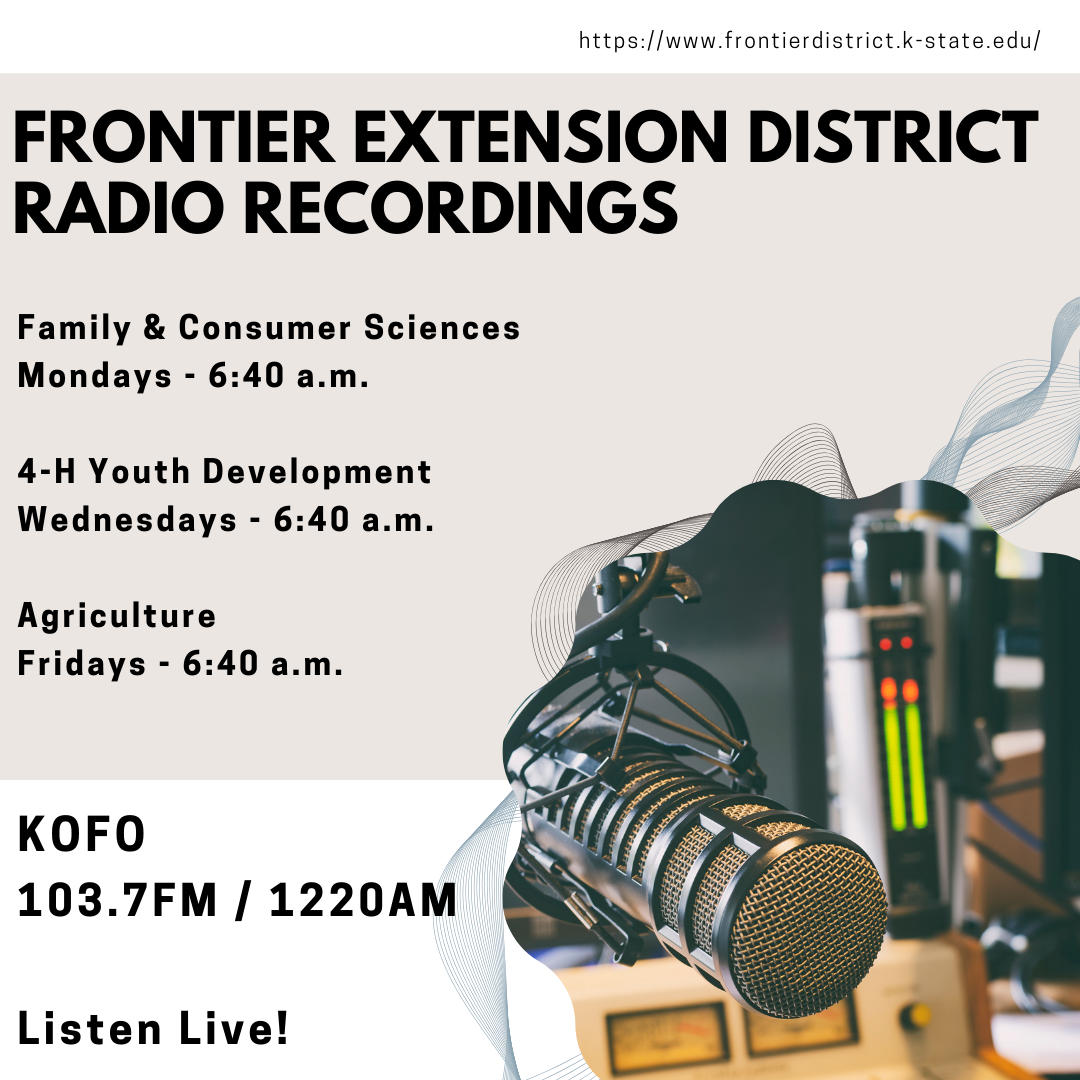 Don't forget to tune in to KOFO 103.7 FM or 1220 AM to three days a week to get Frontier Extension District updates.
Missed a program? Now you can go to the KOFO Recordings page to hear previous radio programs.