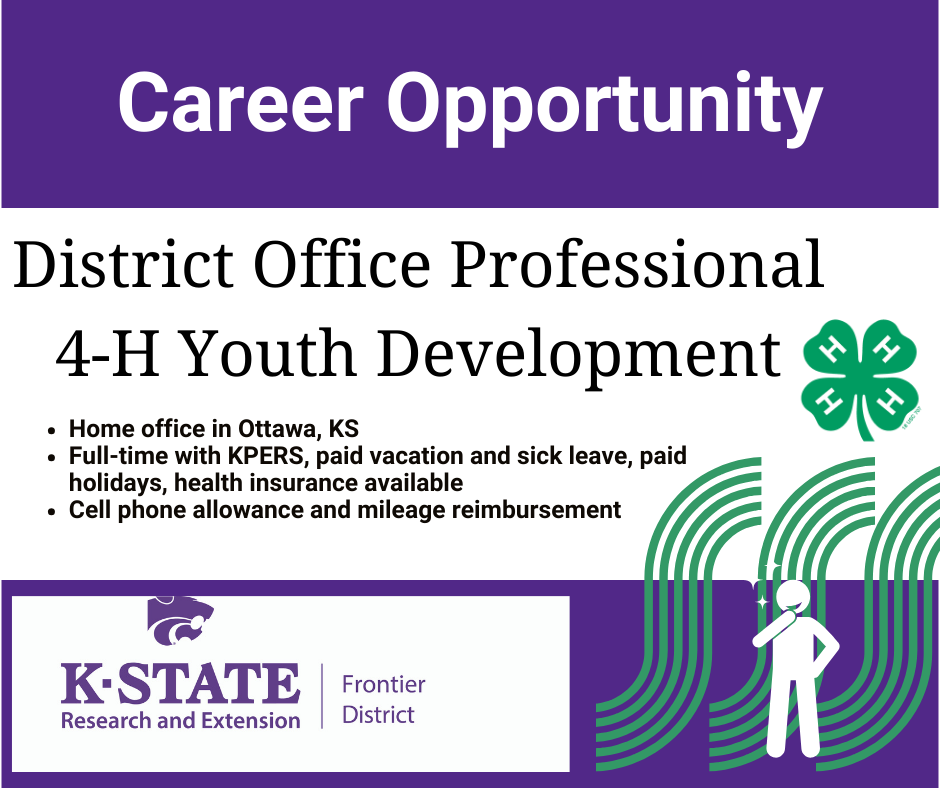 The Frontier District is hiring for a full-time District Office Professional – 4-H Youth Development; work location is the Ottawa office. See the full position announcement and application for employment. Screening of applications will begin October 16, 2023, and continue until a suitable applicant has been hired. To apply, submit a cover letter, resume and application for employment to Rebecca McFarland, District Director, at rmcfarla@ksu.edu. For more information, contact Rebecca at 785-229-3520 or rmcfarla@ksu.edu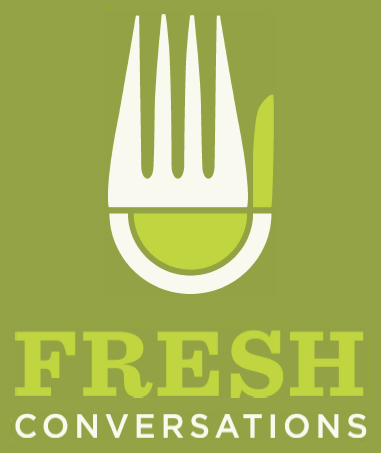 The Fresh Conversations senior nutrition program will begin October 19, 2023, at 8:15 a.m. at the Ottawa Recreation Commission Goppert Building, 705 W. 15th. The program is open to any Kansan 60 or older and will continue the 3rd Thursday of every month. Each program will include recipe tastings, and attendees will receive a free pass to work out that day, which will be valid for Silver Sneakers as well. More information is available in this flyer, or contact Kris Wallace, SNAP-Ed Nutrition Educator in the Frontier Extension District Ottawa office, at 785-229-3520 or krwall@ksu.edu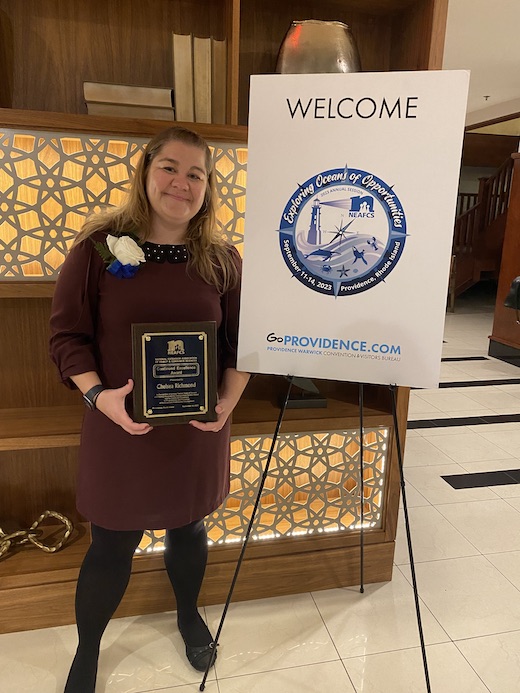 District FCS Agent Chelsea Richmond received the Continued Excellence Award at the Annual Session of the National Extension Association of Family and Consumer Sciences that was held in Providence, Rhode Island, this month. She began her career with K-State Research and Extension in 2010 and has served the Frontier District for the past six years. Chelsea provides leadership for the district's SNAP-Ed program in addition to leadership for the district's nutrition, food safety, and health programs including Stay Strong, Stay Healthy; ServSafe; and Walk Kansas. Congratulations, Chelsea!
September is National Suicide Prevention Month. The Frontier District is participating in a social media campaign organized by the K-State Research and Extension Stress and Resiliency Team that highlights statistics, facts, and vital resources to raise awareness and end the stigma of this health crisis. See this campaign on the Frontier District's Facebook page and listen to Rebecca McFarland's KOFO radio spot.
In addition, the Child Mind Institute is drawing attention to the sharp rise in adolescent suicides. Its focus is on strategies for supporting kids who are down on themselves, skeptical that treatment can help, or feeling overwhelmed. In-depth articles are available at the following links:
Teen Suicides: What Are the Risk Factors?
What to Do if You're Worried About Suicide
How to Help Kids Who Are Too Hard on Themselves
Helping Resistant Teens Into Treatment
How to Support a Friend With Mental Health Challenges
Results from research conducted at the Bressner Pasture Range Research Unit near Yates Center were shared with the public on Sept 6, 2023, at the site. Research on native grass pastures has spanned many topics, including drone use for making pasture management decisions, patch burning on native prairie, and comparisons of gazing season lengths. The full publication of results presented is online. Attendees were joined by Ernie Minton, dean of K-State's College of Agriculture and director of K-State Research and Extension, and Jane Schuh, director and associate dean for the K-State College of Agriculture's research and graduate programs. The next Bressner Pasture field day will be held in approximately five years when additional studies have been completed.
Catch us on the radio!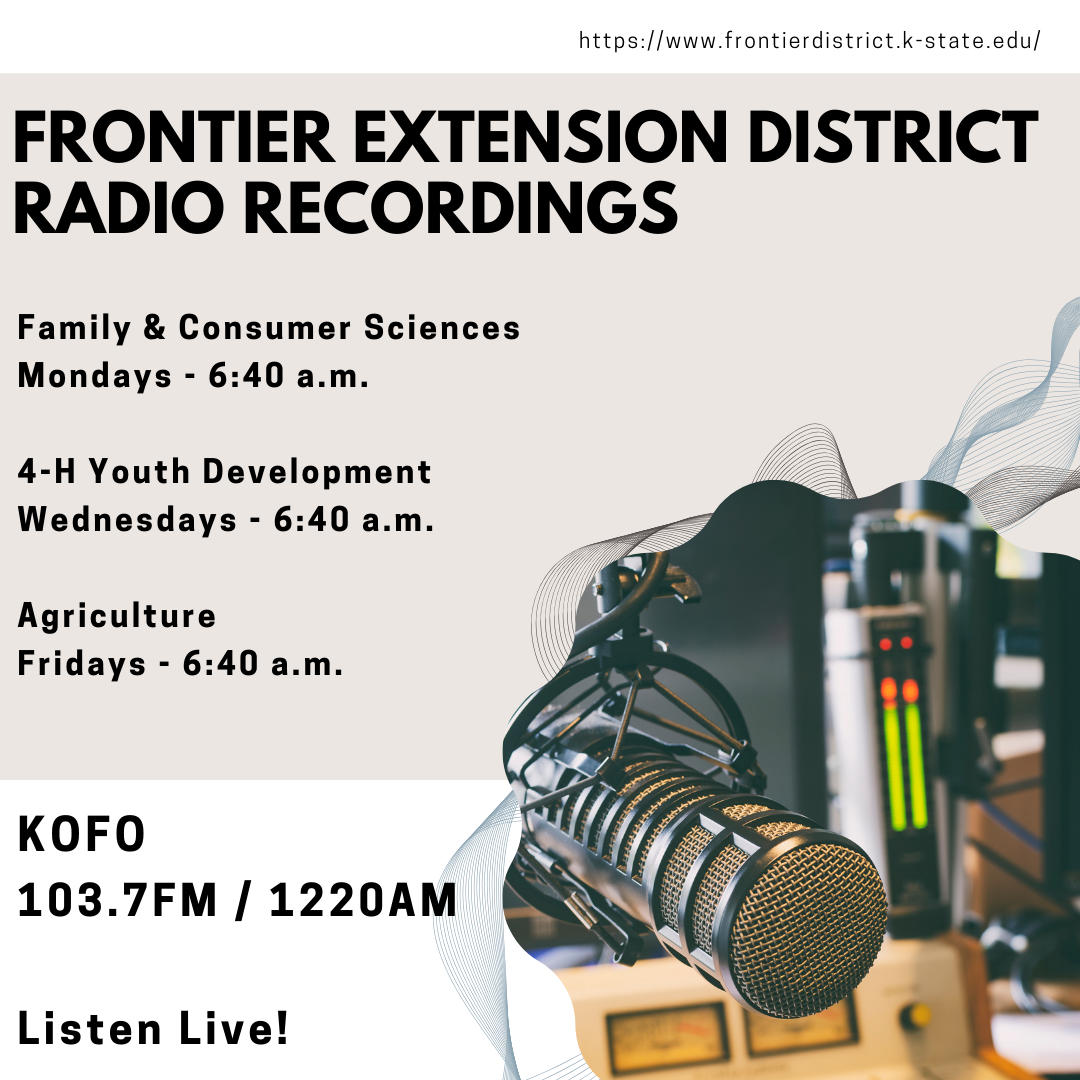 Don't forget to tune in to KOFO 103.7 FM or 1220 AM to three days a week to get Frontier Extension District updates.
Missed a program? Now you can go to the KOFO Recordings page to hear previous radio programs.