Welcome to the Frontier Extension District #11
K-State Research and Extension Website
What's New in the District

As our society faces the challenges of maintaining health-oriented practices, social isolation, school closures, financial pressures and more, resources on the COVID-19 Extension page can help as you navigate through this challenging situation.
K-State Research and Extension specialists are subject matter experts in numerous aspects of life that have been affected by the COVID-19 pandemic. They provide unbiased, fact-based help in these subjects free of charge for the benefit of everyone in Kansas and the rest of the world.
---
IMPORTANT NOTICE!
*Click the image below to see larger.*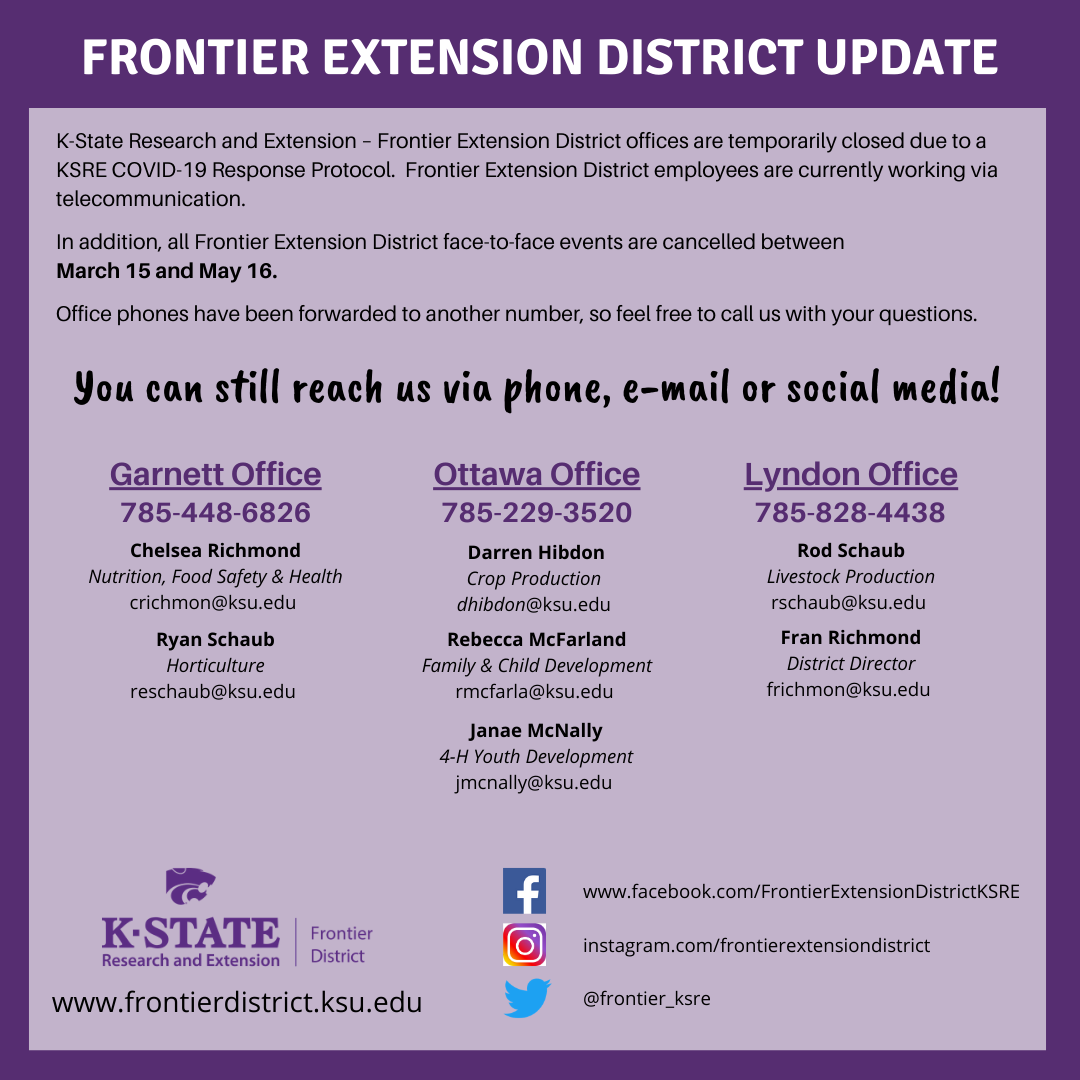 ---
#StrongFamilies Challenge
Frontier District families, show us your strengths! We know that you are spending a considerable amount of time together and although there are challenges, you are building strengths.
Show us how you are enhancing your family's strengths by participating in our #StrongFamilies Challenge weekly, for the next six weeks.
Go to the Frontier Extension District Family & Child Development Strong Families page for more information on how to participate.
---
Soil Testing is still available!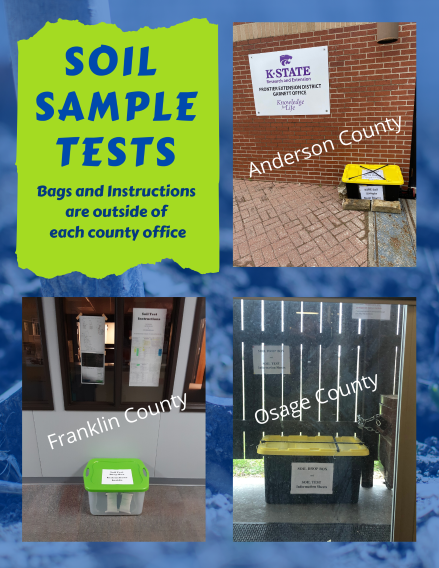 For more information regarding soil testing, please go to the Lawn & Garden Soil Sample page.
---
Catch us on the radio!

Don't forget to tune in to KOFO 103.7 FM or 1220 AM to three days a week to get Frontier Extension District updates.
Our agents share research-based, unbiased and educational information related to agriculture and natural resources, family and consumer sciences, 4-H youth development, community development, and upcoming programs.
---
Farm Financial Skills WIA Webinar - COVID-19

Ag Manager is offering two LIVE webinars as a follow-up to Farm Financial Skills for Kansas Women in Agriculture. The topic will be addressing concerns amid COVID-19.
Participants did not have to attend the winter series to join the webinars. The content will be the same for both days.
You can find the registration links and more information on the CROPS page.
---
Check out our most recent newsletter! It's been a busy summer with 4-H fairs, wildflower tours, back-to-school resource fairs and more!
Our focus is on providing educational programs that focus on solving grand challenges around water, health, global food systems, community vitality, and developing tomorrow's leaders.
---

Check out the Calendar of Events to find out more information.
UPCOMING EVENTS
Franklin County Ripples of Change
Walk Kansas - 3/15 - 5/9
COVID-19 Women in Agriculture Webinar - 4/7
COVID-19 Women in Agriculture Webinar - 4/8
KSU Ag Economics Online Webinar - 4/9
**NEW DATES** OS CO 4-H Beef Tagging Only - 4/15
**NEW DATES** AN CO 4-H Beef Tagging Only - 4/16
KSU Ag Economics Online Webinar- 4/16
AN CO 4-H Small Animal Weigh-in & Tagging - 5/6
**CANCELLED** East Central Kansas Active Aging Expo - 5/7
FR CO 4-H Small Animal Weigh-in & Tagging - 5/7
OS CO 4-H Small Animal Weigh-in & Tagging - 5/9