Welcome to the Frontier Extension District #11
K-State Research and Extension Website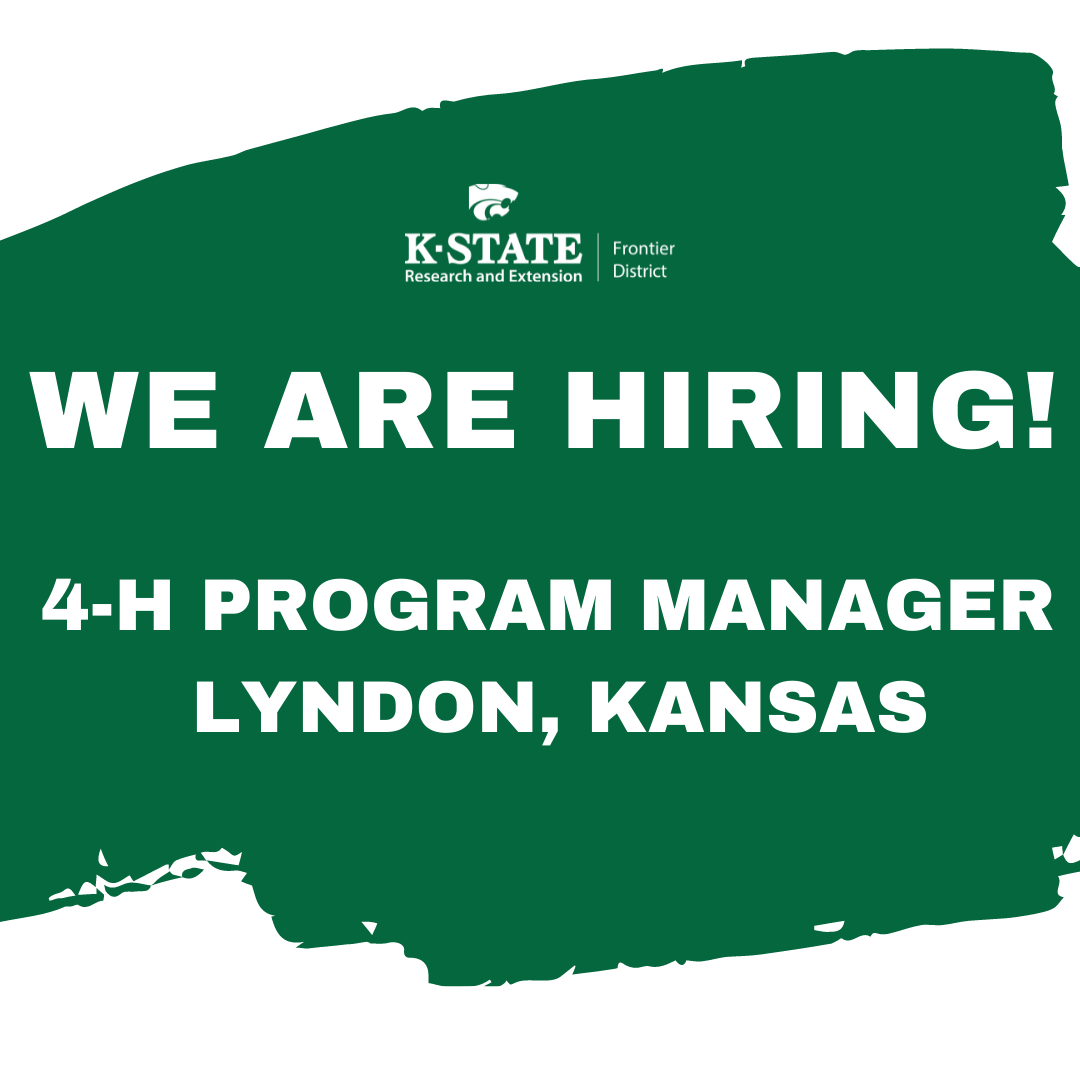 The Frontier Extension District is accepting applications for a full-time 4-H Program Manager in the Lyndon office. A bachelor's degree in education, youth development, sociology or related field is required, as well as significant experience in a youth development organization. Applicants must also have the ability to communicate effectively both verbally and in writing, have access to a personal vehicle and maintain a valid Kansas Driver's License. Some overnight travel, evening and weekend work will be required.
For information on how to apply and a position description, go to https://www.frontierdistrict.k-state.edu/ or call District Director, Rebecca McFarland at 785-229-3520. Applications must be received by December 8, 2021. Position start date is January 3, 2022.
4-H Program Manger Position Description can be found HERE.
Application Procedures can be found HERE.
A form-fillable Application can be found HERE.
________________________________________________________________________________
Jessica Flory - 4-H Youth Development Agent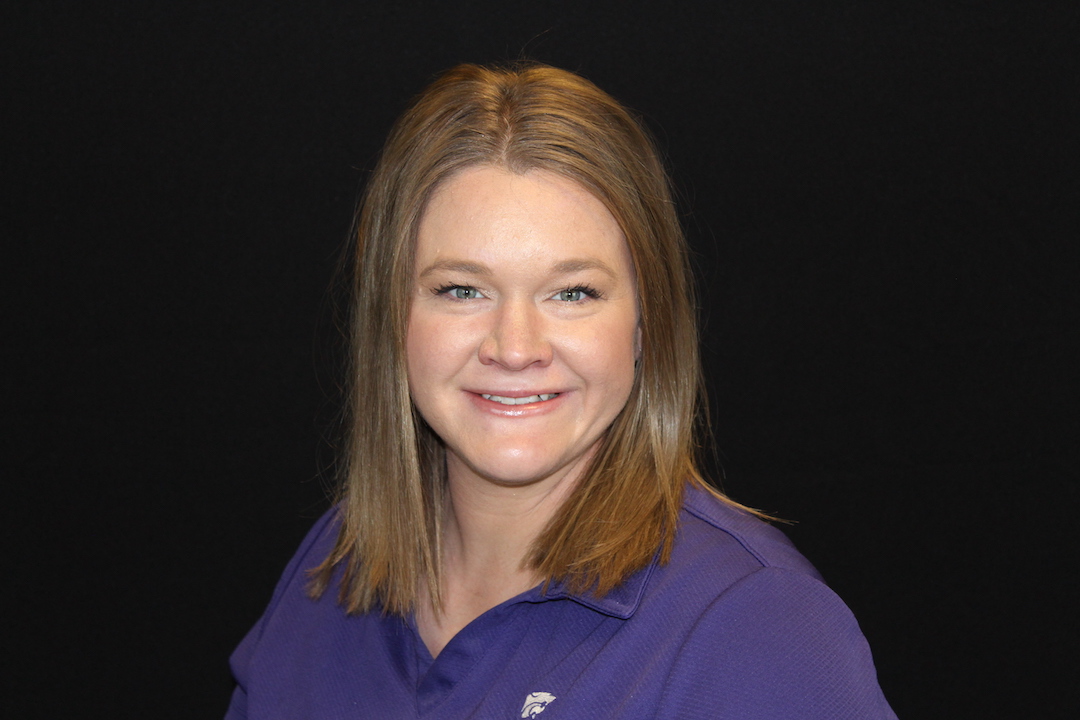 The Frontier Extension District is excited to announce that Jessica Flory is the new 4-H Youth Development Extension Agent. Jessica officially began her new position on November 1, 2021, and has been with the Frontier Extension District as the 4-H Program Assistant/Manager for the last ten years. She has a great passion for youth development and the 4-H program. While attending Kansas State University, she worked at Rock Spring 4-H Camp during summer breaks. Since graduation in 2009, she started working for the Frontier District in May of 2011. Jessica took a break from Extension in 2013 to work for her church as Preschool, Children Ministry, and Youth Director. In 2015 she returned to the Frontier District.
Her position will consist of leading the development, implementation, and evaluation of a comprehensive 4-H youth development program for school-aged youth in cooperation with residents and extension colleagues. Programs include supporting community clubs, out-of-school programs, school enrichment, volunteer management, and more. She is excited about the opportunity to work with families and volunteers in Anderson, Franklin, and Osage County communities. If you would like to contact Jessica, you can reach her at the Ottawa Extension Office at 785-229-3520 or email her at jrflory@ksu.edu.
________________________________________________________________________________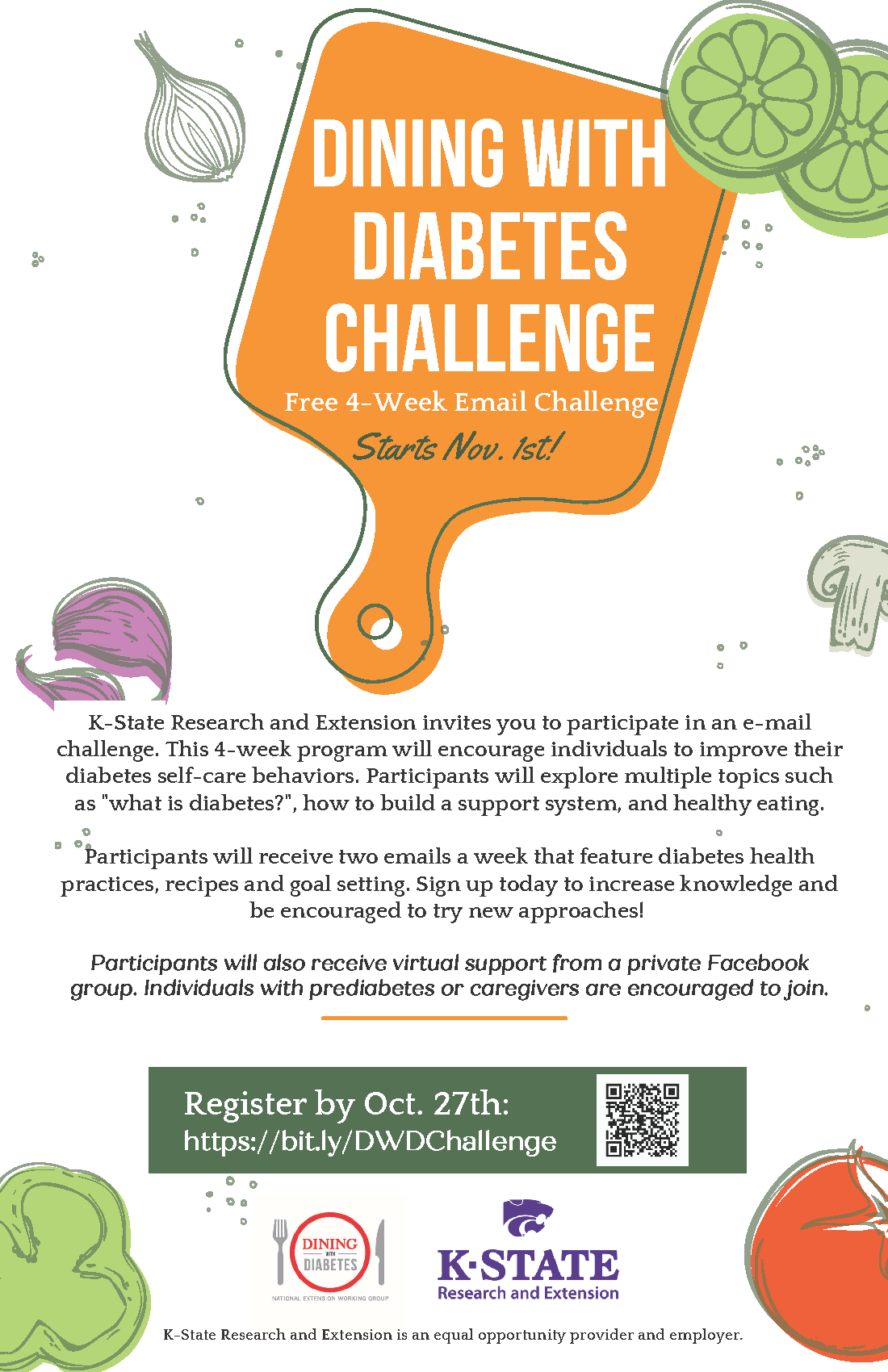 Are you looking for ways to improve diabetes self-care behaviors? Sign up for the free Dining with Diabetes email challenge to increase your knowledge, learn about diabetes health practices, and receive recipes!
K-State Research and Extension invites you to participate in an e-mail challenge. This 4-week program will encourage individuals to improve their diabetes self-care behaviors. Participants will explore multiple topics such as "what is diabetes?", how to build a support system, and healthy eating.
Participants will receive two emails a week that feature diabetes health practices, recipes and goal setting. Sign up today to increase knowledge and be encouraged to try new approaches!
Registration and more information can be found HERE.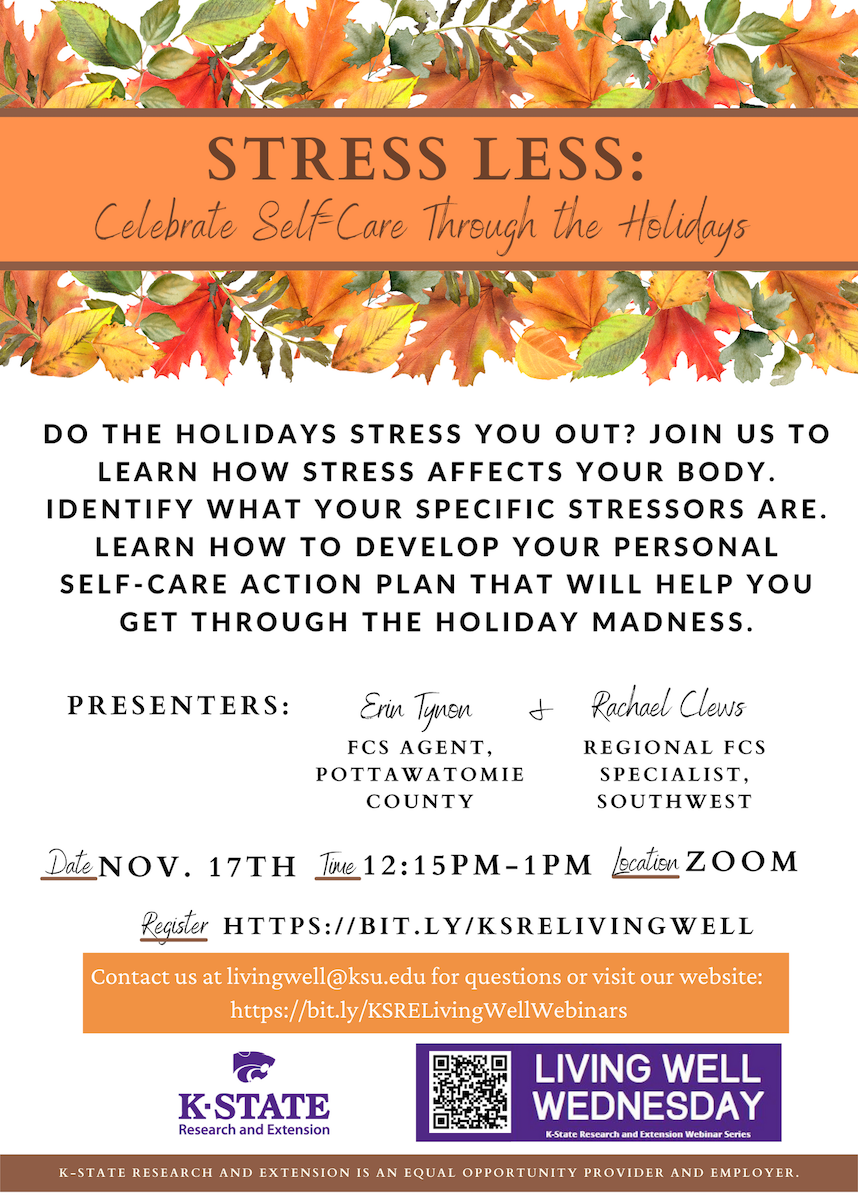 Do you get stressed out during the holidays? 🦃🌲K-State Research and Extension will be joined by two speakers who will teach us how to develop personal self-care throughout all of the holiday madness!
Registration information can be found HERE.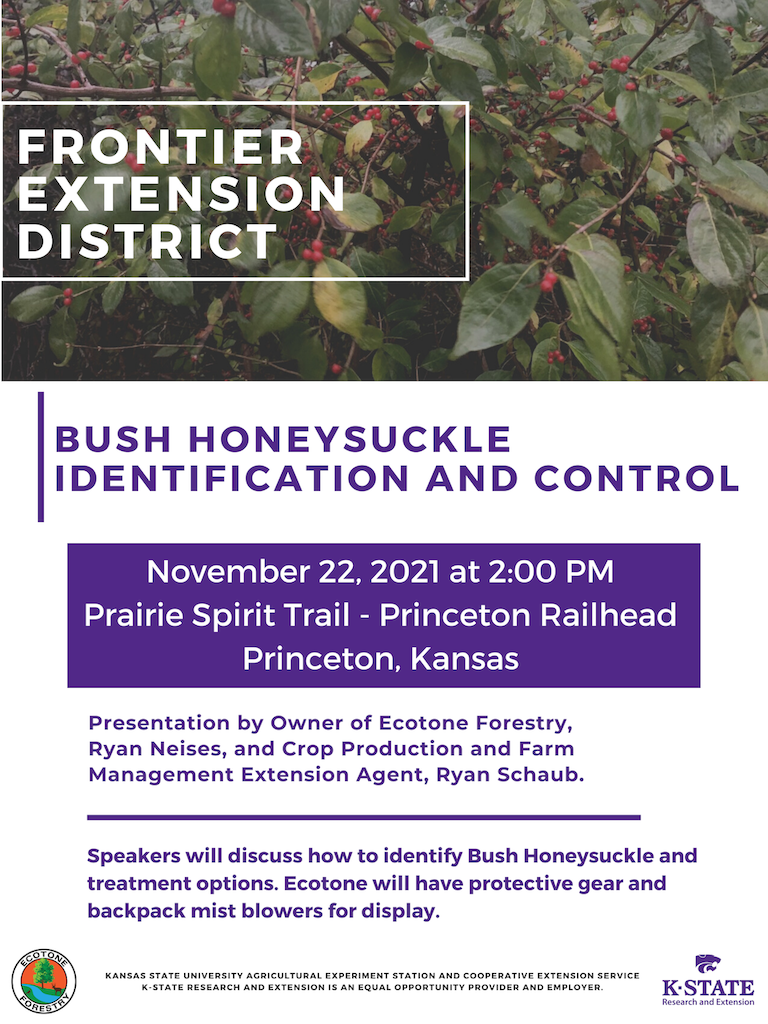 The Frontier Extension District, in conjunction with Ecotone Forestry and the Kansas Wildlife and Parks, will host a meeting regarding "Bush Honeysuckle" on November 22nd at 2 pm. We will meet at the Prairie Sprit Trail- Princeton Railhead just off Galveston Street in downtown Princeton, KS.
What is bush honeysuckle? It is a "wild shrub" that has taken over the brush understories in many areas of Kansas. Bush honeysuckle is very noticeable in the spring as it greens up early and flowers in mid-May. In the fall bush honeysuckle holds on to its leaves much longer than our native trees and shrubs giving it an extreme competitive advantage. In fact, in the 1800's pioneers used bush honeysuckle as an ornamental plant in the landscape around the house. If you want to promote native species on your property, then controlling bush honeysuckle is a must!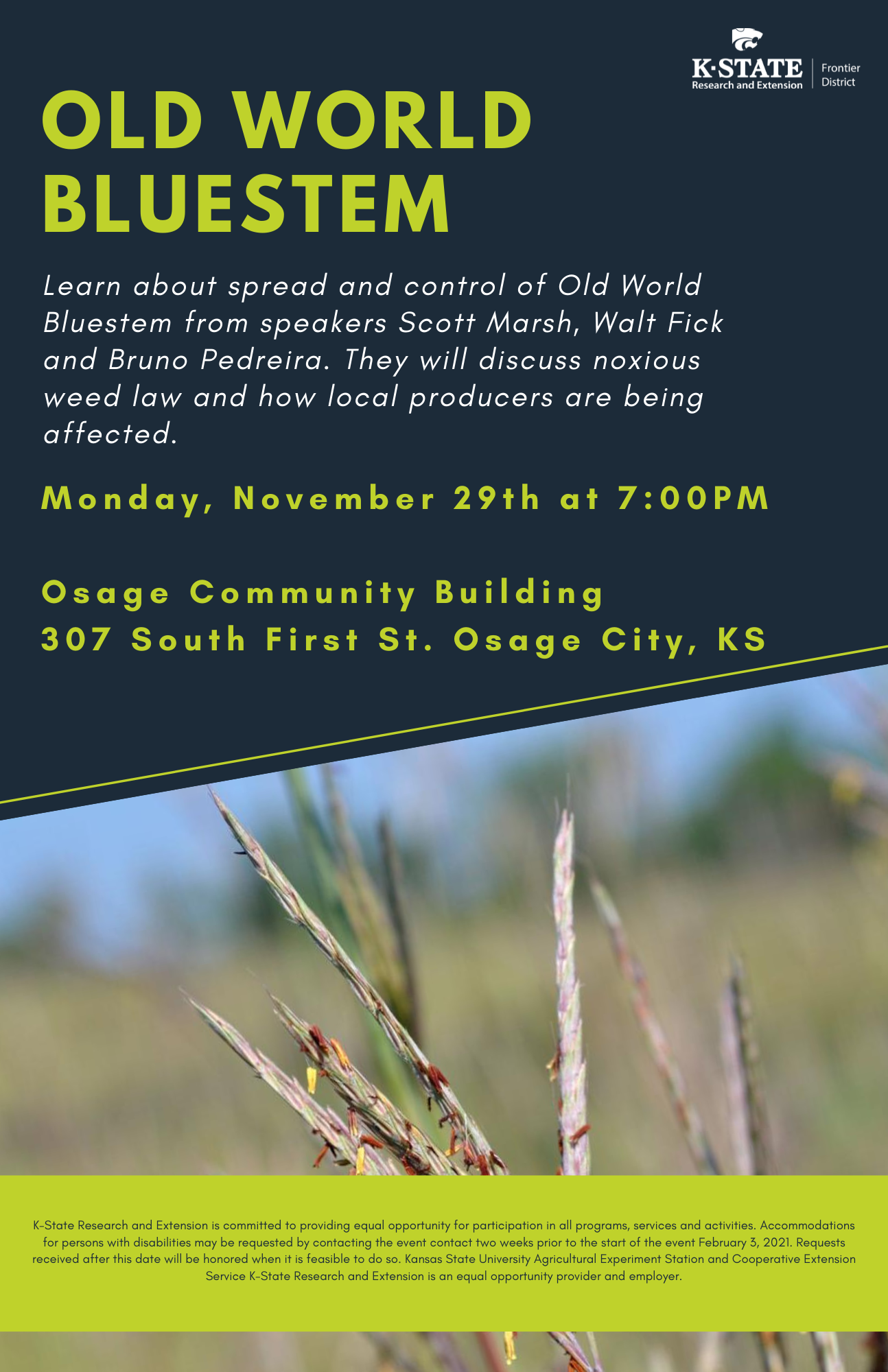 Frontier Extension District will host an informational meeting on Old World Bluestem, November 29th, at the Osage City Community Building, 307 South First Street, Osage City, beginning at 7:00 p.m.
Old World Bluestem is a name that refers to cultivars of Caucasian and Yellow Bluestem. These species were introduced into the United States for conservation purposes and as a forage that could be hayed or grazed. Though called bluestems they are not closely related to our native species of big and little bluestem.
Old World Bluestems are an invasive species in Kansas. They can be controlled, but control becomes progressively more difficult and expensive the longer the grass is allowed to grow and spread.
Mark your calendar and please join us to learn more about this important invasive species.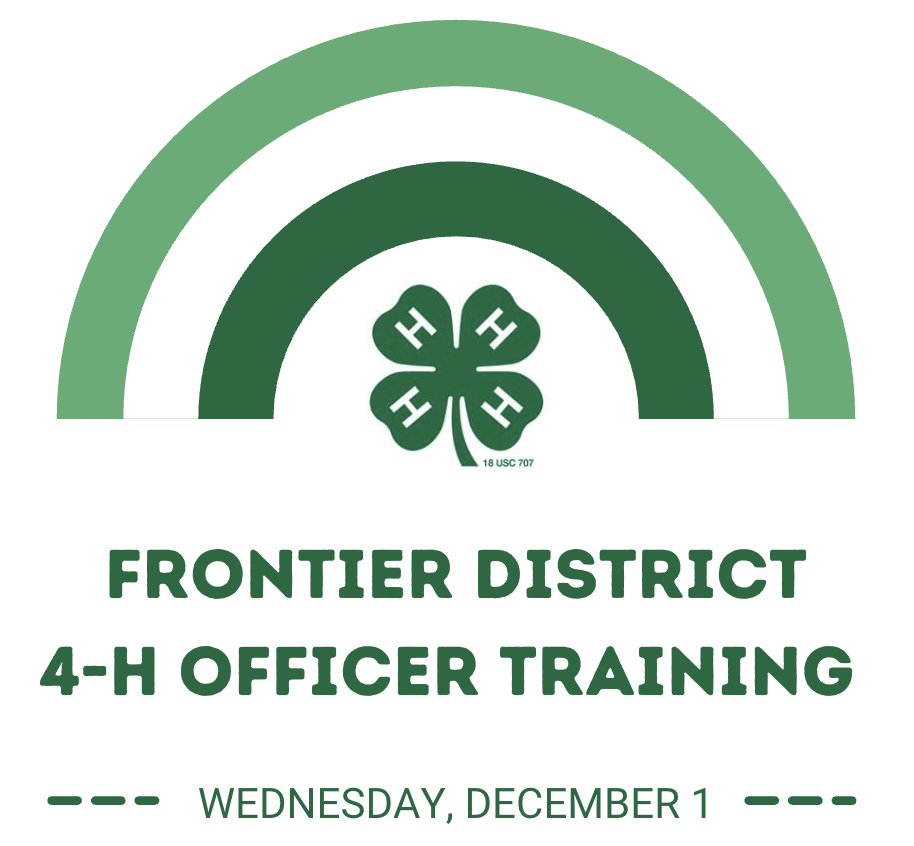 This year's 4-H Officer Training will be held at Marais des Cygnes Valley School in Melvern at 6:30 p.m on Wednesday, December 1st. The training will begin with a light supper and continue with Officer Training. This training is for all officers in the Frontier Extension District 4-H Program. Please RSVP to the Extension Office by Monday, November 29.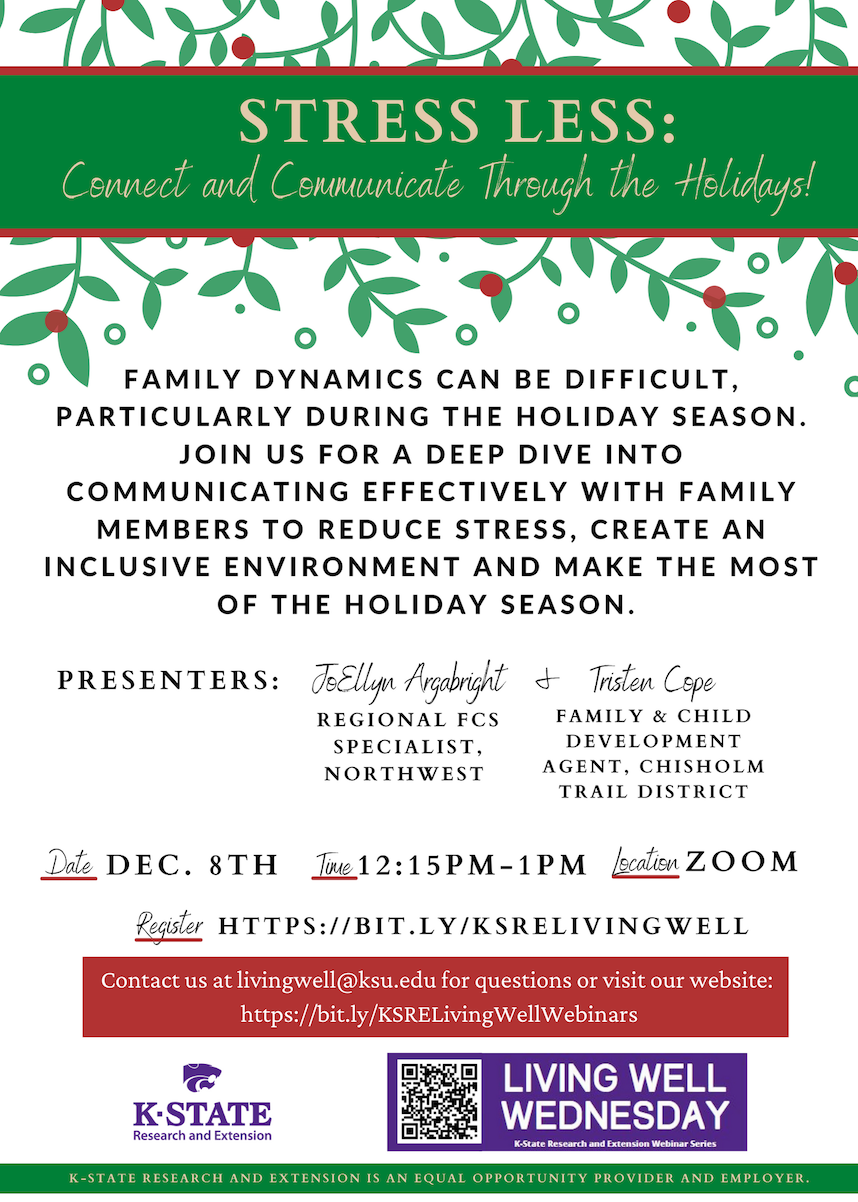 Register now for this virtual opportunity to hear from speakers about communicating effectively with family members to reduce stress, create an inclusive environment and make the most of the holiday season! 🦃🌲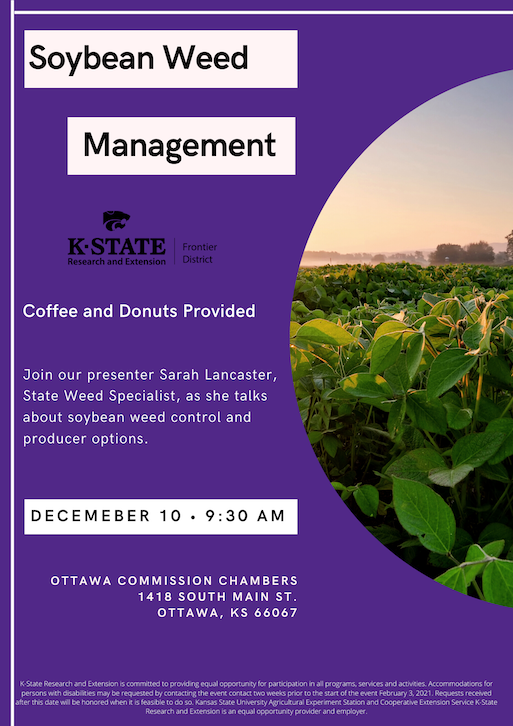 The Frontier Extension District will be hosting a mid-morning meeting on Soybean Weed Control on December 10th starting at 9:30 a.m. The meeting will be held in the Ottawa Commission Chambers, 1418 South Main Street, Ottawa, KS.
Sarah Lancaster, K-State Weed Specialist, will join us to discuss weed control options, changes that may be coming concerning herbicide application, what can be used for weed control in double crop beans, and more.
Aside from knowing how to control those pesky weeds, taking a soil test could really help your fields reach their full potential. A simple soil test can tell us what our pH is and also alert us to our nutrient levels starting to slide downward. Each bushel of Corn you harvest removes .33 pounds of phosphorus and .26 pounds of potassium while each bushel of beans removes .80 pounds of phosphorus and 1.40 pounds of potassium. So, if you are thinking of planting beans after beans due to high fertilizer prices it may be beneficial to soil test to make sure that you have not removed to many of your nutrients.
_________________________________________________________________
Catch us on the radio!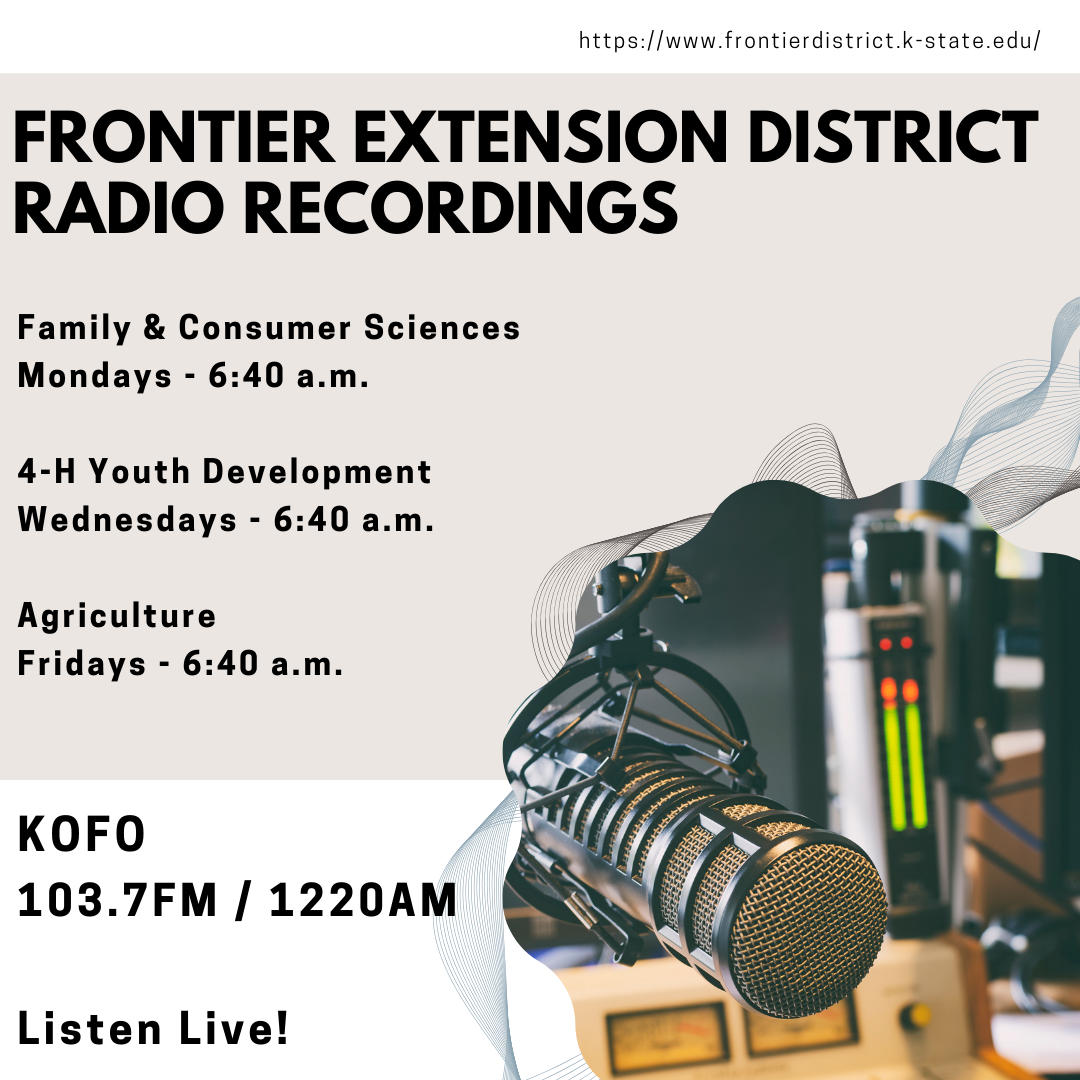 Don't forget to tune in to KOFO 103.7 FM or 1220 AM to three days a week to get Frontier Extension District updates.
Missed a program? Now you can go to the KOFO Recordings page to hear previous radio programs.