Volunteer Highlights
Aaron and Angelle Higbie selected as 2021 Extension Appreciation Award winners for Osage County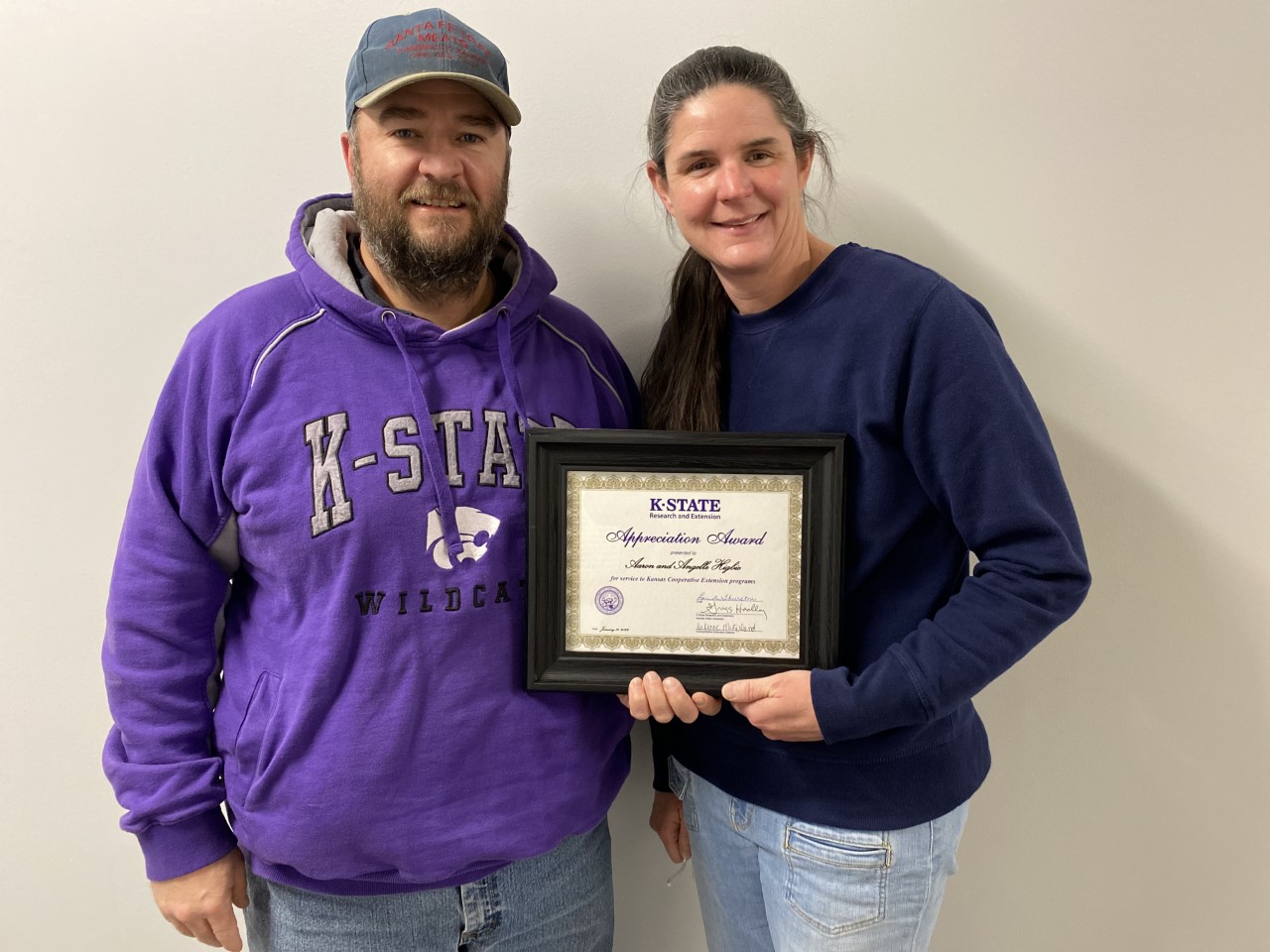 Aaron and Angelle Higbie are recipients of the 2021 Extension Appreciation Award for Osage County. Aaron and Angelle have both been avid supporters of the county fair for both Franklin and Osage county. Throughout their time of volunteering for the Franklin and Osage County Fairs, they have helped in numerous ways including, serving as fair superintendents, organizing fair awards, supporting 4-H members by purchasing animals at the sale, and Angelle serving as a 4-H Club Leader.
Aaron was raised South of Homewood and attended Williamsburg for school. He is one of four children to Doug and Jean Higbie, a previous Extension friend. Angelle was raised in Baton Rouge, Louisiana, and is the daughter of Jim and the late Anne Burnette. Aaron and Angelle met at Louisiana State University. Aaron and Angelle made their home in Franklin County after being married and then moved to Osage County where they could be closer to their family-owned business, Santa Fe Trail Meats. Their business floors animals for the livestock auction that is held at Osage City, Overbrook and Ottawa. They have one daughter, Adelle. She attends West Franklin High School and is active in Frontier District 4-H in Franklin County in the Appanoose Trailblazers 4-H Club.
Both Aaron and Angelle have shown tremendous support and believe in the Frontier Extension District 4-H Program, and we as a District our thankful to have them as volunteers.
Nancy Horn selected as 2021 Extension Appreciation Award winner for Anderson County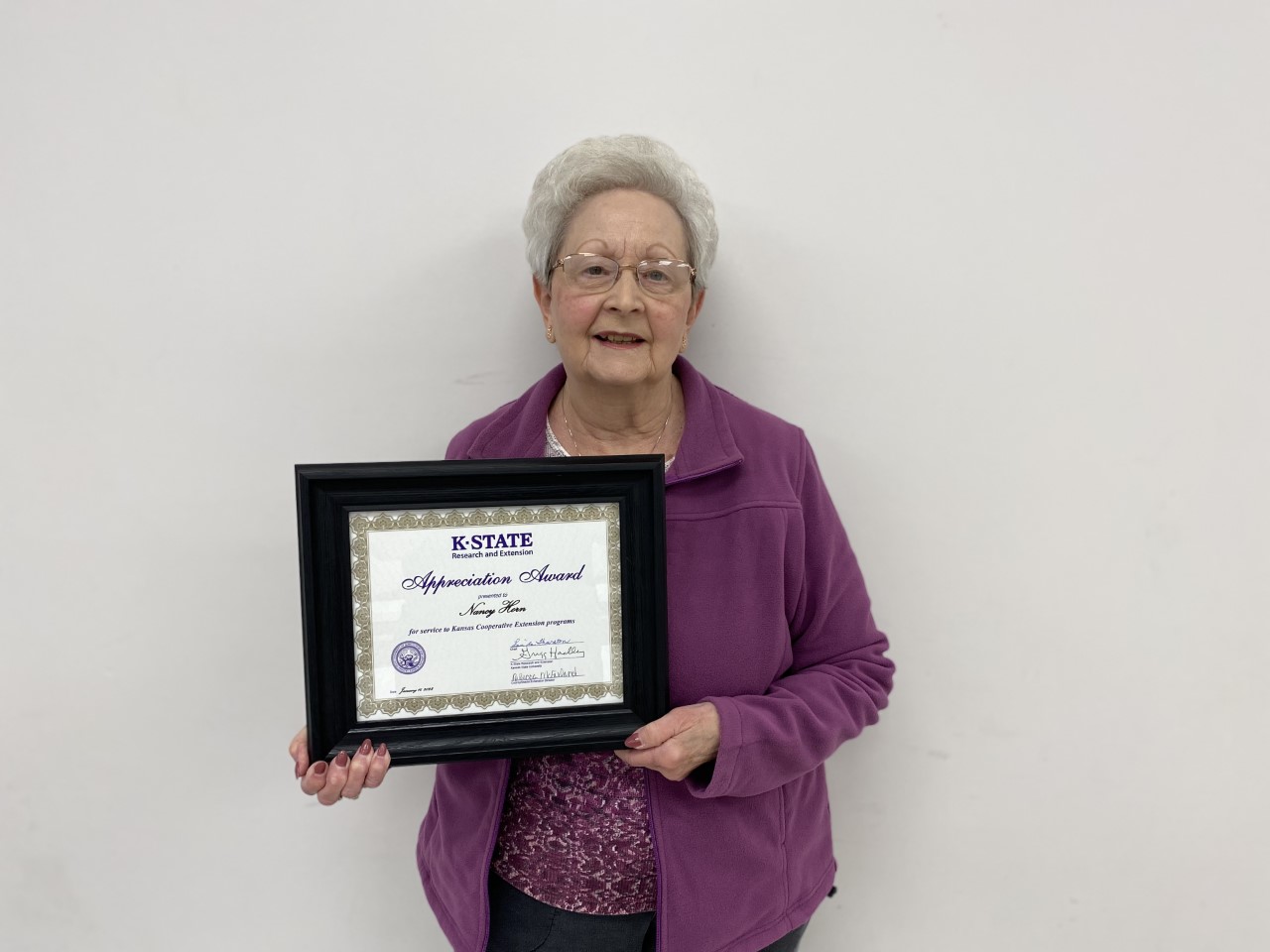 The Frontier District would like to congratulate Nancy Horn on receiving the 2021 Extension Appreciation Award.
Nancy has been a committed, passionate supporter of 4-H and K-State Research and Extension for many years. Nancy was appointed to the Anderson County Extension Council in 2013 and continued to serve as a board member when Anderson County joined the Frontier District (Franklin and Osage counties) in 2014, until 2019. During that time, she also served on the Family and Consumer Sciences Program Development Committee, which serves as an advisory for the family and consumer sciences programming in the district.
After retiring from a 29.5 career in teaching in 1999, Nancy went to work as a reporter for the Anderson County Advocate, which later became The Advocate. During her ten-year career with the Anderson County Advocate and The Advocate, Nancy spent countless hours at the fair and one of her favorite assignments was taking pictures and writing articles featuring 4-H members for The Advocate Fair Edition Special. She worked long hours during the week of the fair to cover as many exhibits and shows as she could. She was relentless in getting names and placings published correctly. All of the 4-H members greatly appreciated her dedication in showcasing their projects, as well as, her friendly smile and words of encouragement. She was always a friendly face in the crowd and always took time out of her job to visit with the 4-H members and admire their hard work. She is a true fan of Anderson County 4-H.
Nancy is a firm believer in the goals of 4-H and K-State Research and Extension. She continues to support the young people who work so hard on their chosen projects and are so dedicated to do their very best to be successful and exhibit the positive goals and objectives of 4-H, enriching their own lives and those around them for the rest of their lives.
Thank you Nancy for your years of service to Anderson County, the Frontier District and K-State Research and Extension.
Will Cunningham selected as 2021 Extension Appreciation Award winner for Franklin County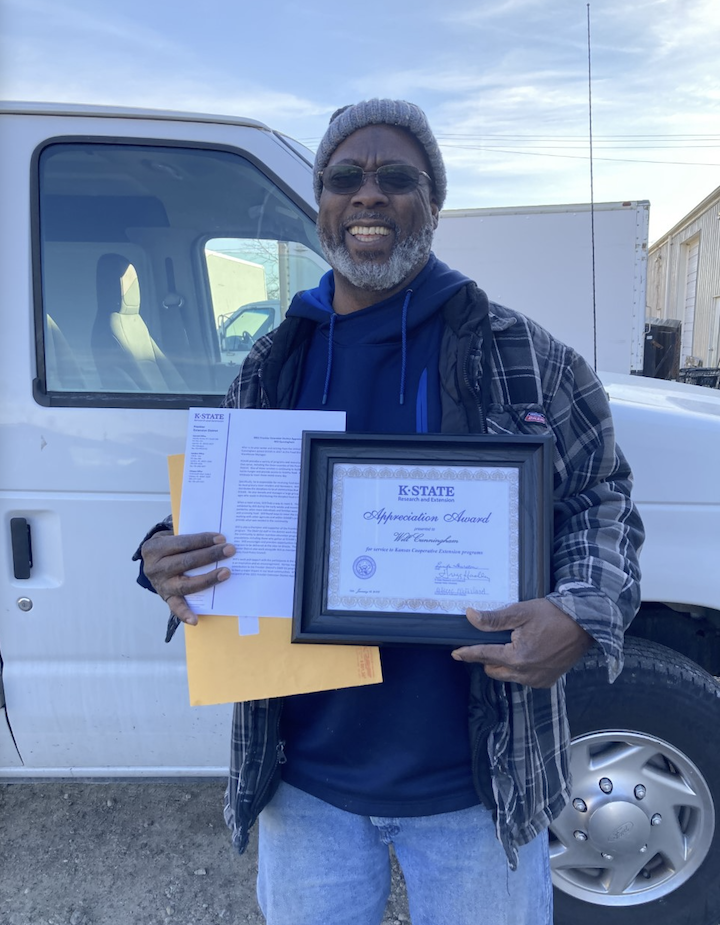 Will Cunningham is the recipient of the 2021 Extension Appreciation Award for Franklin County. After a 26-year career and retiring from the United States Army, Will Cunningham joined ECKAN in 2017 as the Food Distribution and Warehouse Manager. ECKAN provides a variety of programs and resources in the communities they serve, including the three counties of the Frontier Extension District. One of those services is continuing to build their capacity to battle hunger and provide access to healthy food. And, Will works tirelessly to meet those needs every day. Specifically, he is responsible for receiving food donations that are made by local grocery store retailers and Harvesters. Will then transports and distributes the donations to local communities that are served by ECKAN. He also recruits and manages a large group of volunteers of all ages who assist in distributing the donated food in Franklin County.
When a need arises, Will finds a way to meet it. This effort was exhibited by Will during the early weeks and months of the COVID-19 pandemic when more individuals and families were in need of finding and accessing food. Will found ways to meet the increased need by working with other agencies and within ECKAN's program to help provide what was needed in the community. Will is also a champion and supporter of the Frontier District's SNAP-Ed program. The SNAP-Ed staff in the district work closely with others in the community to deliver nutrition education programs to eligible populations, including those who gather at ECKAN's food distribution sites. Will encourages and provides opportunities for SNAP-Ed programs to be delivered at the sites he directs. The staff in the Frontier District also work alongside Will as members of the Franklin County Food Policy Council.
Will's work and rapport with the participants in the programs he serves is an inspiration and an encouragement. He has made a great contribution to the Frontier District's SNAP-Ed program and continues to have a major impact in our local communities. Will is a deserving recipient of the 2021 Frontier Extension District Appreciation Award.