Anderson County Events & Information

Anderson County 4-H Council Meeting - 6/24/19
---
Anderson County Fair Essentials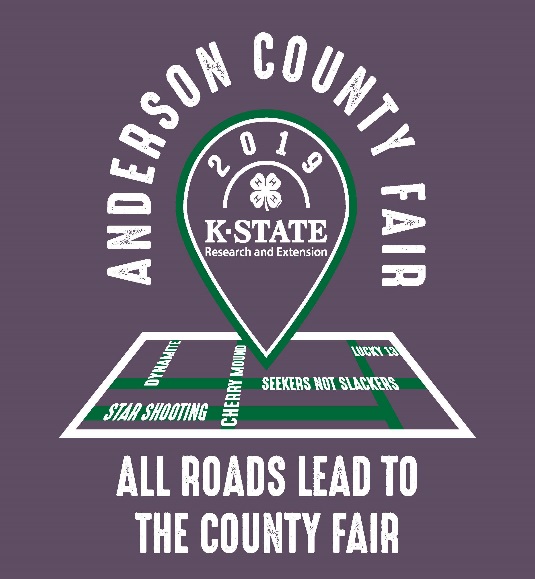 All Roads Lead to the Fair!
The Anderson County Fair will be held July 29-August 3. The theme is "All Roads Lead to the Fair". Pre-fair judging is usually held a few days before the first day. All Fair entries must be pre-entered online. The link will be available June 12 - July 8*. Anyone not entered during the allotted time will be assessed a $25 late fee.

* The date was incorrectly listed as July 1 in the Newsletter.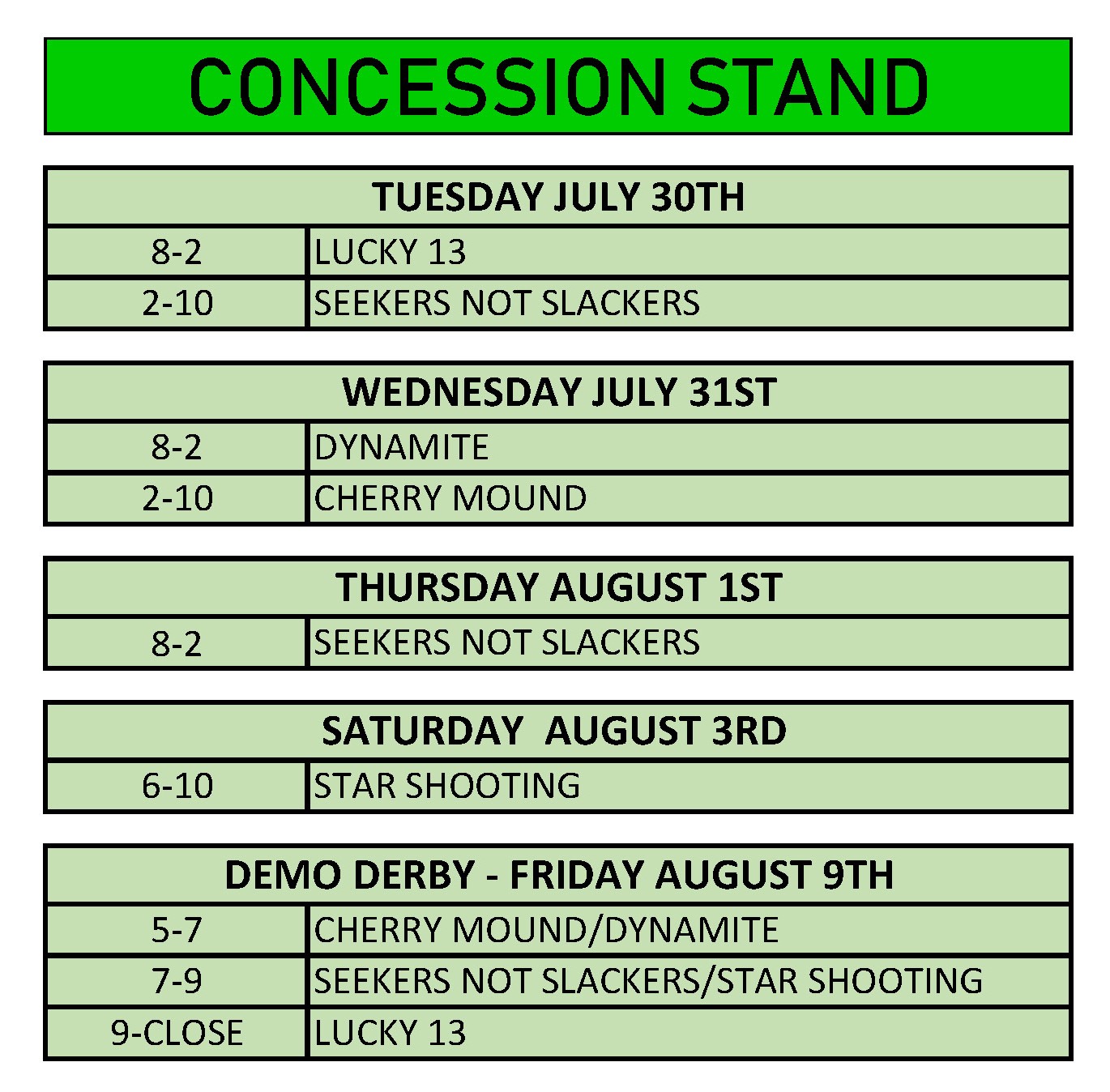 Bedding/Stall REQUIREMENTS
Youth must provide his/her own LARGE SIZE shavings for pens/stalls. Small shavings or straw will not be allowed. Youth are also responsible for keeping the pens/stalls clean. Wash Stations will be provided.
---
Anderson County Weigh-in/Tagging Dates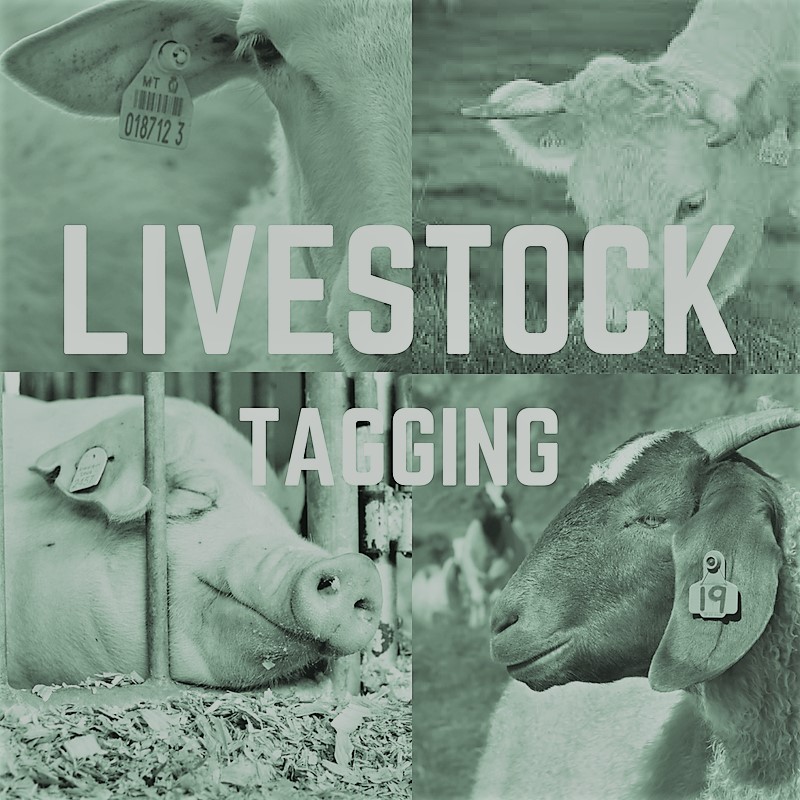 ** PLEASE NOTE **
Janae McNally, Frontier District 4-H Agent, announced 4/30/19:
Due to the occurrence of the Swine PED outbreak across the United States, we have decided to forgo the swine weigh-in for Anderson County/Osage County. Consequently, there will be no swine rate of gain contest this year at the fair. Youth enrolled in the swine project will still be expected to bring all market swine (market and breeding for OS CO) to be tagged, which will occur in the member's trailer.
Youth enrolled in the Rabbit, Fowl or Breeding Livestock projects(s) must own and have possession of his/her animal(s) by June 1.
---
Anderson County Cloverbud Meetings

The Anderson County Cloverbud group meets the third Wednesday of each month at the Extension office in Garnett at 6:00 p.m. There will not be a June Cloverbud meeting. Gaylene Comfort and Gayla Corley are the Cloverbud leaders. You may direct questions to Galene at 785-448-8447 or comfort@gmail.com or to Gayla at 785-448-0301 or rextheterrible@yahoo.com.
To be eligible to participate in Cloverbuds, a child must have celebrated his/her fifth or sixth birthday before January 1, 2019. Cloverbud members must also be enrolled in the 4-H Online Enrollment System. You can find this information on the District's 4-H website under "Join". Parents should review the Cloverbuds policies (especially information regarding livestock and pets). Policy information is also available in the Extension office.
---
Boots & Spurs Meeting
The Anderson County Horse Club, Boots & Spurs, meet at the Anderson County Fairgrounds at 7:00 p.m. Meetings are planned for the last Monday of each month through August with ride nights at the Hughes' home. Watch the groups Facebook page (Anderson County Boots and Spurs 4-H Horse Club) for those opportunities. The next meeting will be June 24. Contact Jenny with questions at jennifer.e.hughes@sprint.com.
---
Add/Drop Project Deadline
Frontier District 4-H Members have the ability to change personal information or add/drop projects at any time by logging on to 4-H Online. Members do not need to contact the Extension Office to have information changed. Adding or dropping projects must be done by May 1 in order for the member to enter in the 4-H Divisions of the Fair. Members will not be able to change project information after the deadline.
---
SCHOLARSHIPS
Anderson County 4-H Council will offer a $50 scholarship to those 4-H members filling out the application to attend any out-of-county event. Youth are eligible to receive the scholarship only once per 4-H year. This scholarship could be used to help cover the cost of Campference, Discovery Days, Camp, etc. The application must be submitted prior to the event payment deadline.
* Anderson County 4-H Event Scholarship
Jeanette Arnett Activity Scholarship
OR Anderson County 4-H Council Out of County Scholarship
Application - PDF Version
---
Anderson County Fairs
Anderson County Fair - July 29 - August 3, 2019
Fair Theme - "All Roads Lead to the Fair"
Anderson County Fair Association WEBSITE and FACEBOOK
Kincaid Fair - September 26-28, 2019