Anderson County Events & Information

Club & Group Financial Reviews due to Ext Office - 11/1/19
Anderson County Club Leader & 4-H Council Meeting - 11/12/19
AN CO 4-H Achievement Night - 11/13/19
---
4-H Council & Leaders Meeting
The next Anderson County 4-H Council meeting will be held Tuesday, November 12, at 7:00 p.m. at the Annex Building in Garnett. Council members should plan to attend as there must be a representative from each club at every meeting. There will also be a club leader meeting at 6:00 p.m. before the Council meeting.
---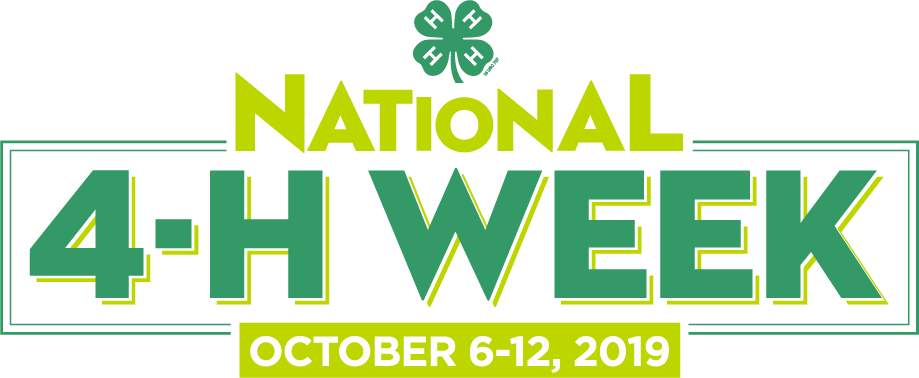 4-H Week Tree Decorating
Anderson County 4-H Clubs will meet at the Extension Office on Saturday, October 5 at 10:00 a.m. to decorate the trees west of the square in Garnett in celebration of National 4-H Week. The group will meet again on Monday, October 15 at 4:00 p.m. to remove the decorations. All clubs and members are encouraged to participate!
---

Come celebrate the achievements from the 2018-19 4-H year! Anderson County 4-H Achievement Night will be November 13 at the Garnett Community Building.
Watch this page for more information coming soon!

Clubs are encouraged to set up a table displaying their club, individuals or project achievements. Display tables should be set up before the program begins. Invite your friends, family and sponsors to enjoy this night of celebrating all that our 4-H members have accomplished this year!
---
Boots & Spurs Meeting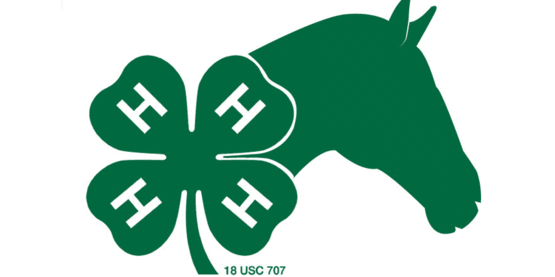 The Anderson County Horse Club, Boots & Spurs, meet at the Anderson County Fairgrounds at 7:00 p.m. Meetings are planned for the last Monday of each month through August with ride nights at the Hughes' home. Watch the groups Facebook page (Anderson County Boots and Spurs 4-H Horse Club) for those opportunities. Contact Jenny with questions at jennifer.e.hughes@sprint.com.
The next meeting will be September 30.
---
SCHOLARSHIPS
Anderson County 4-H Council will offer a $50 scholarship to those 4-H members filling out the application to attend any out-of-county event. Youth are eligible to receive the scholarship only once per 4-H year. This scholarship could be used to help cover the cost of Campference, Discovery Days, Camp, etc. The application must be submitted prior to the event payment deadline.
* Anderson County 4-H Event Scholarship
Jeanette Arnett Activity Scholarship
OR Anderson County 4-H Council Out of County Scholarship
Application - PDF Version
---
Anderson County Cloverbud Meetings

The Anderson County Cloverbud group meets the third Wednesday of each month at the Extension office in Garnett at 6:00 p.m. Gaylene Comfort and Gayla Corley are the Cloverbud leaders. You may direct questions to Galene at 785-448-8447 or comfort@gmail.com or to Gayla at 785-448-0301 or rextheterrible@yahoo.com.
To be eligible to participate in Cloverbuds, a child must have celebrated his/her fifth or sixth birthday before January 1, 2019. Cloverbud members must also be enrolled in the 4-H Online Enrollment System. You can find this information on the District's 4-H website under "Join". Parents should review the Cloverbuds policies (especially information regarding livestock and pets). Policy information is also available in the Extension office.
---
Anderson County Fairs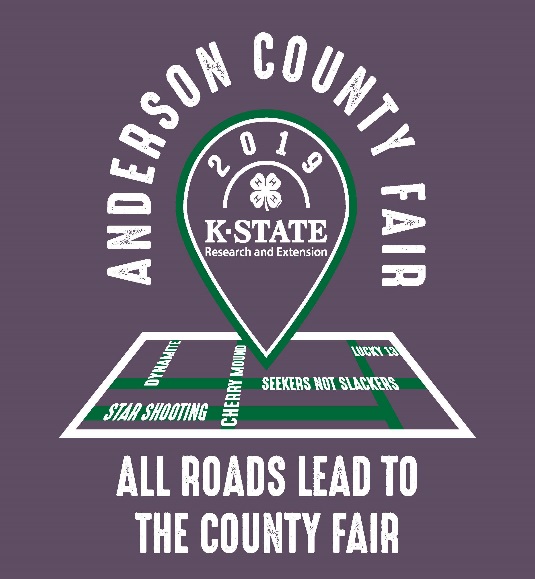 Anderson County Fair - July 29 - August 3, 2019
Fair Theme - "All Roads Lead to the Fair"
Anderson County Fair Association WEBSITE and FACEBOOK
2019 Anderson County Fair Book
Kincaid Fair - September 26-28, 2019