2018 Photo Gallery
Peggy DeForeest Retires After 32 Years
Peggy DeForeest began working as the office professional in the Osage County Extension Office in 1986. She became a district office professional in the Lyndon office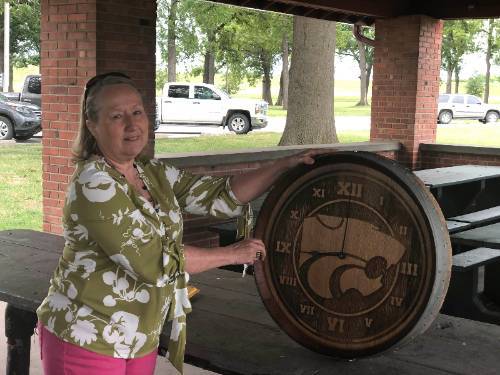 when the Frontier Extension District was created in 2010. Peggy currently serves as the financial office professional for the three-county district which includes Osage, Franklin and Anderson Counties.
In 1991 Peggy received the Osage County Friend of 4-H Award, and in 2017 Peggy and husband Gary DeForeest, were honored as Osage County 4-H Family of the Year. She has also received recognition for 30-years of service from Kansas State University.
---

Joel Sprague Elected to State Extension Advisory Council
Congratulations! Joel Sprague, Kincaid, was elected to the State Extension Advisory Council (SEAC) in January, 2018. The Council is a "consultative group to the Director of Extension regarding concerns relating to Extension." Membership includes representatives from each of the four Extension Areas in Kansas plus four at-large representatives. Each February, the SEAC members hold their meeting in Topeka, where they can also make personal visits to Kansas legislators in an advocacy role for Research and Extension.
Joel lives on a small multigenerational family farm with his wife, Stacy, and three children. In addition, he works in construction as a carpenter. A former 4-H member, Joel continues to be involved with the 4-H program and has volunteered as a 4-H project leader. Joel is a former Vocational Agriculture Instructor and FFA Advisor, and served on the Anderson County Extension Council. Currently he is a board member (and immediate past president) of the Frontier Extension District Board.
---
2017 KANSAS MASTER FARMER AND MASTER FARM HOMEMAKER
Congratulations to Doug and Jean Higbie, Frontier Extension District, who have recently been named to the 2017 Class of Kansas Master Farmers and Master Farm Homemakers! The Kansas Master Farmers and Master Farm Homemakers program recognizes Kansans for success in their agricultural operations and service to their communities. The 2017 Class of Kansas Master Farmers and Master Farm Homemakers was announced at a banquet in Manhattan on March 9, 2018.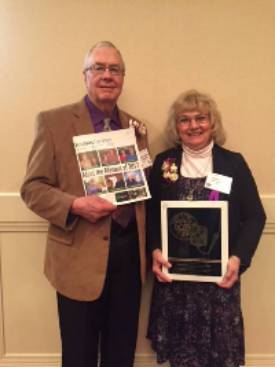 The Higbies were congratulated by Ron and Elaine Dunbar (left), Richmond, Class of 2010 and Sandy and Russ Sylvester (right), Ottawa, Class of 2013. Congratulations to these farm couples from the Frontier Extension District!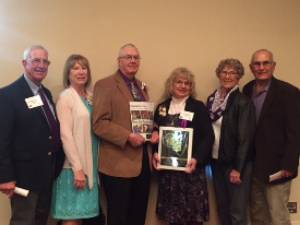 Douglas and Jean Higbie, Williamsburg, have been selected as members of the 2017 Class of Kansas Master Farmers and Master Farm Homemakers. The Higbies were recognized March 9, at a banquet held in Manhattan.
The prestigious selection is believed to be the highest honor which can be accorded a Kansas farm couple. Master Farmers-Master Farm Homemakers recognition in Kansas dates back to 1927. Kansas State University and Kansas Farmer magazine co-sponsor the program of honoring deserving Kansas farm families.
Doug Higbie earned his bachelor's degree in pharmacy from the University of Kansas. He served as a Captain in the United States Army Medical Service Corp at Fort Riley. During his time in college and in the army, Doug continued to help on his family farm. In his community, he has been involved on the Homewood-Williamsburg Volunteer Fire Department Board of Directors and served on the Homewood Township Board of Directors.
Jean Higbie earned her degree in nursing from the University of Kansas. She taught nursing at multiple institutions and is currently a First Aid, CPR, and AED instructor. Jean volunteers for the American Red Cross. Also, she was chosen to represent the Kansas School Nurses Organization at the Nurses Legislative Conference in Washington, D.C.
Both Doug and Jean have volunteered for the 4-H and FFA program. Doug was a 4-H leader and a member of the FFA advisory council in his local community. Jean educated 4-H junior leaders and FFA members on how to properly administer first aid.
Every member of the Higbie family manages a portion of the operation. Along with farming cropland, the farm raises cattle and pigs. The Higbies and the local FFA chapter hosted "Day at the Farm" to promote farming and farm products. For 15 years, hundreds of Kansas City area third graders, teachers, and staff would spend a day on the farm learning about the different sectors of agriculture.
Son, Heath works for the Farm Bureau Financial Services in Montgomery County. He and his wife, Theresa, have five children, Damon, Cheyenne, Graham, Hal, and Hans.
Son Aaron owns Santa Fe Trail Custom Meat Processing Plant and manages his own farming operation in Overbrook. He and his wife, Angelle, have one daughter, Adelle.
Daughter Audra works at Merck Animal Health. She and her husband, Ryan McCurdy, have two children, Alexa and Hunter.
Son Austin (Ryan) works for the Kansas Livestock Association and runs a farming and livestock production. He and his wife, Jenny, have four children, Lane, Calla, Anah, and Elim.