Walk Kansas

March 19 - May 13, 2017
Walk Kansas is a team-based program that will help you and others lead a healthier lifestyle through increased physical activity, improved, nutrition, and reduced stress.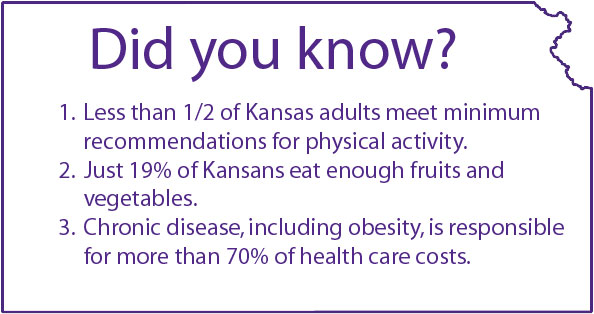 How does Walk Kansas work?
Teams of 6, with a captain, log minutes of physical activity for eight weeks. Each team selects one of three challenges they will collectively work toward. In order to accomplish this challenge, each person will have a personal goal. In addition, to physical activity, participants will report the amount of fruits and vegetables they eat.
Team Challenges:
Each team will select one of these challenges. As your team moves across or around the state, you will learn about points of interest in Kansas by viewing progress of your team on the online map.
Challenge 1: Each person reaches the minimum goal for physical activity - 150 minutes per week. Collectively, the team would walk 423 miles, the distance across the state.
Challenge 2: A winding trail from Troy to Elkhart, requiring each person to log 4 hours per week, traveling 723 miles total.
Challenge 3: Walk the perimeter of Kansas, 1200 miles, each person logs 6 hours per week.
How do I register?
Registration for the Walk Kansas program is available online or in our office. To register online, visit the Walk Kansas website. Steps for completing the online registration process are listed below:
Team Captain Online Registration Steps
Participant Online Registration Steps