District Events
Volunteer Opportunities

The Sunflower Piecemakers Quilt Guild of Ottawa would like to offer a great community service opportunity to 4-H youth. Volunteers will carry items in and out of the Quilt Show on September 8, 2018, at the Goppert Building, 705 W. 15th. Five volunteers are needed for each shift which will last approximately 45 minutes. The first shift will be needed at 7:30 a.m. and the second shift at 5:00 p.m. The group has asked volunteers be 12 years of age or older but any help is greatly appreciated. Feel free to sign up for one or both shifts. Be sure to include this on the Record Book Check Sheet and in a record book or KAP. The group is wanting to make sure help is available so sign up NOW!!!! Contact Jo Ellen at jearnold@ ksu.edu to sign up or have questions answered. Helpers will be accepted on a first-come, first-served basis.
The Power of the Past Antique Engine and Tractor Show will be September 7th-9th at Forest Park in Ottawa and they are asking for help from Frontier District 4-H clubs/groups. Anyone interested in helping should contact David at 785-241-0834 by August 15th. This is a great fundraiser and it is easy! Groups will be accepted on a first-come, first-served basis. This is for any group in the Frontier District. Many groups have meetings coming up soon! Talk to your club!!!! Sign up NOW as they are needing help and needing to get groups organized!

2020 CWF Volunteer Adult Chaperone
Job Description and Application
Frontier District is now accepting applications for Volunteer Adult Chaperones for the 2020 CWF (Citizenship-Washington Focus) trip. Applicants will be responsible for coordinating group meetings, fundraisers, trip preparation and travel, as well as providing training, leadership and supervision for the 4-H CWF Delegates. If you are interested in this exciting opportunity, please check out the Job Description and Application. All applications are due to the Frontier Extension District - Ottawa Office by August 15.
2020 CWF Chaperone Job Description and Application
Horse (HAY) Meetings
Osage County's Horse and Youth (HAY) meetings are open to any Frontier District 4-H member. Meetings are the third Sunday of each month at 3:00 p.m. at the Skyview Ranch, 28312 S. Wanamaker, Osage City. Direct all questions to Dorothy at 785-806-5786 or Niki at 785-219-1829 or ncfm1234@hotmail.
Horse Club Decals & Stall Signs
The Franklin County Horse Club is selling vinyl decals and custom stall signs. Most decals are 5 x 5 and $3/each or 2 for $5. Stall signs are 12 x 6 and $10.
To order, contact any horse club member, Amy Livingston (livingstonamyr@gmail.com), Joy Miller (joy@newhorizonranch.org) or Shannon Fink (finkfam2016@yahoo.com). Shannon can answer questions about custom stall signs.
These are available to purchase by any Frontier District 4-H Member and families.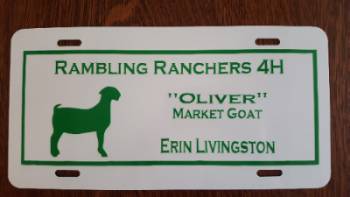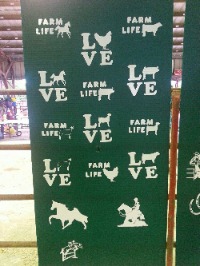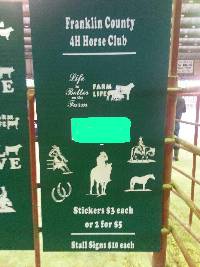 ---
Past Events
2018 District & Regional Club Days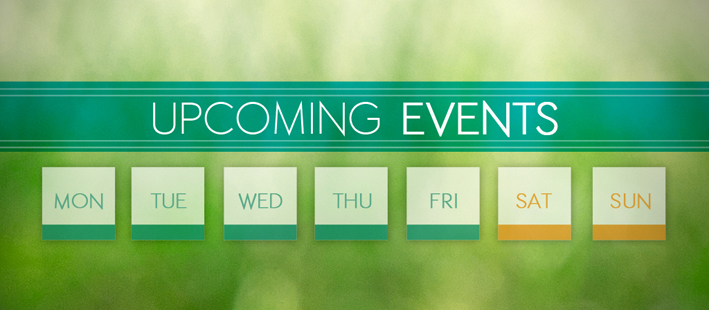 County 4-H Council Meetings
Anderson County 4-H Council Meeting
September 10, 2018 at 7:00 p.m.
Annex Building
Franklin County 4-H Council Meeting
September 24, 2018 at 7:00 p.m.Celebration Hall
Osage County 4-H Council Meeting
August 27, 2018 at 7:00 p.m.Extension Office