Anderson County Events & Information
ANDERSON COUNTY FAIR ESSENTIALS
"Picture Perfect Memories"
Fair Pre-Entry - All Fair entries must be pre-entered online. A link will be available on this page June 13 - July 2. Anyone not entered during the allotted time will be assessed a $25 late fee.
Corrections to the Fair Book
Poultry Testing is July 8.
Page 53 - Picture Perfect Memories is the theme for the quilt block contest.
Bedding /Stall Changes - Youth must provide his/her own shavings (no straw) for pens and are also responsible for keeping the stall space(s) clean There will be wash pens provided and all swine will be washed in these pens so stalls can be kept dry.
Anderson County Fair T-Shirts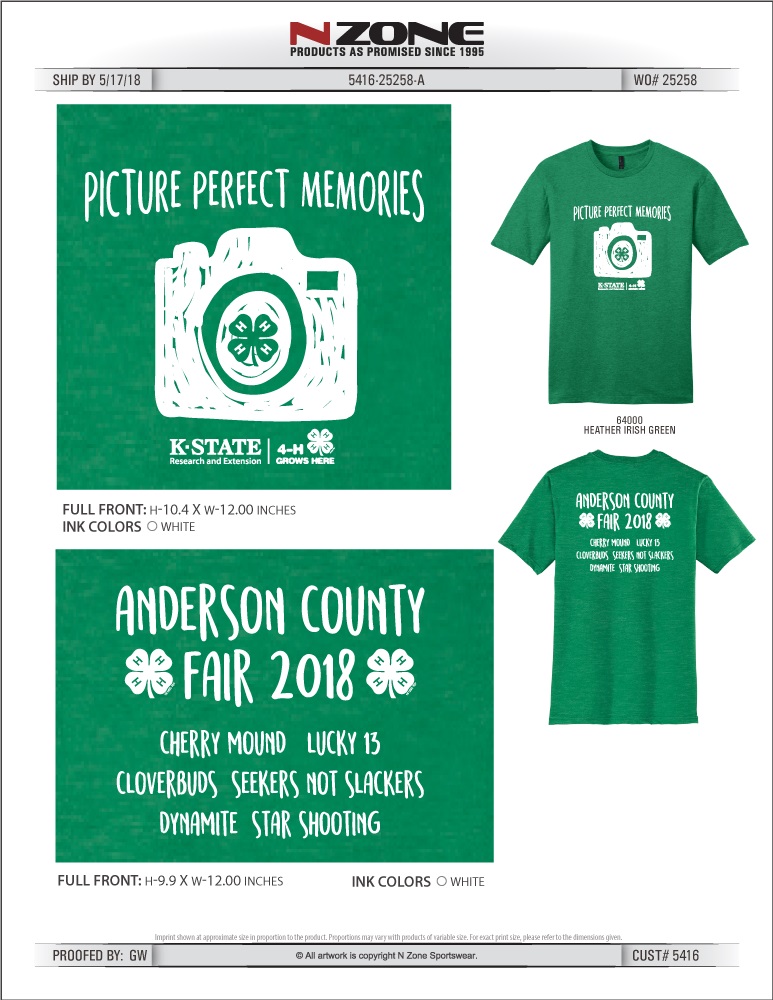 Fair t-shirts are available by calling the Garnett Extension Office. The shirts are Heather Irish Green and are available in Youth sizes SM - XL and Adult sizes S - 3XL. All shirts are $9.00. T-shirts MUST be paid for before Wednesday, June 27.
Born and Raised Awards Sponsors
Anderson County Fair will now have Born and Raised Awards for Market Meat Goats, Market Sheep and Market Swine. To support these classes we need sponsors. Mail sponsorship form and money to the Anderson County Extension Office, 411 S. Oak, PO Box 423, Garnett, KS 66032 or bring your payment to the office by Friday July 20. BORN/RAISED CLASS SPONSORSHIP FORM
Anderson County Weigh-In, Tagging & Ownership Info
WEIGH-IN HAS PASSED.
IF YOU HAVE QUESTIONS, CONTACT THE EXTENSION OFFICE.
Ownership Deadline
The ownership deadline for Breeding Livestock, Fowl and Rabbits was June 1, 2018. Breeding livestock does not have to be tagged for the local county fair.
Poultry P-T Testing
All poultry to be exhibited at any fair must test negative for Pullorum-Typhoid (P-T) Disease within 90 days of a show. Zach Sobba will be testing July 8 from 7:30 a.m. - 9:00 a.m. at the Anderson County Fairgrounds at the intersection of East Park Road and North Lake Road. Testing will be free for Anderson County 4-H members ON THIS DATE ONLY.*
Testing will be done in Ottawa at Celebration Hall, 220 W. 17th Street, Ottawa on June 23 from 7:30 a.m. - 9:00 a.m.
*Members may use any testing site, as long as it falls within the 90 day time frame. If families miss these dates, it will fall upon them to find someone to test the birds. Zack Sobba WILL NOT do any individual testing outside of these testing dates.
---
4-H Community Service Project
The 2018 Anderson County 4-H community service project will be held on Saturday, June 23, 2018 at 8:00 a.m. at the Anderson County Fairgrounds. All Anderson County 4-H members are encouraged to participate in cleaning up the fairgrounds.
Anderson County Cloverbud Meetings
The Anderson County Cloverbud group meets the third Wednesday of each month at the Extension office in Garnett at 6:00 p.m. Gaylene Comfort and Gayla Corley are the Cloverbud leaders. You may direct questions to Galene at 785-448-8447 or comfort@gmail.com or to Gayla at 785-448-0301 or rextheterrible@yahoo.com.
To be eligible to participate in Cloverbuds, a child must have celebrated his/her fifth or sixth birthday before January 1, 2018. Cloverbud members must also be enrolled in the 4-H Online Enrollment System. You can find this information on the District's 4-H website under "Join". Parents should review the Cloverbuds policies (especially information regarding livestock and pets). Policy information is also available in the Extension office.
---
SCHOLARSHIPS
* Anderson County 4-H Event Scholarship
Jeanette Arnett Activity Scholarship
OR Anderson County 4-H Council Out of County Scholarship
Application - PDF Version
---
2018 Anderson County Fairs
Anderson County (Garnett) - July 30 - August 4, 2018

Theme "Picture Perfect Memories"

Kincaid - September 27 - 29
Anderson County Fair Association WEBSITE and FACEBOOK
---
Previous Years Fairs
Anderson County Fair - July 24 - 29, 2017
2017 Anderson County FAIR BOOK
Kincaid Fair - September 28 - 30, 2017