2020 Photo Gallery
2019 Kansas Master Farmer & Farm Homemaker
Grant and Gayla Corley – Anderson County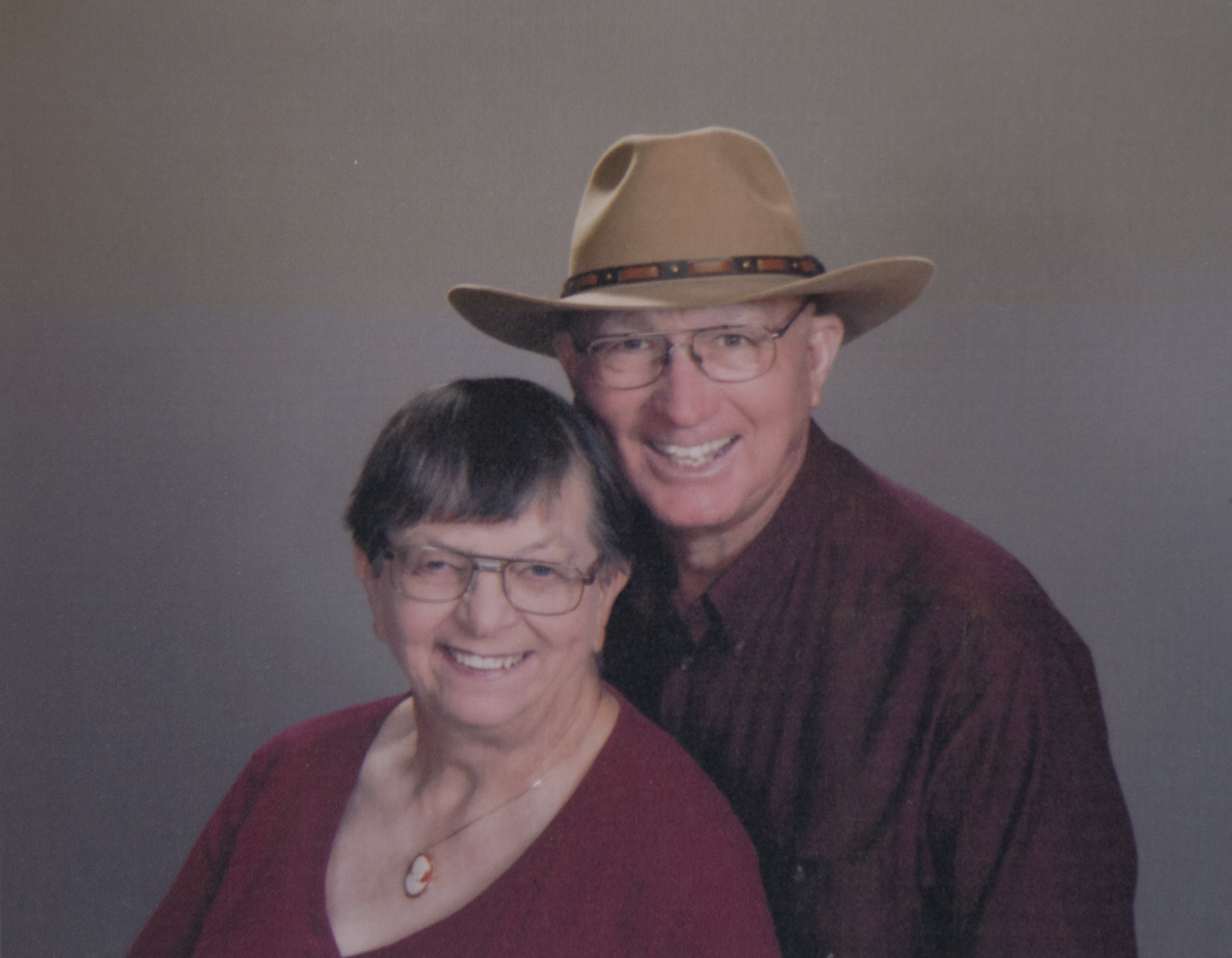 Six couples were honored as the 2019 class of Kansas Master Farmers and Master Farm Homemakers at a banquet held March 13 at the Four Points by Sheraton Hotel in Manhattan. The program, which is in its 93rd year, recognizes Kansas farm families for their leadership in agriculture, environmental stewardship and service to their communities. The award is co-sponsored by K-State Research and Extension and Kansas Farmer magazine.
Grant & Gayla Corley, from Anderson County, were recognized at the banquet.
Grant Corley's passion for providing a food source for others began at age 12 when he purchased his first tractor. His love for agriculture eventually led to a prosperous farming operation and seed plant near Garnett.
Grant has also been active on the county fair and Farm Bureau boards, and served as a member of the National Guard for many years.
After earning a nursing degree, Gayla married Grant and began helping with the farm operation. She served in the U.S. Army Corps for nearly four years, then as a nurse at the Anderson County hospital until retirement. Her dedication to healthcare led her on medical missions to developing countries.
Both have volunteered as 4-H project leaders and county fair superintendents. They have taught Sunday school classes and Bible school at their local church.
The couple has three children: Gaylene (and husband Lawrence Comfort) of Westphalia; Gaylette (and husband Shawn Conard) of Minneola; and Gaylon (and wife Heather Wootton) of Garnett. The Corleys also have 15 grandchildren.
---
2019 Frontier District Appreciation Awards Winners
The Frontier Extension District recently presented annual appreciation awards to individuals who have made outstanding contributions to Extension programs in the district's three counties. Honored were Brummel Farm Service, Inc., Anderson County; David and Lisa Rossman, Franklin County; and Peggy and Gary DeForeest, Osage County. The awards were presented at the annual Frontier Extension District appreciation dinner.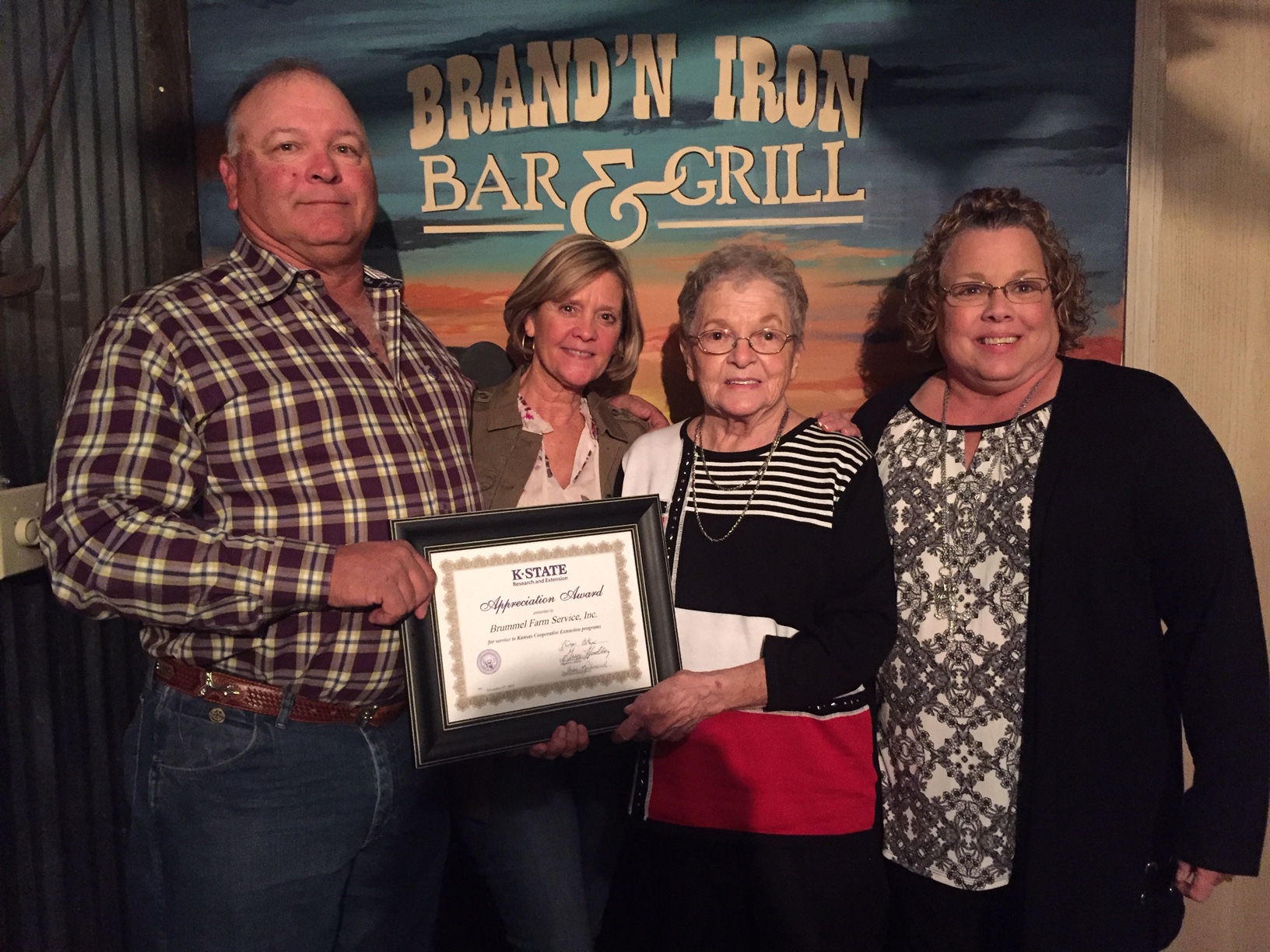 Brummel Farm Service has been a leader in the Ag community in Anderson County for decades. Bertilla Brummel worked for the Seymour Hatchery as an egg candler and in the business office in the 1930's and 40's. When the Seymour family wanted to sell, Bertilla, a young single woman, decided to buy the business in 1955. Soon the chicken and egg industry changed, and the business grew to include more farm animal feeds and custom grinding, as well as farm chemicals and fertilizers. Bertilla's son, Norman "Dutch" Brummel, joined the business after serving in the Army in the Korean War.
In the 70's, Dutch's firstborn, Roger, worked in the family business during his high school years, and after returning from college. After their children were all in school, Dutch's wife, Dixie, came to join her mother-in-law, Bertilla, in the business office. In 1977, the business formed a corporation known as Brummel Farm Service, Inc. Bertilla remained active in the business into her late 70's. When her son, Dutch, died in 1995, Roger stepped in to fill his father's shoes as manager.
Today, Brummel Farm Service, Inc., remains a steadfast and philanthropic member of the community. They have been significant sponsors of the Anderson County Fair and 4-H premium sale, having purchased more than 150 head of animals. They also sponsor other 4-H and Extension activities, including meals for events. Roger can frequently be seen behind the grill, cooking and serving up the food.
The Brummel family business is more than just a place to get feed and supplies for the farm. They take an interest in their customers, especially 4-Hers, in helping them select the best feed and supplements for their projects. They are dedicated to the agriculture industry and look forward to keeping involved with the ever-changing ag. landscape in the future.
Receiving the award were Dixie Brummel, Roger Brummel, and wife Donna, and Robin Brummel Lutz.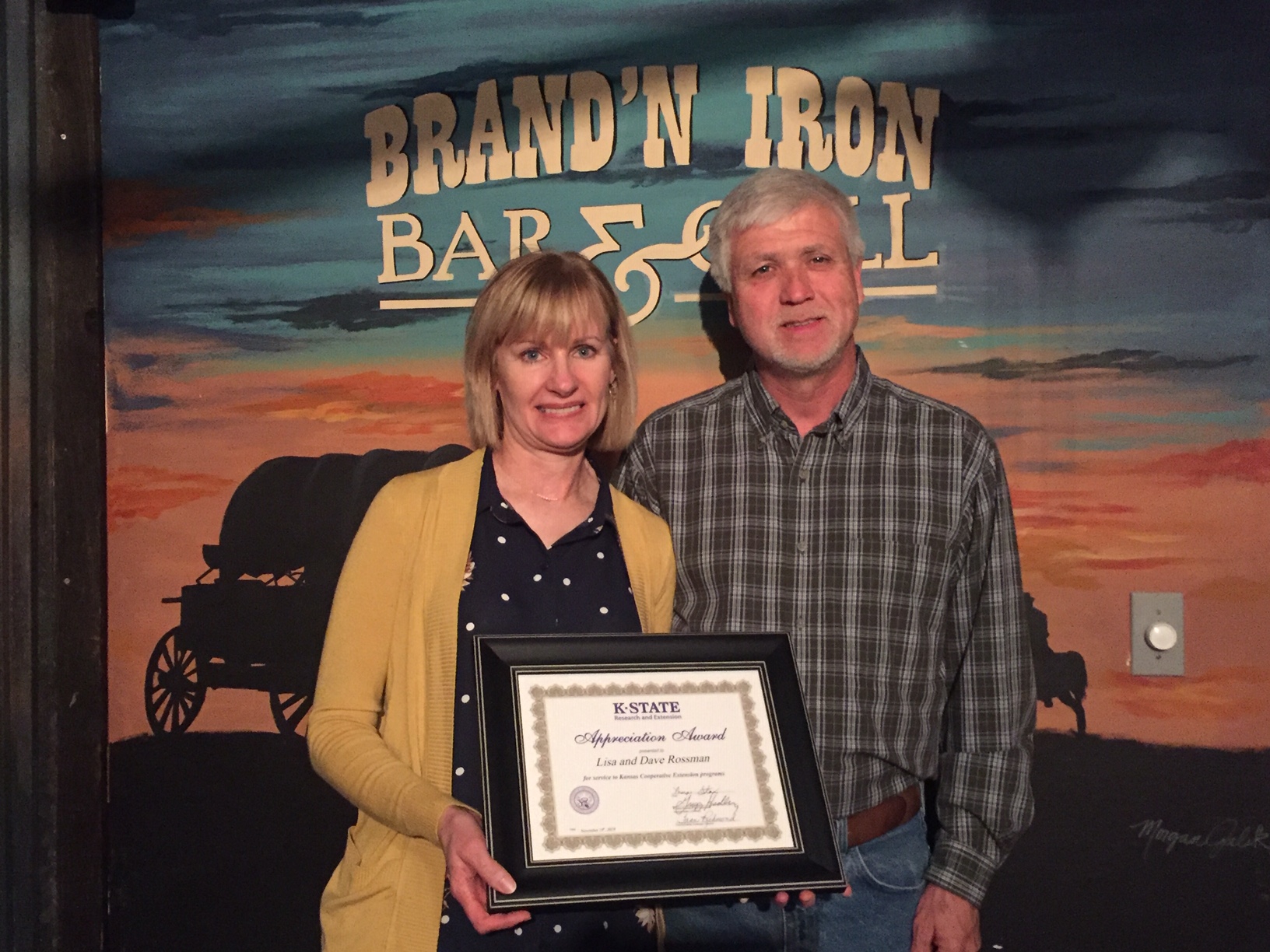 Dave and Lisa Rossman have been influential supporters of 4-H since their involvement as 4-H members. Lisa grew up in 4-H and was a member of the Lucky 13 4-H Club in Anderson County. Some of her projects were sewing, foods and nutrition, gardening, and swine. Dave was a member of the Berea Busters 4-H Club in Franklin County. His projects included swine and forestry. For his forestry project, Dave planted and maintained a windbreak at his parent's farm, which is still there. The Rossman's have two children, Erin and Seth, who were active members of the Rowdy Wranglers 4-H Club in Franklin County. Both were part of the CWF program and were Key Award recipients.
Lisa spent the past 20 years serving as a 4-H community club leader, club advisory board member and is currently a 4-H PDC member for the Frontier Extension District. She has served as a fair superintendent for clothing and is a great help to many 4-H members with their projects. She is excited to be helping a young 4-H member this coming year with her sewing project.
Dave was on the Franklin County Fair Board for many years. He also served as a member of the Franklin County Extension Council and was Chairman from 2006-2007. Dave was the Rowdy Wranglers 4-H Club electricity leader and has judged electricity projects at the Richmond Fair. He has donated many hours of labor to remodel and rewire the concession stand at the Franklin County Fair, and has wired the new show area at the Richmond Fairgrounds.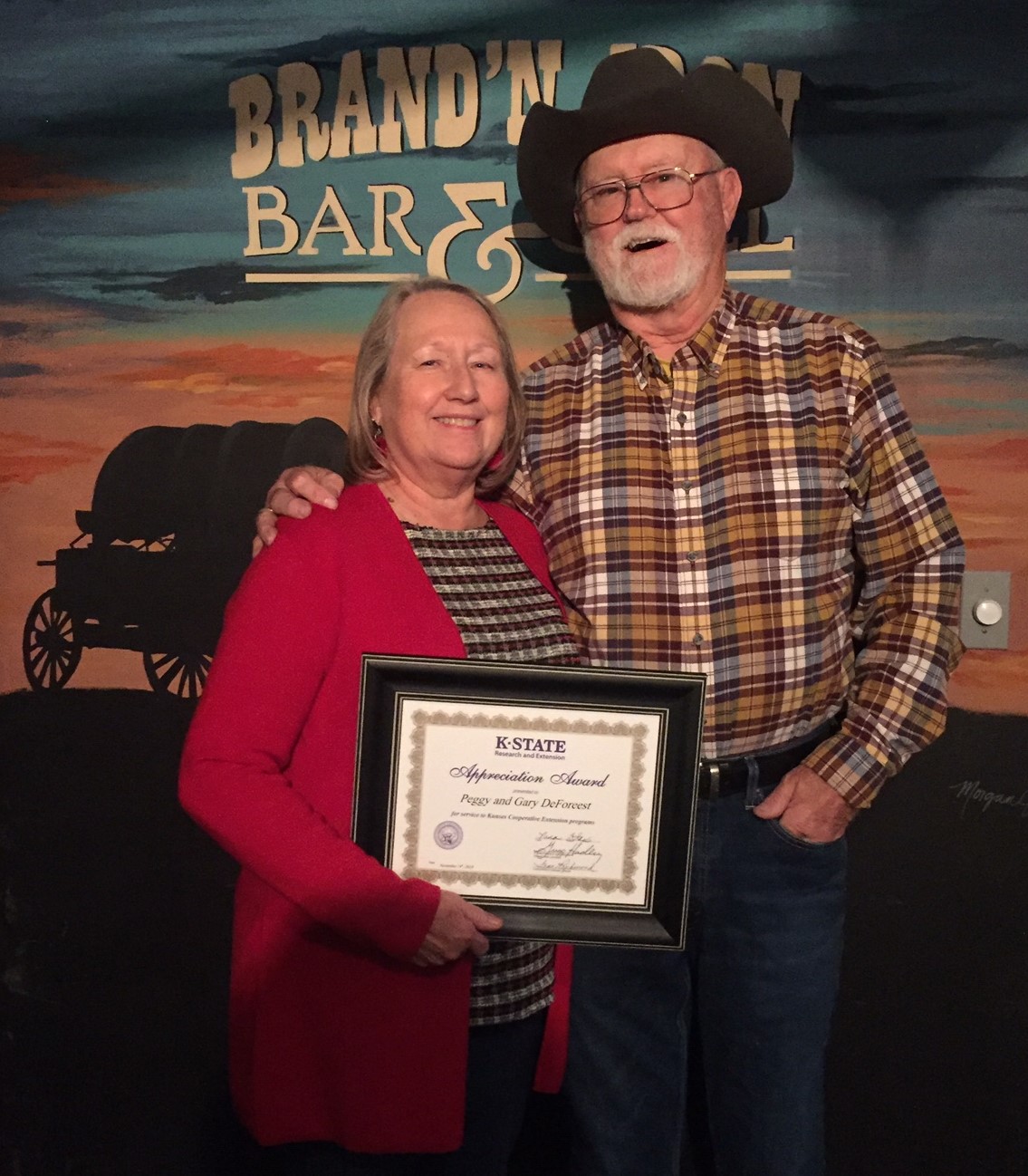 Peggy and Gary DeForeest have been an important part of Extension for many years. In 1986, Peggy began working as the office professional in the Osage County Extension Office. She became a district office professional when the Frontier Extension District was created in 2010, and she specialized as the district's bookkeeper.
As the first impression of the local extension, Peggy was always quick to welcome everyone who called or entered the Frontier Extension District office in Lyndon with a friendly greeting. Customers soon found that she was very knowledgeable and would go the extra mile to help respond to their needs. Peggy was a jack of all trades and master of them all. Her strengths included her initiative and creativity, ability to problem solve, attention to customer requests, and willingness to try something new. She always supported 4-Hers and over her career worked with nearly 100 fairs in Osage County.
Peggy retired in June of 2018, having served 32 years as an office professional with Osage County and the Frontier Extension District.
Gary was always there to support Extension in many ways. As an industrial arts teacher and gifted carpenter, he used his skills to build several shelving units and publication racks for the local offices, and frequently judged woodworking and electricity at local fairs. He always donated his judging fee back to the 4-Hers. Gary is currently a registered 4-H volunteer and a 4-H woodworking project leader for the Lyndon Leaders 4-H Club. Through his leadership, the woodworking project continues to grow, and the woodworking projects that the 4-Hers complete are remarkable.