2019 Frontier Extension District #11 Governing Body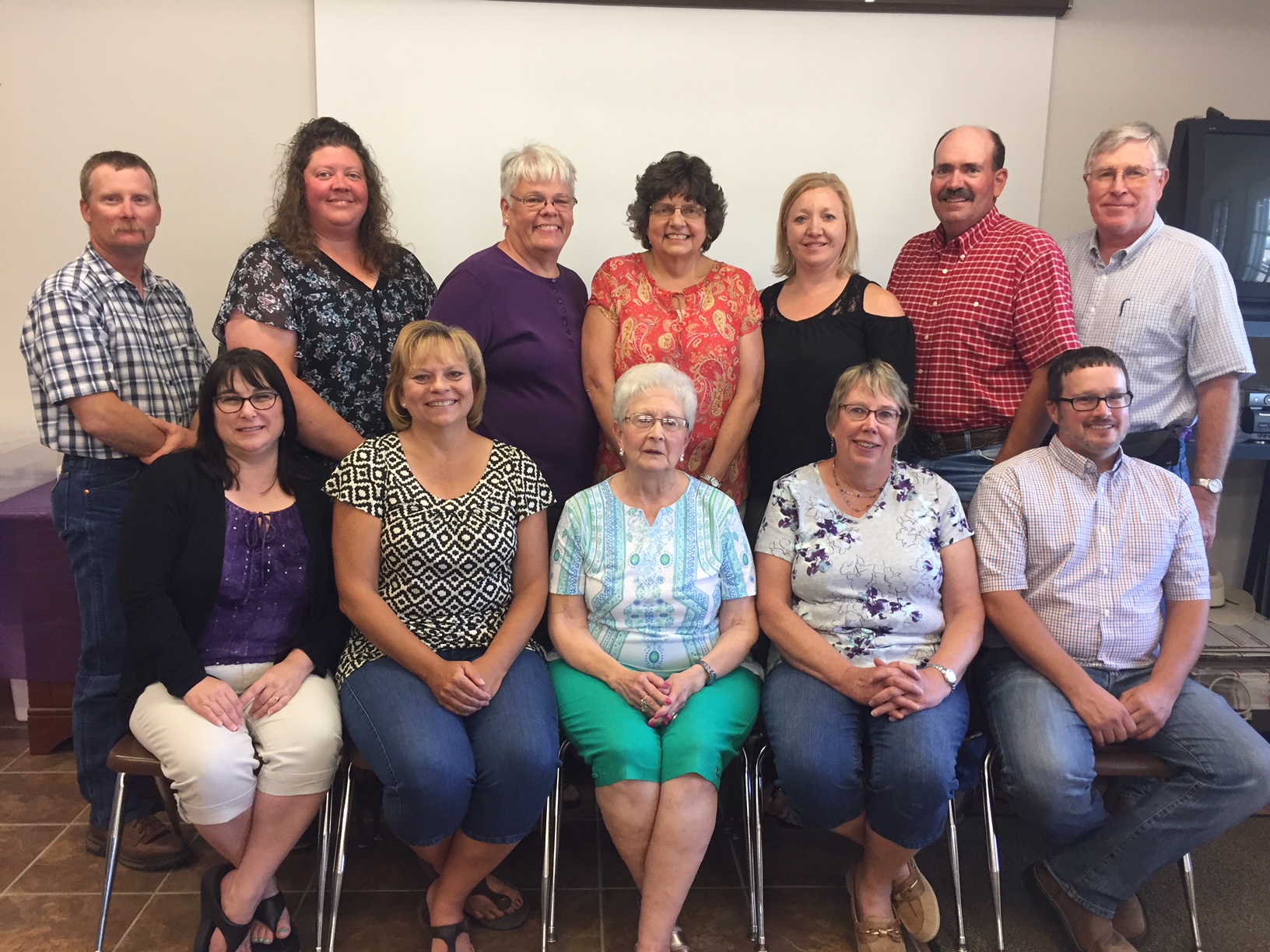 Front Row: Angie Sylvester; Dawn Rumford; Nancy Horn; Peggy Tucker; Jarred Sterling
Back Row: Joel Sprague; Jody Newton; Nina Flax; Linda Thurston; Karen Gillespie; Howard Woodbury; Gary Thompson
| | | |
| --- | --- | --- |
| Nina Flax | Chairman | OS |
| Joel Sprague | Vice Chairman | AN |
| Jarred Sterling | Treasurer | FR |
| Angie Sylvester | Secretary | FR |
| Karen Gillespie | Member | AN |
| Nancy Horn | Member | AN |
| Jody Newton | Member | AN |
| Dawn Rumford | Member | FR |
| Gary Thompson | Member | OS |
| Linda Thurston | Member | FR |
| Peggy Tucker | Member | OS |
| Howard Woodbury | Member | OS |
---
2018 Kansas Master Farmer and Master Farm Homemaker
Congratulations to Gary and Delores Rieck, Frontier Extension District, who have recently been named to the 2018 Class of Kansas Master Farmers and Master Farm Homemakers! The Kansas Master Farmers and Master Farm Homemakers program recognizes Kansans for success in their agricultural operations and service to their communities.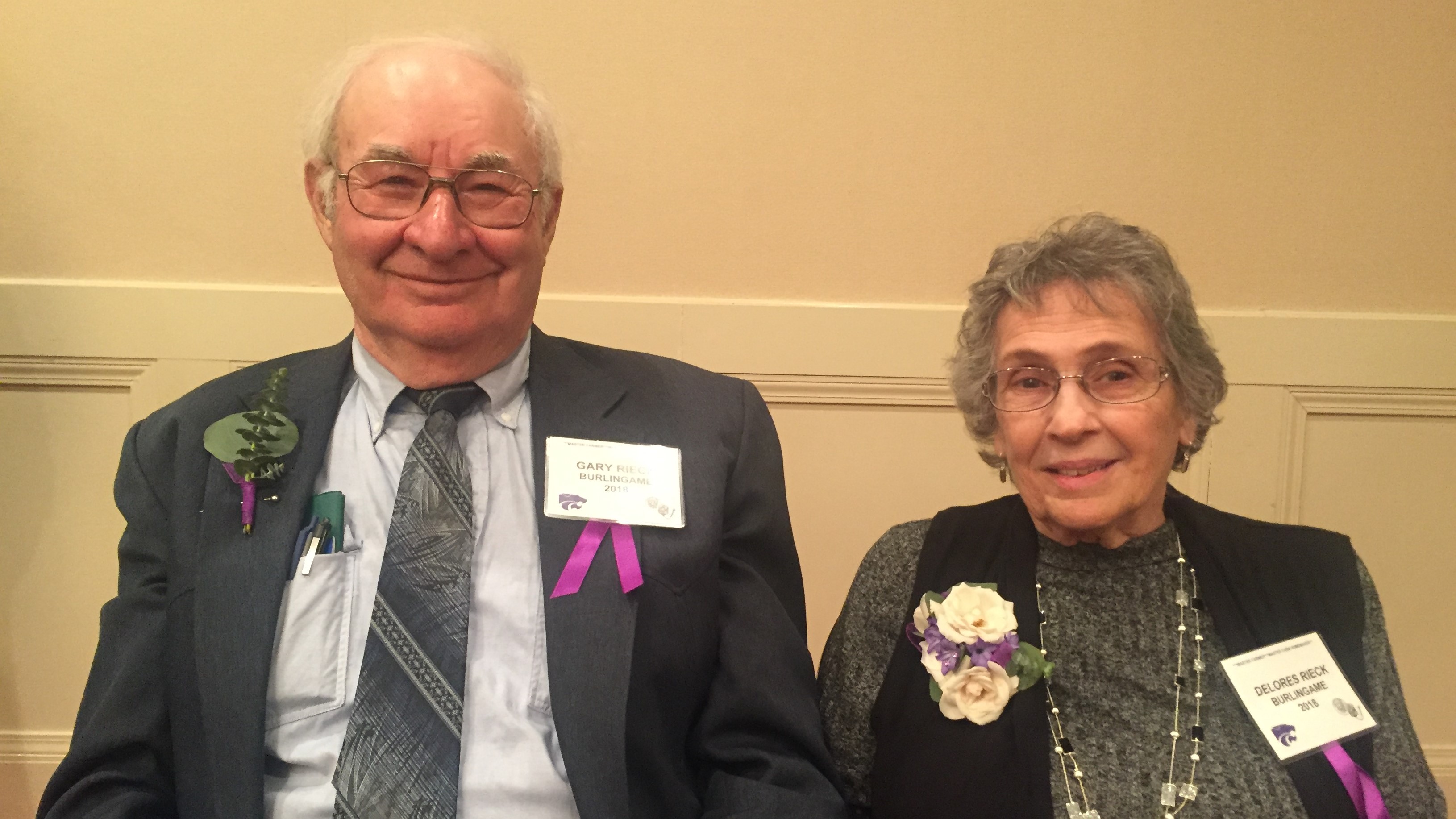 Gary Rieck graduated from Burlingame High School and continued his education in animal husbandry at Kansas State University. He then worked as a hog buyer for Swift and Company in Kansas City. After a year in Kansas City, he returned home to farm with his father. Gary's passion for farming led him to hold several leadership positions. He served as president of the Kansas Swine Seminar and Kansas Young Farmers.
Both Gary and his wife, Delores, are contributing members of area farming groups. Both have been members of the Southeast Farm Management Association for 54 years. Gary has also been a county director for that organization. Delores served as president of the Kansas Young Farm Wives Association.
Delores graduated from Emporia State University with a bachelor's degree in business education. She furthered her education by earning a master's degree. Delores taught at Burlingame High School and Osage City Middle School. After retiring, she continues to educate students by teaching quilting classes. Delores has presented quilting programs across Kansas and started a business for her hobby.
The Riecks' farming operation started out with 25 gilts in a farrowing-to-finish system. Today, the Riecks have transitioned to feeding cattle and farming soybeans and grass hay. They also have acreage dedicated to the Conservation Reserve Program. The Goodyear Soil Conservation Award was given to the operation for their management practices. K-State Research and Extension programs, co-op crop seminars and crop expositions to help the Riecks constantly learn about practices that could improve their farm.
Son George works on statistical analysis for GPS crop mapping. He lives in Des Moines, Iowa, with his wife, April, and two children, Holt and Cabe.
Daughter Gwen Hoy and her husband, Josh, operate an agri-tourism program in the Flint Hills. They have a daughter named Josie.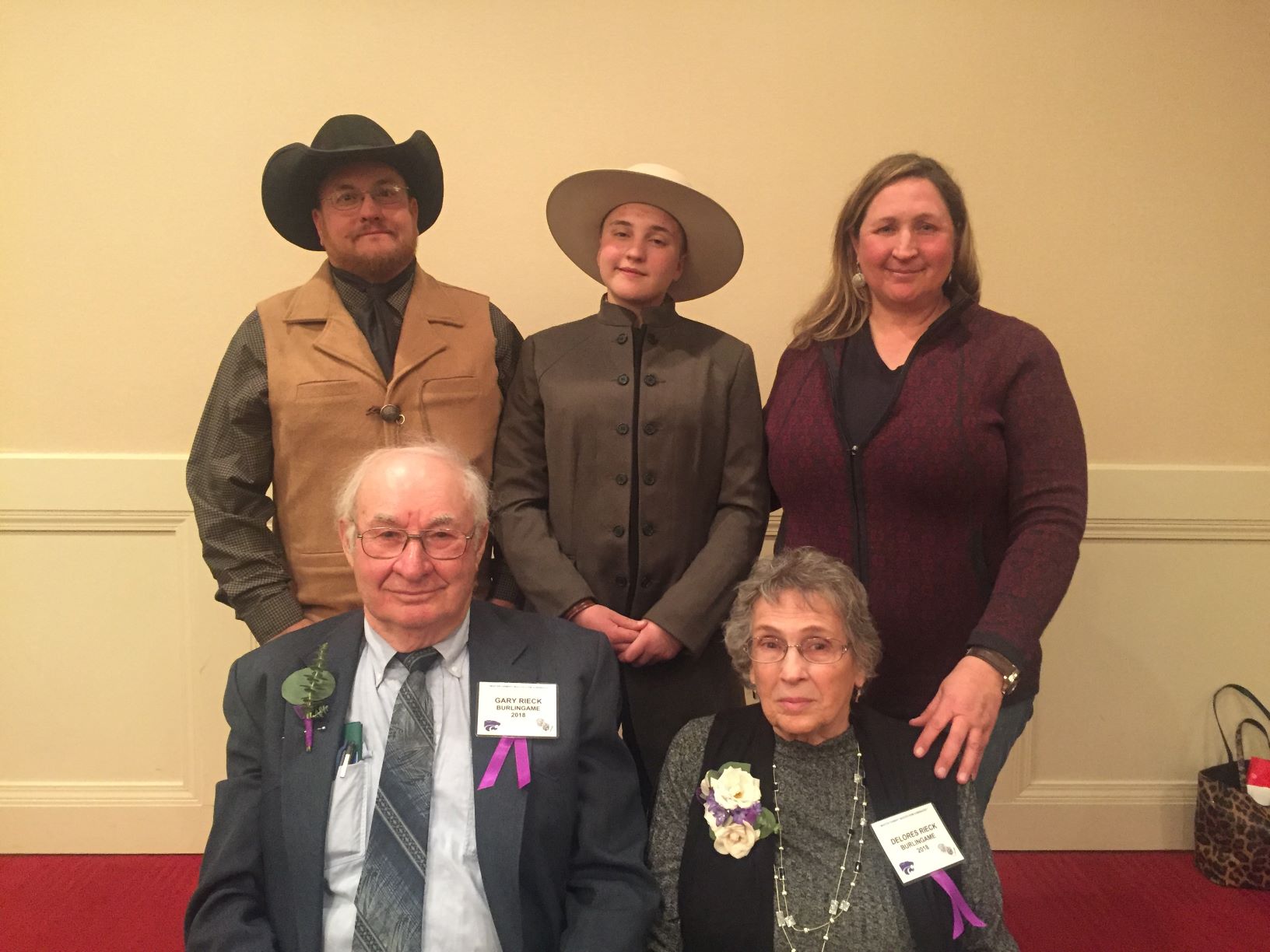 Front Row: Gary and Delores Rieck Back Row: Josh, Josie & Gwen Hoy
---
Frontier Extension District honors local supporters with Appreciation Awards
The Frontier Extension District recently presented annual appreciation awards to individuals who have made outstanding contributions to Extension programs in the district's three counties. Honored were Wayne Wischropp, Osage County; Dr. Larry and Janie Mages, Franklin County; and Ron and Christy Ratliff, Anderson County.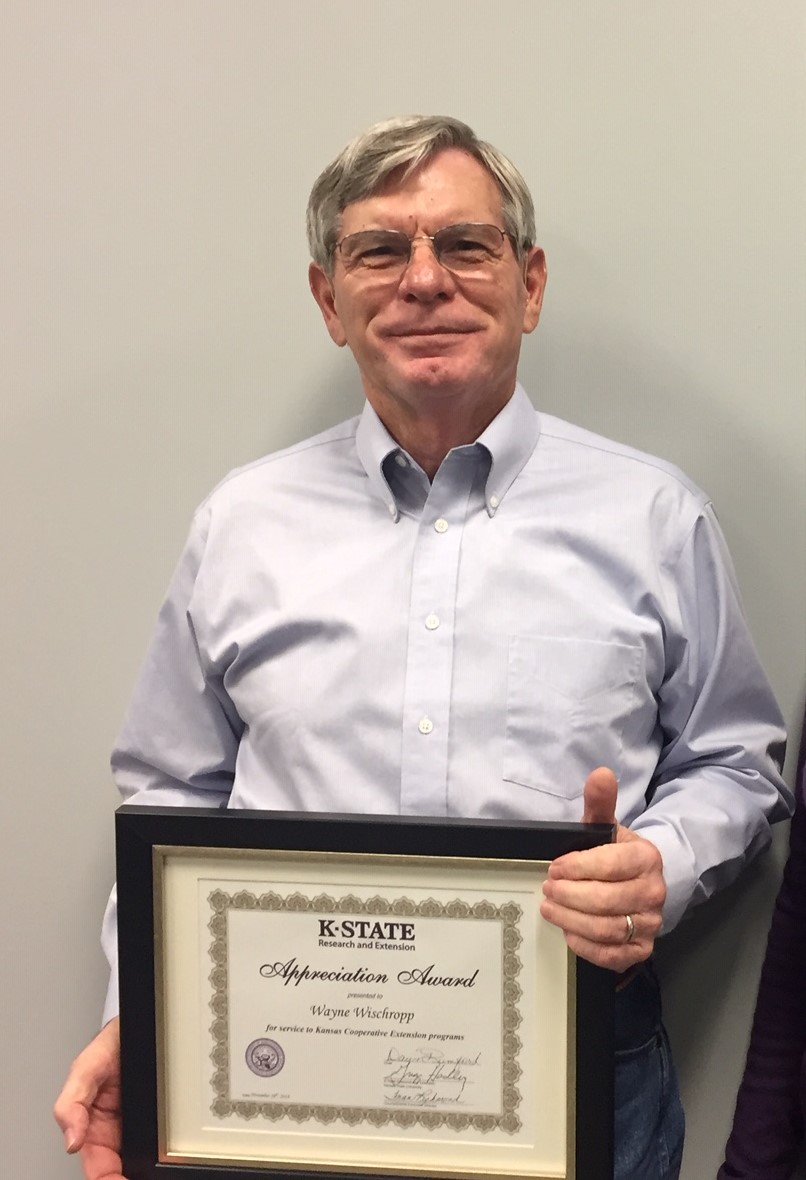 Wayne Wischropp is a life-long resident of Osage County. As a youth, he spent many hours with his father in livestock sale barns. His father was one of the owners of the Waverly sale barn for a number of years. During that time, Wayne watched, listened, and learned how to be an auctioneer. Also, as a youth, Wayne was in 4-H with cows being his primary project.
Wayne started helping with the 4-H livestock sale at the Osage County Fair in Osage City during his early years in college. After college, he then became the auctioneer for the sale and has been doing it ever since. He auctioned the 4-H livestock sale at the Osage County Fair in Overbrook for about 10 years and the Lyon County fair for about 12 years. Besides his long term commitment auctioning for the 4-H sales, he managed the 4-H sale in Osage City for about 10 years, has served on the Osage City fair board and supported his daughter while she was in 4-H. Wayne has 50 plus years of continuous service to the area 4-H youth.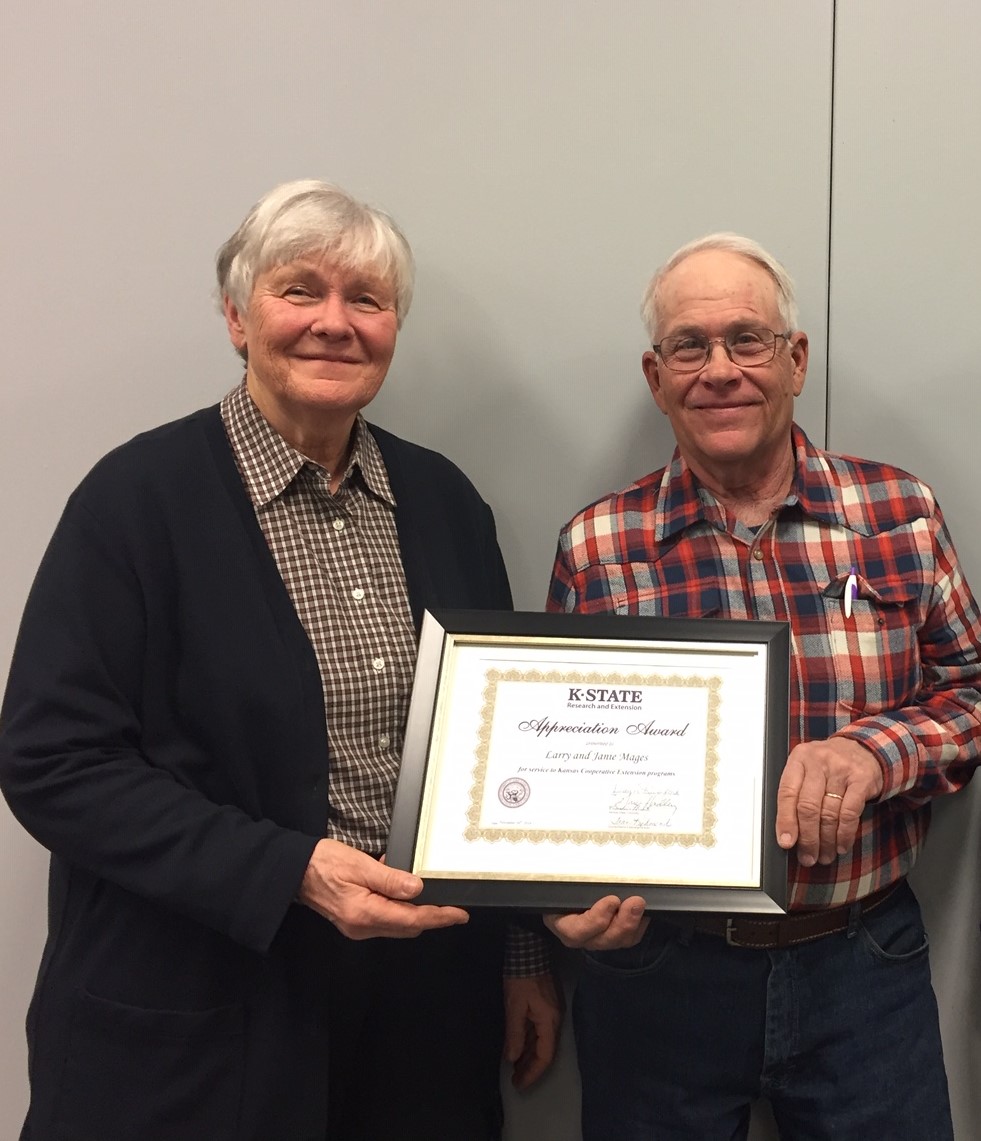 Dr. Larry and Janie Mages Dr. Mages came to Ottawa to start his veterinary practice in 1973. He practiced out of his house and focused on large animals, especially dairy cattle. He still practices at Cottonwood Animal Hospital in Ottawa.
The 4-H Youth Development Program has been a big part of Larry and Janie's lives. They were both members of 4-H in their youth, and they raised three daughters, Jennifer, Laura, and Sarah, who were all active members of 4-H in Franklin County. Currently, the couple has five grandchildren enrolled in 4-H in Franklin and Miami Counties.
The Mages' have helped the 4-H livestock members in Franklin County for many years. Weigh-in for steers is held at the vet clinic and Dr. Mages has helped with health checks of livestock at the fair over the years. Recently they have donated panels for the bucket calves during the fair. The couple believes that the 4-H program is a great opportunity for youth.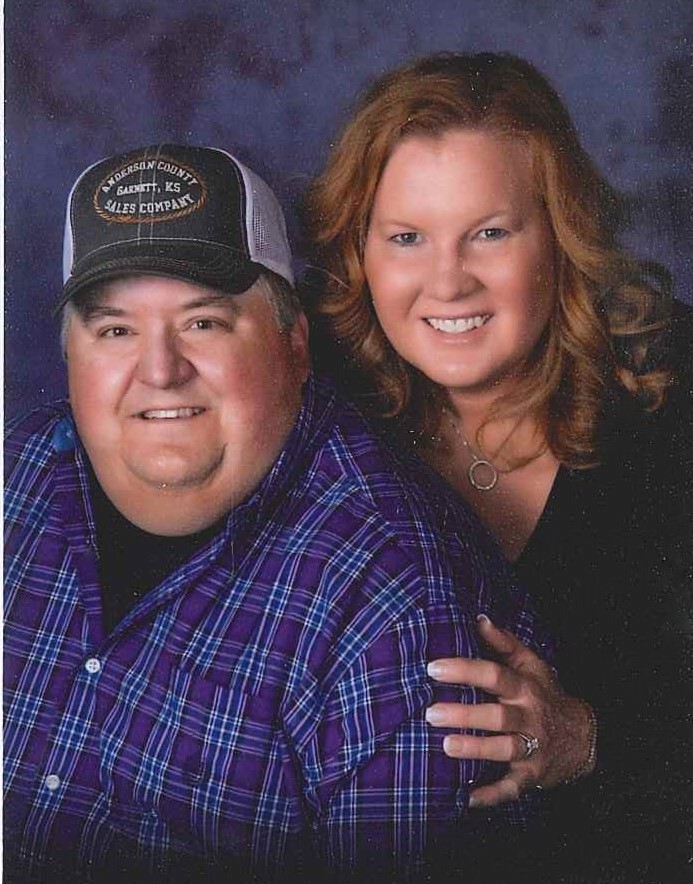 Ron and Christy Ratliff of Garnett are the owners and operators of Ratliff Jerseys and Anderson County Sales Company. Ron has spent his life in Anderson County. His father, Max, helped assist with construction and planning for facilities at the Anderson County Fairgrounds. Ron has been auctioneering at the Anderson County Fair Livestock Sale since graduating from auctioneering school in 1979. Christy started her Jersey herd as a 4-H project more than 30 years ago. The couple married in 1990, and have been very involved with the dairy and beef industry and the Anderson County community.
Ron and Christy have supported K-State Research and Extension over the years by auctioneering Anderson County Livestock Sales, coordinating county fair livestock sale buyers, auctioneering Anderson County Fair pie auctions, offering the use of their sale barn facilities for 4-H beef spring weigh-in, and working with youth both locally and across the nation by hosting tours, providing quality animals for dairy judging opportunities and educating about the beef and dairy industry.