2016
2016 Frontier Extension District Appreciation Award Winners
Presented by Gary Thompson, Frontier Extension District's
Board President
Teena Lutz

Actively involved in Extension programs for over 25 years, Teena has demonstrated her commitment to leadership and community service. Growing up in Woodson County, she was a charter member of the Lucky 13 4-H Club and served as President for two years. She has also served as a 4-H project leader for sheep, meat goat, crafts, leadership, and home environment, as well as a 4-H Community Club leader, and secretary for the Anderson County Fairboard. Teena was a member of the Anderson County Executive Board when Anderson County joined the district. She firmly believes that "learning by doing" is the best way to teach children and as a volunteer we should teach by working along with them. Teena's daughters, Hadley and Cassidy, were each 4-H members for 11 years and both excelled in their 4-H careers.

Fred Diver

Fred served eight years on the Osage County Extension Council, which included several years on the Executive Board as chairman or vice-chairman. He was a 4-Her as a youth, and was also actively involved in 4-H activities when his sons, David and Aaron were 4-H members. Fred attended the national Citizenship Washington Focus (CWF) trip to Washington D.C., as a sponsor, served as a 4-H and open class photography superintendent at the Osage City Fair, was a Kansas Agriculture and Rural Leadership (KARL) class 7 graduate. The Fred Diver 4-H family received recognition as Osage County 4-H Family of the Year in 2000. In 2016, Fred and his wife, Jackie, donated their 1956 Case tractor to the Frontier Extension District 4-H Tractor Restoration Club. After the 4-H members restored the tractor; Fred bought the tractor back, with the proceeds going to support scholarships for the 4-H members.

Ralph Ferguson

For many years, Ralph has been a strong volunteer for Extension in the 4-H and Youth Program. Each year he can be found leading the swine department at the Franklin County Fair. He gives countless hours each year to organizing pens, cleaning the barn, and weighing and keeping track of each and every hog in the barn. Ralph works the swine show ring with his bog board during what he calls his "1/2 day vacation each year." He often goes above and beyond when he farrow's a sow just before the fair so fairgoer's can see the sow and her litter....a fair favorite for many! Ralph has also been involved in the Richmond Free Fair, and most recently, was instrumental in the construction and fundraising of a new show barn. During his years working with the swine department, he has been a Dad, Grandpa, and Great Grandpa, not only to his own family, but to many exhibitors and their families as well.
Tractor Restoration Club
The Frontier District Tractor Restoration 4-H Club restored a 1956 Case 300 Tractor and sold it at the Power of the Past Antique Engine & Tractor Show on Saturday, September 10, 2016. The tractor was auctioned off for $5600.00. The proceeds will go toward scholarships to the 4-H members involved in the project.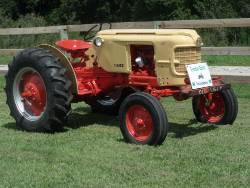 ---
2016 4-H Western Heritage Conference
The 3rd Annual National Western Heritage Conference for the 4-H Western Heritage Project took place on August 2-4 near Branson, MO. This was the first year for Kansas to participate and only the 2nd year the project has been offered in the state. The group that attended was made up 4-H members from Franklin and Coffey counties.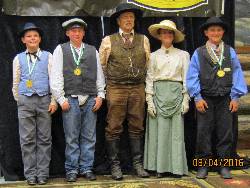 Left to Right: Isaac Durst, William Layton, John Torren (project leader), Audrey Durst, Nathan Livingston