Livestock
Agriculture is very important to the economy of the counties in the Frontier Extension District. The agronomic value of crops and livestock in the district is nearly 250 million dollars. This comes from 615,000 acres of cropland and 530,000 acres of pasture and hay ground. Approximately half the value of production is from crops and half from livestock.
Beef cattle are the predominant livestock species within the district. From the counties in the Frontier Extension District, there are nearly 120,000 head of beef cattle. Of those, 40,000 head are cows and the remainder are calves, stocker cattle, and fed cattle. Dairy, swine, goats, and poultry production also add to the economic impact of agriculture to the district.
*Information from Kansas Agricultural Statistics Service and the 2012 Census.
---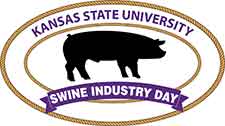 KSU Swine Day will be held on November 21 at the KSU Alumni Center. The cost is $25 per person for advance registration by November 12; or $50.00 at the door.
---
KOFO Radio Segments