Osage County Events & Information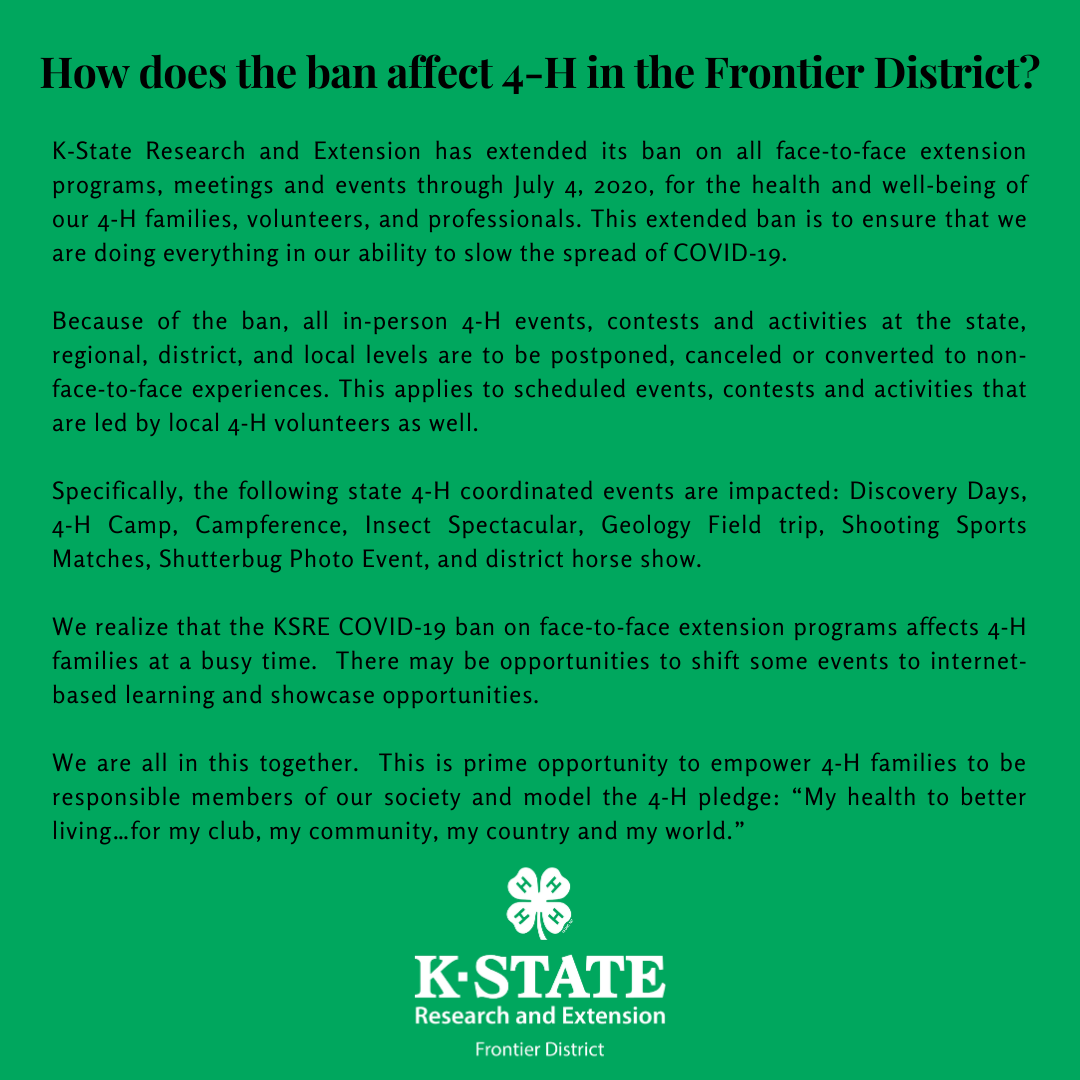 ---
OS Co 4-H Council Meeting via Zoom - 6/29/20
Osage City Fair - 7/8-11/20
Melvern Fair - Canceled
Overbrook Fair - 8/12-15/20
---
4-H Council Meeting
All Frontier Extension District & 4-H face-to-face events are canceled between
March 15 and July 4.
The Osage County 4-H Council meeting will be Monday, June 29 at 7:00 p.m. via Zoom. Information on how to participate will be emailed to representatives. Council members should plan to attend as there must be a representative from each club at every meeting.
The next Club Leader meeting will be October 26.
---
Osage County Fairs

2020 OS Co 4-H Fashion Revue Entry Form
2020 OS Co 4-H Clothing Construction Form
2020 OS Co 4-H Clothing Buymanship Form
OSAGE CITY FAIR ONLY - Entry Cards
2020 OSAGE CITY FAIR 4-H Entry Card
2020 OSAGE CITY FAIR Open Class Entry Card
CLUB FAIR NUMBERS
Clubs will use the following number for fair entries.
Burlingame - 500
Clover Wranglers - 501
Lyndon Leaders - 502
Melvern Jr. Highline - 503
North Osage - 504
Vassar Blue Ribbon - 505
Willing Workers - 506
---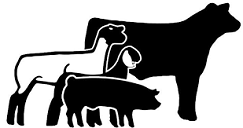 ---
Osage County Horse Shows
The Overbrook Fair Horse Show pre-entries are due August 2. The show is scheduled for August 8 at the Overbrook Fairgrounds. In case of rain, the show will be at Burns Skyview Ranch.
Check-in will be from 8:00 - 8:30 a.m. Horse Show will begin at 9:00 a.m. Forms will be available in the Fairbook.
---
Horse (HAY) Meetings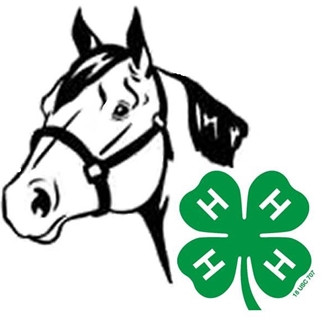 Osage County's Horse and Youth (HAY) meetings are open to any Frontier District 4-H member. Meetings are the third Sunday of each month at 3:00 p.m. at the Skyview Ranch, 28312 S. Wanamaker, Osage City. Direct all questions to Dorothy at 785-806-5786 or Niki at 785-219-1829 or ncfm1234@hotmail. The Facebook page for the group is 4-H H.A.Y. Club.
---
Osage County Shooting Sports
All Frontier Extension District & 4-H face-to-face events are canceled between
March 15 and July 4.
2019-2020 Osage County Shooting Sports schedule:
~*~*~*~*~*~*~*~*~*~*~*~*~*~*~*~*~*~*~*~*~
Youth must be eight years of age by January 1, 2019 to be eligible to participate in Shooting Sports. Direct any questions to Marcie at mqrq1228@embarqmail.com, Jan at lpclays@hotmail.com or Keri at dkharrisfarm@gmail.com.
All practices will be at 15303 S. Osage Road, Burlingame. Bring a chair.
---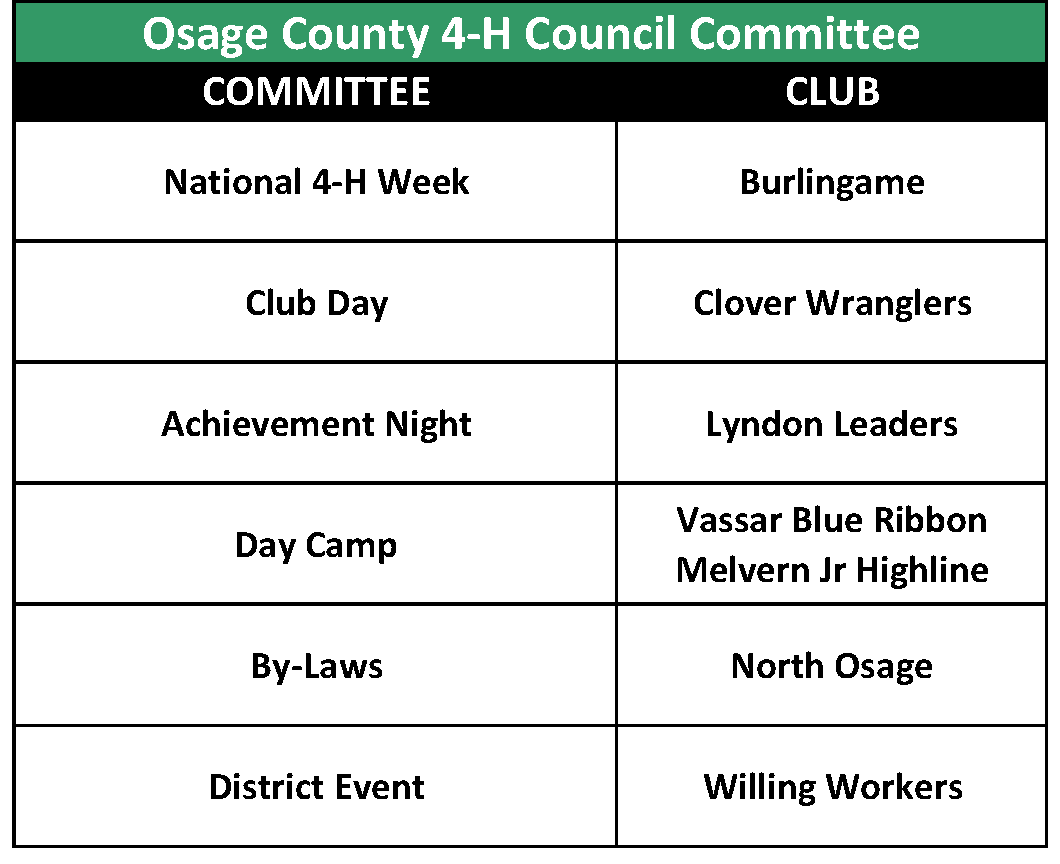 ---
Scholarships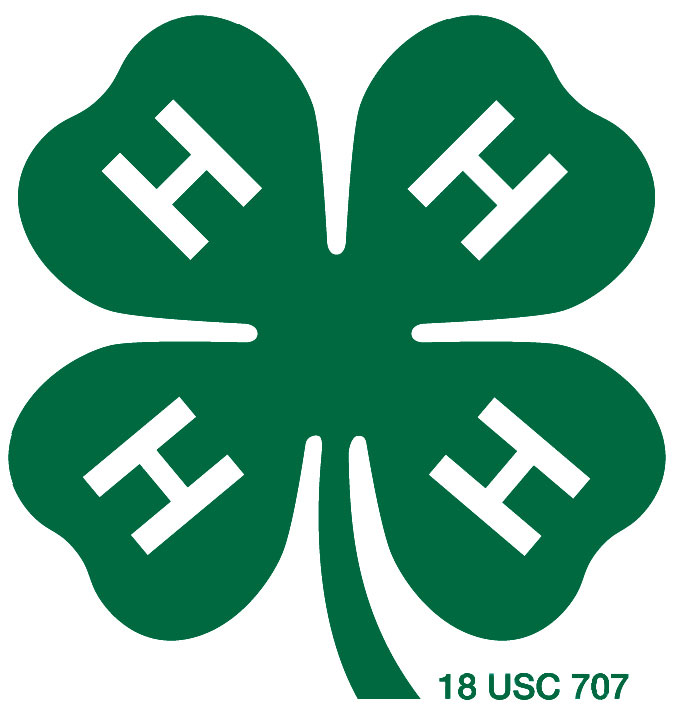 In honor of Deloris Schoepflin and Joyce Casten and to continue their commitment to 4-H, the Schoepflin and Casten families will offer scholarships for Osage County 4-H members to go to 4-H Camp or Discovery Days. Members are only allowed to receive each family scholarship once. Completed applications should be submitted to the Lyndon Extension Office by April 1. Winners will be notified later with instructions on how to register. The application is available at the link above or at the Extension Office.
---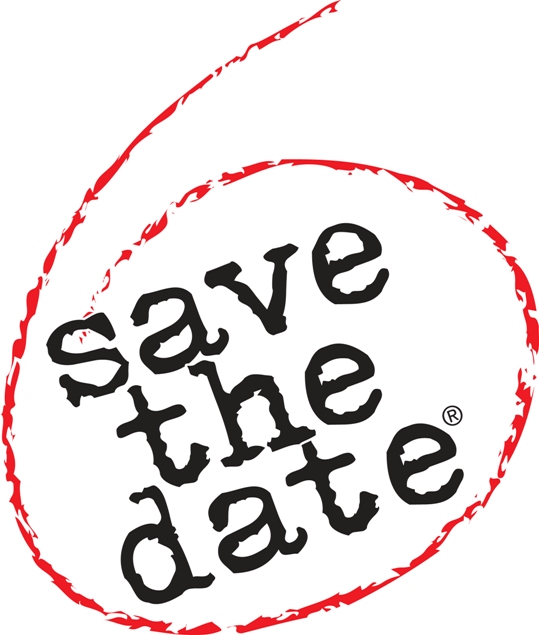 2020 Osage County Fairs
Osage - July 8-11
Melvern Sunflower Days - CANCELED
Overbrook - August 12-15
Osage County Fair Association WEBSITE and FACEBOOK
---
Osage County Forms - due 9/23
Friend of 4-H Award Nomination Form
Osage County 4-H Family of the Year Nomination Form
National 4-H Week News Supplement