District Events

County 4-H Council Meetings
Anderson County 4-H Council Meeting
Monday, September 14
Franklin County 4-H Council Meeting
Osage County 4-H Council Meeting
Monday, October 26
---


The health and safety of all 4-H members, volunteers, parents, guests, and staff is the top priority of Kansas 4-H. To help reduce the risks associated with the spread of COVID-19, please read the following guidelines from the Kansas Department of Health & Environment and the Centers for Disease Control (CDC). These guidelines should be followed to protect yourself and others during 4-H Club meetings and other 4-H programs.
---

October 10-11, 2020
Join us this fall in seeing just how much we can give back to our communities! The weekend after National 4-H Week, is the perfect opportunity to setup a service project. Invite your friends, clubs, adult volunteers and 4-H Alums too! Find all the information here and start planning your projects. Please register your projects and then follow up with a report so we know about all the great things that happened across the state. 48 Hours of 4-H is the perfect compliment to #InspireKidstoDo
For more information, go to the Kansas 4-H 48 Hours of 4-H page.
---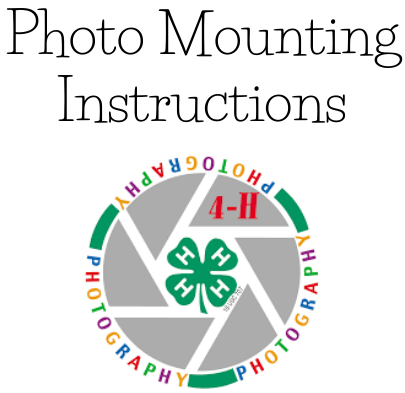 ---
2022 Citizenship Washington Focus Trip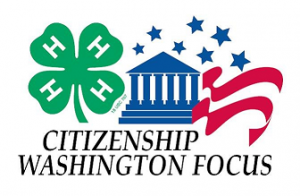 4-H Citizenship Washington Focus (CWF) is a week-long summer program in Washington, DC where high school students learn about government and citizenship. CWF is more than a Washington, D.C. field trip – it's an opportunity for 4‑H'ers to learn how to be citizen leaders and make a difference in their communities.
The next delegation will be Summer 2022. Delegates are selected early so funds may be raised and decisions can be made. Frontier District 4-H members, 15-18 years of age by January 1, 2022, are eligible to apply. Interested members must complete an application and be approved. 🍀
---
Community Service during COVID-19
Click on the image below to see larger.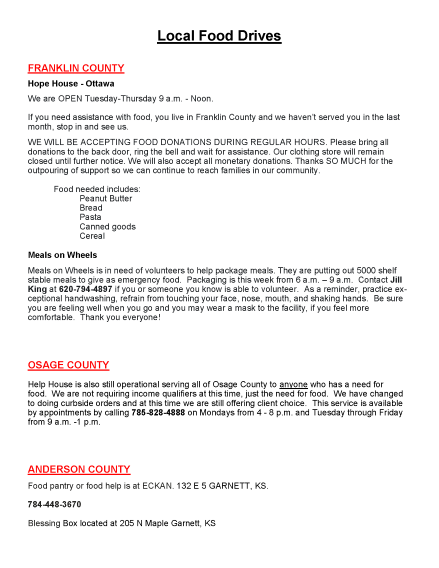 Citizenship Opportunity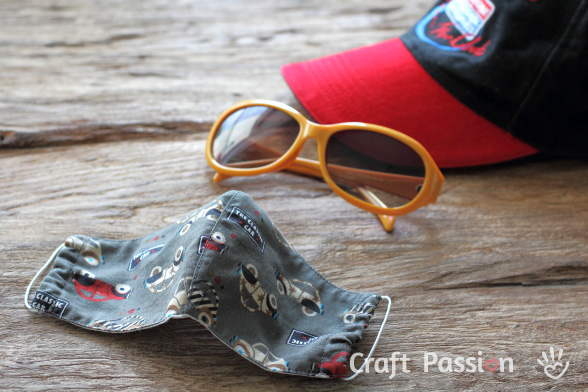 Rock Creek of Ottawa (formerly ORV) is asking for your help by making face masks for the residents. They are made of scrap pieces of material and can be made at home! The 4-H member will need to provide all the materials. A pattern for each of the different masks needed (male and female, not children's) can be found at the link below. The material should be pre-washed before the masks are made. It is very important to follow the directions! They have to be careful about what they provide for the residents, but this pattern meets their criteria.
Contact Michelle at 785-242-5399 to let her know of your interest in helping and direct all questions to her, as well.
---

The Ranchland Trust of Kansas (RTK) photography contest begins on April 15 and will be open through the entire summer and close on August 31. The contest will be open to professional and amateur photographers of all ages. Photographs entered will showcase the natural beauty of ranching and grazing lands across the state
Participants should submit photos expressing the mission of RTK: "To preserve Kansas' ranching heritage and open spaces for future generations through the conservation of working landscapes." This may include landscape, livestock and people, with preference to grasslands, grazing land, ranchers, cattle and much more. Participants may enter up to five photos. Entries will be judged by a panel of professionals in the field of photography and by RTK representatives.
All prizes for the contest are sponsored by Wolfe's Camera of Topeka. Wolfe's will award 10 photo cards to all 10 category winners. Categories include: Grand Prize, Landscape, Livestock, People, Youth (ages 5-17), Kansas Livestock Association member, Fan Favorite via Facebook voting and three honorable mentions. The grand prize winner will receive their choice of an 11"x 14" stretched photo canvas or a 12" x 18" metal print of their winning photo.
For full contest rules and to enter, visit www.ranchlandtrustofkansas.org and find Photo Contest on the News and Events page. For questions, please contact Samantha Weishaar at (785) 273-5115 or samantha@kla.org.
---
Frontier District Cloverbud Meeting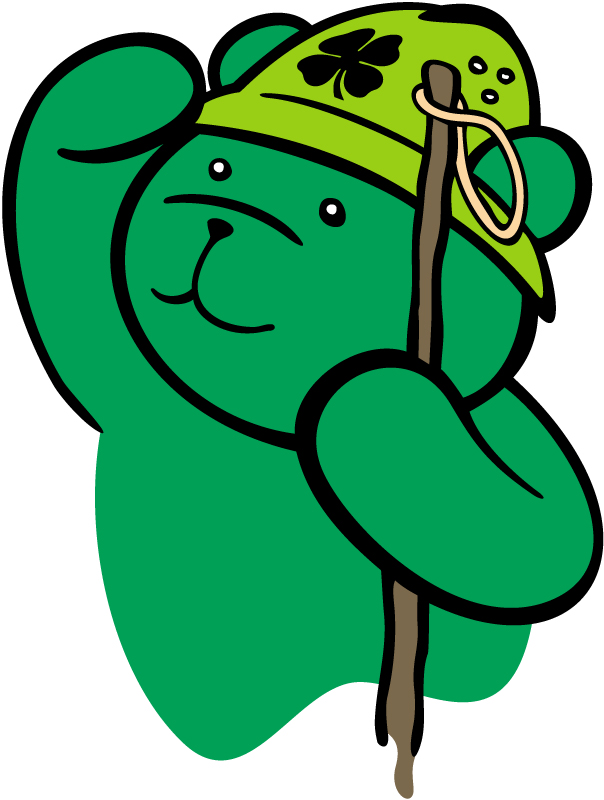 4-H Cloverbuds is an educational, youth development opportunity specifically for 5- and 6-year old children. To be eligible to participate, a child must have celebrated his or her 5th or 6th birthday before January 1, 2020. For more information, contact JoAnna Rossman Smith at joanna17@ksu.edu or 785-229-3520.
---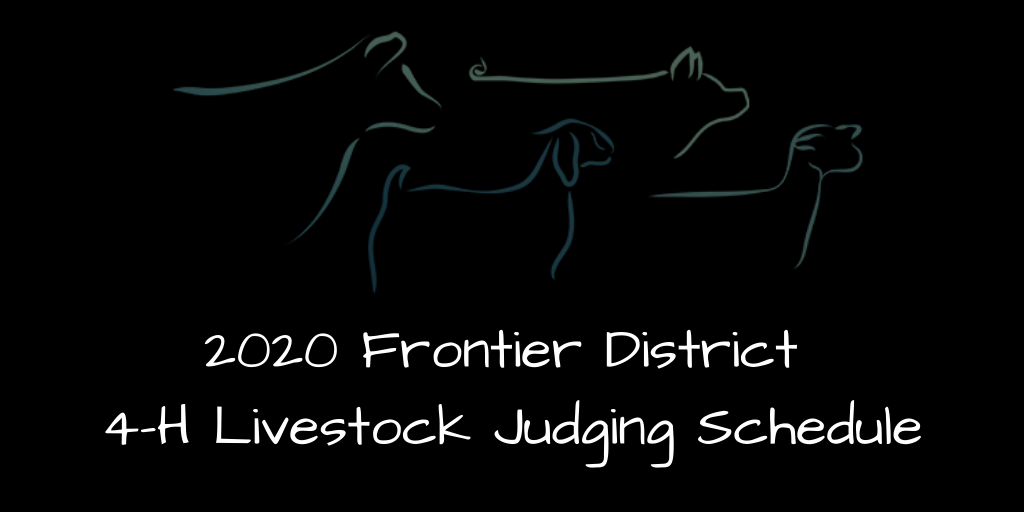 2020 Frontier District 4-H Livestock Judging Schedule*
---
Southeast Kansas 4-H Entomology Meetings

If you are interested in the Entomology project, you are invited to join Vicky Wallace in Chanute to learn more about the project and how to display our work. The October meeting is for anyone who thinks they might be interested in taking the Entomology project. Meetings will be held on Saturdays at the Chanute High School at 2:00 p.m. on the dates listed below. Please come to the back of the school to the door with the porch over the entrance. These meetings are open to any 4-H family in SE Kansas. Direct any questions to Vicky at vicky.wallace55@gmail.com or 620-804-9170.
---
District Horse Club Information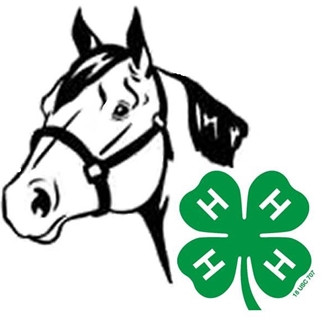 Anderson County
Boots & Spurs, the Anderson County Horse Club, welcomes all Frontier District 4-H Horse members. Meetings are held at the AN Co Fairgrounds at 7:00 p.m. the last Monday of the month through August with ride nights at the Hughes' home. Watch the Anderson County Boots and Spurs 4-H Horse Club Facebook page for opportunities and announcements. Please contact Jenny at jennifer.e.hughes@sprint.com with questions.
Franklin County
The Franklin County 4-H Horse Club is open to all Frontier District 4-H Horse members. Ride nights are Wednesdays at 6:30 p.m. at the Franklin County Fairgrounds, 220 W. 17th in Ottawa. Information can be found on the Franklin County 4-H Horse Facebook page or by contacting Kathy at kathy.hinderliter@gmail.com.
Osage County
Osage County's
Horse and Youth (HAY)
meetings are open to any Frontier District 4-H member. Meetings are the third Sunday of each month at
2:00 p.m.
at the
Skyview Ranch, 28312 S. Wanamaker, Osage City
. Direct all questions to Dorothy at 785-806-5786 or Niki at 785-219-1829 or
ncfm1234@hotmail
. Contact can also be made on Facebook (4-H HAY Club).