Area & State Events and Information
2020 Kansas State Fair Information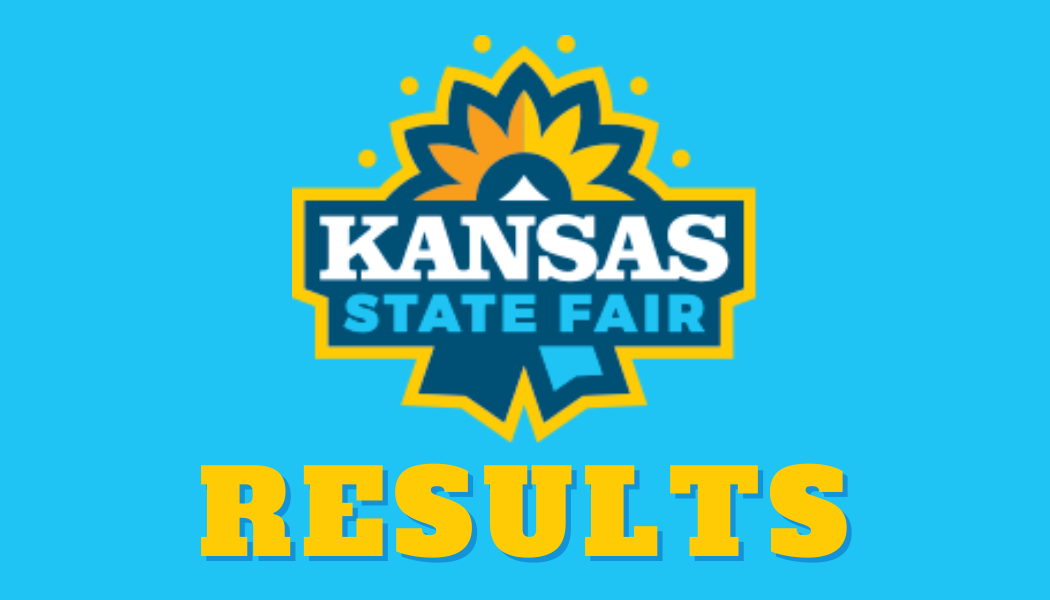 2020 KS 4-H and FFA Fair Book
2020 KS 4-H Fair Book
---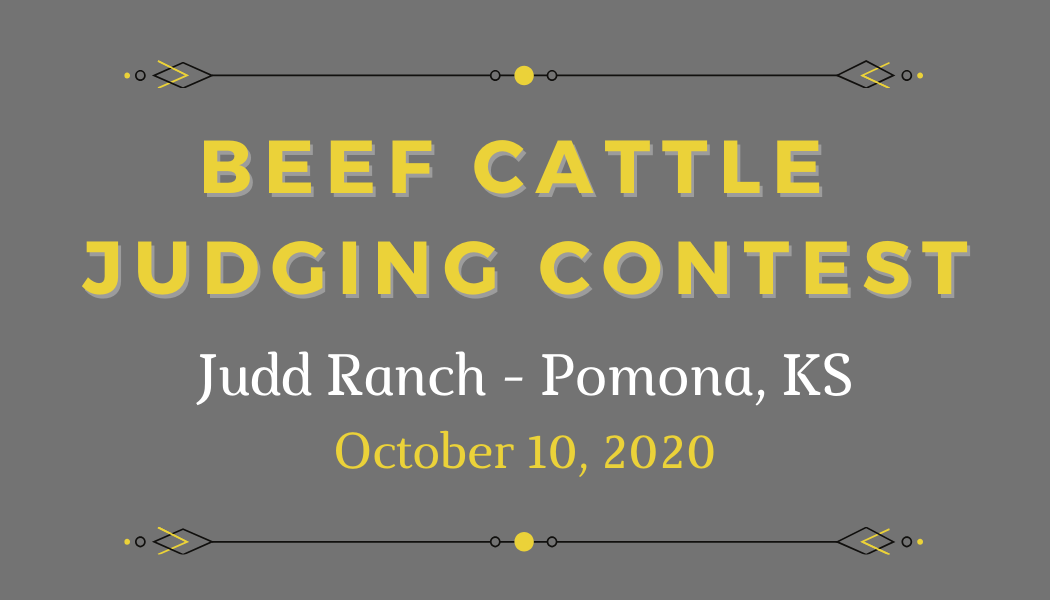 Judd Ranch will be hosting a Beef Cattle Judging Contest at their October Female Sale on October 10, 2020. The contest is for teams or individuals interested in evaluating live cattle and is open to youth and adults of all ages. There will be four classes of beef cattle, one question set, and one set of reasons (required only for the senior youth division). A full team is not necessary; individual prizes will be awarded. Registration begins at 8:00 a.m. and the contest begins at 9:00 a.m. RSVP to Ashley Judd by October 2 at 785-453-2291 or at judd07@gmail.com.
---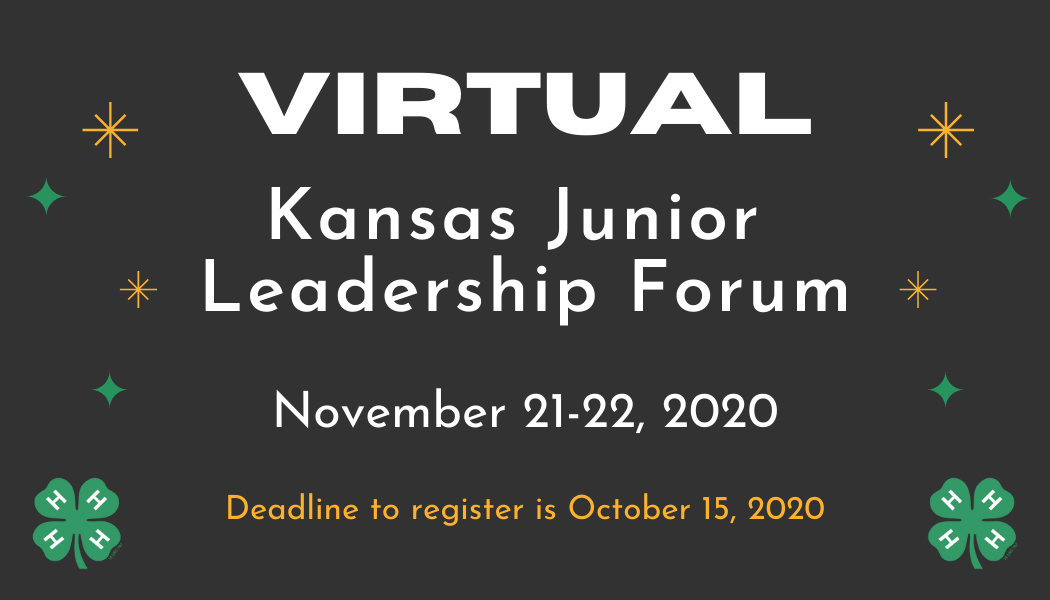 The Kansas Junior Leadership Forum will be virtual this year. Build your leadership skills and potential through workshops, consulting groups, inspirational speakers and more. In addition, the 2021 State 4-H Youth Leadership Council will be elected at KYLF. You will need to have a computer, tablet or phone that can connect to the internet. KJLF is for youth 14-18 years of age before January 1, 2021. The forum will be November 21-22, 2020. The registration deadline is October 15.
Watch this spot for the registration link coming soon!
---

The National 4-H Conference is a working conference in which youth and adults, at the invitation of the Secretary of Agriculture, assist in the development of recommendations to help guide 4-H Youth Development programs nationally and in their communities. This event brings together youth, volunteer leaders, and state and county Extension Staff members from across the United States, the U.S. Territories, and the Canadian Providences.
The conference will be held at the National 4-H Center in Chevy Chase, Maryland from April 10-15, 2021. Youth eligible to attend must be 15-18 Years Old by January 1 of the year of the conference. All applications must be entered online and in one sitting, you cannot go back and make edits. Applications are due September 21, 2020.
You can find more information on the Kansas State 4-H Page.
2021 National Conference Delegate Application Link
---

The Northeastern Kansas Beekeepers' Association (NEBKA) will provide a Youth Scholarship Program for a youth, 11-16 years of age. The program wants to promote beekeeping opportunities and involve families. The application is due October 31. Visit the NEBKA scholarship page for more information.
---

The 2020 State 4-H Dog Conference and Quiz Bowl will be hosted as a virtual event on November 6, 7, and 8. Participants will have the opportunity to engage with experts on dog care and training through live presentations and question and answer sessions. Content will also be available in recorded form after the event.

Registration is coming soon and will be free, but pre-registration will be required. Watch this page for more info!
---
K-State Youth Livestock Program
The K-State Youth Livestock Program Update has program updates, dates and information about upcoming producer days and more. You can also keep updated about K-State Youth Livestock Program at their website.
Please check out KSU Youth Livestock on social media. They are on Facebook, Instagram, Twitter, and Snapchat. They use these platforms to release information, provide updates, and share photos. They will be releasing a weekly tip for the nomination process on Tuesday evenings. Follow #NominationTipTuesday to learn more about making sure your nominations are complete. There will also be a couple of Facebook Live sessions over the state livestock nomination process this spring.
---
2020 State Livestock Nomination Information
Includes 2020 updates, FAQ, guidelines, checklists, deadlines, important dates, form examples
2020 Declaration Form for Kansas Nominated Livestock
2020 Market Beef Nomination Form (Market Steer/Heifer)
2020 Commercial Breeding Heifer Nomination Form
2020 Market Meat Goat & Breeding Doe Nomination Form
2020 Market Lamb/Commercial Ewe Nomination Form
2020 Market Swine/Commercial Gilt Nomination Form
*ONLY THE UPDATED 2020 PAPERWORK (DECLARATION & NOMINATION FORMS) WILL BE ACCEPTED! PLEASE MAKE SURE YOUR FORMS HAVE "2020" PRINTED ON THE BOTTOM - THIS INDICATES THEY ARE THE CORRECT FORMS FOR THE CURRENT YEAR.
More information will be updated soon on the State Livestock Nominated Information page.
---

---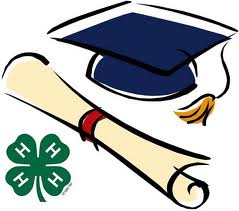 4-H Youth Development - Awards & Recognition - Scholarships
Please contact the Kansas 4-H Youth Development Scholarship Coordinator, Abbie Smith, abbie11@ksu.edu, with questions.
2020 Kansas 4-H Scholarship Application
---
Resources on AVIAN INFLUENZA
Area and State Events/Activities
Area and State Calendar of Events page
Register to Attend State 4-H Events
View more events on the Frontier District's Calendar of Events page