Area & State Events and Information

The National 4-H Conference is a working conference in which youth and adults, at the invitation of the Secretary of Agriculture, assist in the development of recommendations to help guide 4-H Youth Development programs nationally and in their communities. This event brings together youth, volunteer leaders, and state and county Extension Staff members from across the United States, the U.S. Territories, and the Canadian Providences.
The conference will be held at the National 4-H Center in Chevy Chase, Maryland from April 10-15, 2021. Youth eligible to attend must be 15-18 Years Old by January 1 of the year of the conference. All applications must be entered online and in one sitting, you cannot go back and make edits. Applications are due September 21, 2020.
You can find more information on the Kansas State 4-H Page.
2021 National Conference Delegate Application Link
---
4-H Scholarship Information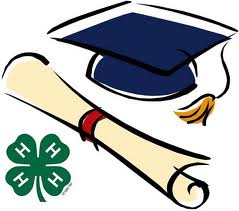 4-H Youth Development - Awards & Recognition - Scholarships
Please contact the Kansas 4-H Youth Development Scholarship Coordinator, Abbie Smith, abbie11@ksu.edu, with questions.

The Northeastern Kansas Beekeepers' Association (NEBKA) will provide a Youth Scholarship Program for a youth, 11-16 years of age. The program wants to promote beekeeping opportunities and involve families. The application is due October 31. Visit the NEBKA scholarship page for more information.
---
K-State Youth Livestock Program
The K-State Youth Livestock Program Update has program updates, dates and information about upcoming producer days and more. You can also keep updated about K-State Youth Livestock Program at their website.
Please check out KSU Youth Livestock on social media. They are on Facebook, Instagram, Twitter, and Snapchat. They use these platforms to release information, provide updates, and share photos. They will be releasing a weekly tip for the nomination process on Tuesday evenings. Follow #NominationTipTuesday to learn more about making sure your nominations are complete. There will also be a couple of Facebook Live sessions over the state livestock nomination process this spring.
---
Resources on AVIAN INFLUENZA
Area and State Events/Activities
Area and State Calendar of Events page
Register to Attend State 4-H Events
View more events on the Frontier District's Calendar of Events page