Join
A 4-H club is a group of young people and adults who meet regularly throughout the year for fun and learning. Each 4-H club normally elects officers at the beginning of the 4-H year (October). These club officers are responsible for leading meetings, making sure all 4-H members have the opportunity to speak, help plan and carry out club activities with the guidance of the club leaders. They offer activities which include demonstrations, project work, community service and social events for the youth members.
Meetings are generally held once a month at the same time and location. They include business, educational programs, songs and recreation. 4-H members are expected to attend club meetings and parents are encouraged to attend as well.
4-H members are given the opportunity to learn to talk in front of a group and practice decision-making skills. A 4-H member has the opportunity to meet new people, make new friends, learn about projects, participate in club trips, activities and more. Each club is unique, as members determine the focus of their own club.
A GUIDE TO THE 4-H PROGRAM FEE
*Use this link to enroll or to find the form for sponsor coupons.
Go to the 4-H Online Family Resources for guides for family and adult enrollment and re-enrollment, resetting your 4-H Online password, payment sponsors and instructions in Spanish.
How to select projects
A 4-H member should base their project selection on the following:
Their own personal interests, needs and capabilities. Be sure the project is within the age and ability of the member.
Suitability of the area in which they live.
The amount of time needed to complete the project. The member and parents should be aware of the amount of time a member has to work on the project and how much time the project requires.
The cost and needs of a project. The member and parents must consider how much a project will cost. Is there enough space for the project or is additional equipment required?
Are project leaders available to help with the project in the club or are the parents willing to help the member with the project?
Projects are selected at the time of enrollment. 4-H members must be enrolled in the appropriate projects to be eligible to exhibit the project at the county fair.
Resources for selecting projects
District Wide Project Leaders
Contact the Extension Office for leader contact information for the following projects.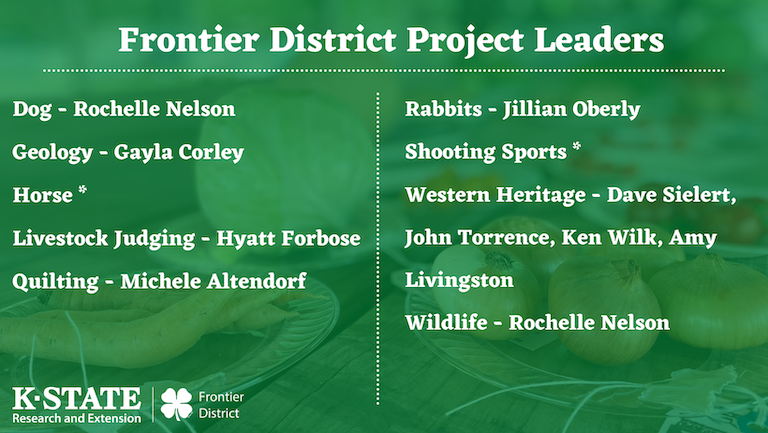 *Horse and Shooting Sports (leaders vary by county - see county pages)
___________________________________________________________________________

4-H Cloverbuds
The overall purpose of the 4-H Cloverbuds program is to foster the development of life skills that are essential for the cognitive, social, emotional and physical maturation of 5- and 6-year-old youth by providing a unique educational opportunity.
JOIN 4-H CLOVERBUDS TODAY!