Franklin County Events & Information

FRANKLIN COUNTY FAIR ESSENTIALS
2018 FRANKLIN COUNTY FAIR BOOK - 4-H & Open Class Info Only
2018 FRANKLIN COUNTY FAIR NEWSLETTER
Mr. & Miss 4-H Application - Applications are due 6/29/18
Wardrobe Planning Packet - Must present at Judging Time
Franklin County 4-H Horse Show Pre-Entry Form - Due 6/29/18
Fashion Revue Registration Link- Due 6/29/18
4-H LIVESTOCK STALL RESERVATION LINK
(Stalls for Beef, Dairy, Goats, Sheep & Swine)
Bucket Calf Project Record - Must present at Judging Time
POULTRY ENTRY FORM (Testing Dates listed below)
Franklin County Poultry Testing Check-In Sheet
4-H SPACETECH RULES/GUIDELINES/DIVISION & CLASS NAMES
SPACE TECH FORMS
ROCKETRY
High Power Rocket Form & NAR Safety Code
Rocket Exhibit Form & NAR Safety Code
FAIR T-SHIRTS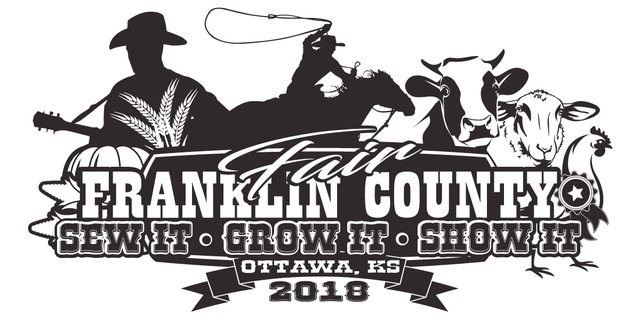 Extra fair t-shirts can be ordered and paid for at the Extension Office. Youth and adult shirts up to XL are $10, adult sizes 2XL and larger are $12. Cash is preferred, but checks are acceptable. Pay to the order to Franklin County Ag Society.
Poultry P-T Testing Dates
All poultry to be exhibited at any fair must test negative for Pullorum-Typhoid (P-T) Disease within 90 days of a show. Zach Sobba will be testing at Celebration Hall on June 23 from 7:30 a.m. - 9:00 a.m. The cost will be as follows: 1-19 birds=$1; 20-39 birds=$2; 40+birds=$3 + $.25/bird + $.50/band (if needed). Franklin County families will be invoiced at a later date.* The poultry check-in sheet will be available that day or can be picked up in the Ottawa Extension Office prior to this date. This check-in sheet is required for Franklin County members at any of the three testing locations.
Testing will be done in Garnett at Anderson County Fairgrounds at the intersection of East Park Road and North Lake Road. July 8 from 7:30 a.m. - 9:00 a.m.
*Members may use any testing site, as long as it falls within the 90 day time frame. If families miss these dates, it will fall upon them to find someone to test the birds. Zack WILL NOT do individual testing outside of these testing dates.
Pre-Registration of Fair Projects for Conference Judging
4-H Members who wish to participate in conference-style judging will be required to pre-register and sign up for judging times by Friday, June 29 in the Extension Office. The following projects are eligible for conference-style judging: Energy Management, Entomology, Forestry, Geology, Home Environment, Self-Determined, Shooting Sports, Space Tech, Wildlife and Woodworking. More information will be available in the fair newsletter.
---
IMPORTANT FAIR DATES
6/29/18 - All Fair pre-entries are DUE to Ottawa Extension Office
TBD - Clothing Judging, Fashion Revue, Clover Revue, Fiber Arts Judging, Mr/Miss 4-H Interviews
7/16/18 - Cat/Handpet & Dog Shows, Foods Judging at Celebration Hall
7/17/18 - Visual Arts & Photo Judging at Celebration Hall
7/18/18 - Fair set-up, enter exhibits, Livestock Exhibitor meeting
7/21/18 - Release of all exhibits, Celebration Hall Clean up
7/23/18 - Fairgrounds Clean Up
Only those helping with clean up on this day will be able to receive fair checks at this time. All others, including open class, may pick up checks on July 30.
---
2018 FRANKLIN COUNTY FAIRS
Richmond - July 12-14, 2018
Franklin County, Ottawa - July 19-22, 2018*
* Remember, pre-fair judging usually starts about two weeks before the Fair. Entries in Celebration Hall and Livestock entries will be the Wednesday before.
Franklin County Agricultural Society WEBSITE and FACEBOOK
---

Franklin County 4-H Council Meeting - 9/24/18, 7:00 p.m.
2018 Shooting Sports Meeting SCHEDULE * *Updated May 18, 2018
---
Previous Years Fairs
Franklin County Fair - July 20 - 23, 2017
Richmond Free Fair - July 13 - 15, 2017
Richmond Free Fair FACEBOOK
Lane Agricultural Fair - August 3 - 5, 2017
Lane Agricultural Fair FACEBOOK
---